A person who visits www.hjluks.com will be automatically redirected to facebook.com/Howard.Luks.MD
Why a Healthcare Facebook Page?
You value the importance of creating and maintaining

patient relationships

online.
You want to

control your first impression

and start creating your online presence
You are serious about compliance and want a Facebook presence to educate your patients while

comply with HIPAA

rules
Branded Healthcare Facebook Page
Creation of a special branded page on Facebook for your healthcare practice.
Your choice of design, layout and colors. Including images, video and text. See a few layout examples
After you sign up, we will send a request for the content we need and we will provide you with the design choices you have.
Once the page is finalized and public, you can email our support department any modification you would like to see. We will accommodate one modification request per month.
We also offer a special "Like Gate" page where the visitor must "Like" your page in order to view or download certain content. A "Like Gate" is perfect for special offers, coupons and rewarding your followers with certain priviliges.
HIPAA Compliant Healthcare Facebook Page Setup
Don't already have a Facebook Page for your healthcare business?
If your healthcare business does not already have a Facebook Page, we can create a HIPAA compliant Facebook Page on your behalf.
Be safe that you have taken the right approach with Facebook for your healthcare business
Creation of a healthcare Facebook Page.
HIPAA compliant account configuration with Privacy Policies and Healthcare Social Media Policies.
Complete with logo, images, and necessary local business information.
Start Building Your Online Presence with a Facebook Page Domain Name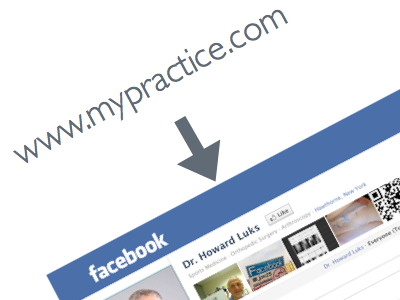 Don't have a healthcare website yet? Want to take control of your first impression?
The medical website design process is a large project. If you are not yet ready to take on that project, building a Facebook Page complete with a domain name is a great way to start building your online presence.
We highly recommend healthcare organizations without websites to purchase a domain name and have it redirect to their Facebook Page.
By purchasing a domain name you make sure that you own that name, and that't no other competitor can take it away from you.
You also benefit from building a domain presence with Google and the other search engines, increasing your SEO (Search Engine Optimization) leverage.
Example: www.hjluks.com