An informative piece circulated on Twitter recently caught my attention. The post by Jeff Bullas, Social Media Marketing: 10 Inspiring Infographics shares some good examples of the power and influence social media has on the behaviors and buying patterns of consumers. Jeff also discusses the conversation related to the shift from outbound marketing efforts, or what I like to call "shameless self-promotion", to more appealing, conversational inbound marketing tactics. This article was of great interest, being I led a discussion on the move to a more educated consumer, new buying behaviors and how social networking is a driving factor behind these shifts during my session at the Practice Management Institute national conference.
Healthcare Social media and Inbound vs. Outbound Marketing
With consumerism abound in healthcare, these same shifts in patient decision-making behaviors and choices in physicians/institutions are becoming increasingly difficult to ignore. With this adjustment in action, to be effective at reaching your patient (or referring physician, organization, etc) one must understand the difference between these two approaches to marketing. My friend and colleague Howard Luks, MD, does a great job of outlining these differences in his recent post: Social Media and Healthcare: Inbound vs. Outbound Marketing (be sure to check it out!). In his post he poses the question, "does your marketing professional understand the difference?"
How to do Inbound Healthcare Marketing Right
As a marketer in the healthcare field, I have a few additional thoughts and tips to consider in building your organization's marketing strategy and looking to undertake more inbound concepts verses the "shameless self-promotion" approach I mentioned earlier.
1. Don't put all your marketing eggs in one basket; it's crucial you STILL diversify your marketing mix! It's true; there is still room for more traditional forms of marketing such as TV, radio and print. It's all about your message! You can engage an audience and provide educational content through these traditional mediums; it doesn't all have to be about solely promoting services or providers. However, for a healthy balanced marketing strategy, you must use these more traditional methods in conjunction with fresh inbound tactics, including social media.
2. You've got to make it real for your audience! Consistent research shows your patients look to peers for recommendations, not to the advertisements they hear and see. Your patients are now on Facebook, Twitter….and other social networking sites! So, engage in these sites and make it easy for patients to sing your physicians'/institutions' praises to their peers. Patient testimonials make it REAL for your audience; they can connect with your current patients, their stories and their reasoning behind choosing you. Stories sell. Period.
3. Take the time to know your audience! Even with inbound marketing tactics, you can still miss truly interacting with your audience. Take time to find out who you are talking to, who you want to attract, who you want the information to engage and ultimately who you want walking through the doors of your office.  Marketing your practice can be a daunting task, but keep in mind, your goal as a healthcare provider should be to provide educational content to your audience. Continuing to focus on providing educational information and becoming a health resource to patients, potential patients and the community will bring success in reaching and engaging your audience.
One must understand, you cannot be everything to everyone, even with the use of social media channels. Stick to your message, engage your audience and produce quality content within your physicians' or institutions' realm of expertise.
---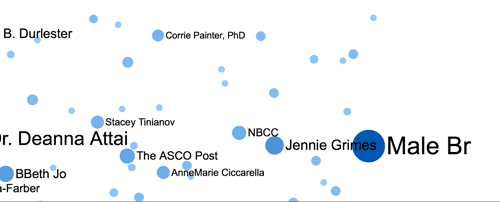 Symplur Signals promotes deep understanding of healthcare as seen by patients, doctors and other stakeholders with real-time access to insights from over a billion healthcare social media data points.
Learn how pharma, medical device companies, government and research institutions are using Symplur Signals.
---