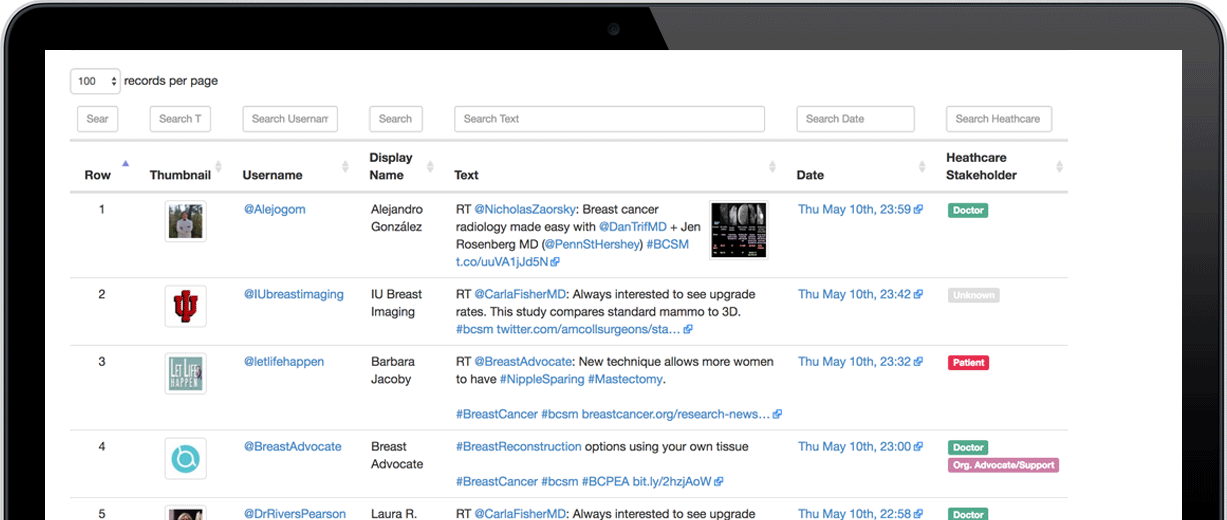 Symplur Signals Reports
Symplur Signals Reports is for when your needs go beyond data consumption and move into the realm of seriously advanced analytics. This set of report-driven tools offer an unparalleled power to interrogate the data and extract insights at a level not seen before. Whether you're exploring your own brand, are seeking to identify KOL's in the healthcare discussion that fit very focused profiles, or are wishing to conduct a strategic assessment of a specific market segment, Symplur Signals Reports and its ability to layer advanced filtering will help to extract the precise insights you need.
Tailored to healthcare and originally built with academic research in mind, Symplur Signals Reports has a surprisingly simple and intuitive interface. This makes it easy for the novice and seasoned data analytics professional alike to leverage our diverse set of robust tools. Complete with interactive graphical representations, on-the-fly drill-down options, and the ability to export full transcripts and raw data.
Core Features
Analytics Reports

Symplur Reports includes 25 unique analytics reports that focus on tweets meta, people, and content. Click on the videos below to see some of the reports at work.

Advanced Filtering

Includes 20 powerful filters that you can apply to any dataset and supports Boolean operators and Regex.

Data Export

Export all the data you see in CSV format.