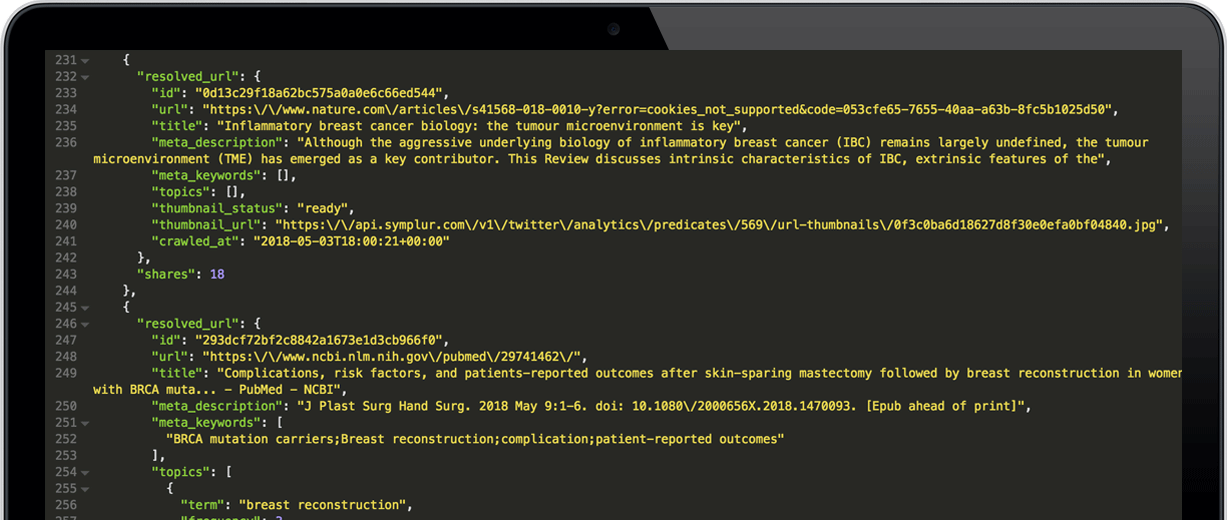 Symplur API
The Symplur API gives access to insights from the Healthcare Social Graph®
Healthcare Social Graph is the vast neural network of public healthcare communities, conversations and people, hand curated by Symplur and powered by machine learning.
Data available via the API
The raw and unstructured public social media data that has been processed by Symplur's technology platform results in what we call the Healthcare Social Graph. The Symplur API provides access to these billions of data points that map the interconnections and interactions between people, organizations, healthcare topics and conversations on the public social media with up to 8 years of history. It also contains millions of healthcare influencers across thousands of topics.
Use Cases
Power visualizations on internal organization dashboards
Data enrichments of existing internal knowledge bases
Provide structured insights for data science teams and projects
Highlighted API endpoints
Influencers

The API delivers lists of influencers for any healthcare topic.
Healthcare stakeholder engagement

See a breakdown of engagement by stakeholders over time.
Impactful tweets

Discover truly impactful tweets, not by simply counting retweets received, but by only weighing the retweets from influential people known to healthcare.
Articles shared

Understand what content engages which healthcare stakeholder groups the most.
Conversation topics

Learn what phrases and keywords are most discussed for a given time period.
Longitudinal KOL Analysis

Explore an influential account's topical influence in the world of healthcare over a period of time.
Technical Documentation
The Symplur API is JSON based, follows REST design principles, and uses OAuth 2.0 for authentication.
See a full list of all available API endpoints, filters and parameters at the Symplur API Docs pages.
Symplur API Docs Getting Started Symplur SDK for PHP
See the API in action
All data points and visualizations on our own Symplur Signals Dashboards product are fully supported by the Symplur API. Take a look at the free demo to see the API perform in real-time.
See Symplur API in Demo