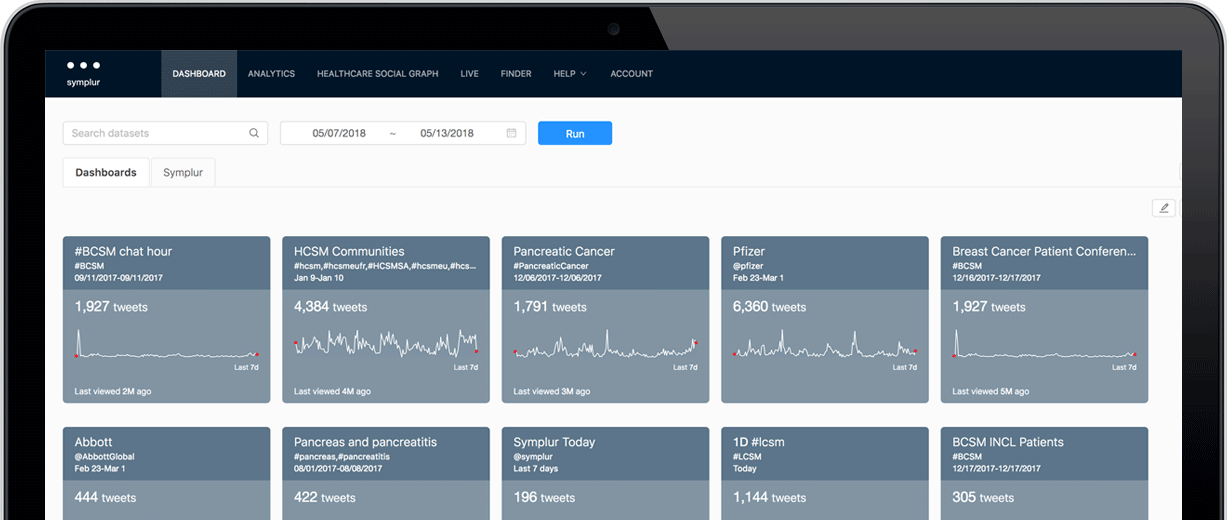 Symplur Signals Dashboards
Symplur dashboard is a collection of data visualization tools powered by Symplur data analytics for quick data consumption and at a glance overview of the dataset. With our dashboard visualization tools you can to track KPIs, metrics, and other key data points organized in a way to help answer your questions and provide insightful analysis. Our goal is to simplify complex data sets and give you clear visualizations so you can quickly detect data patterns and trends.
In our user interface you can easily create and manage dashboards of your selected dataset(s) to access all the data visualization. Save a dashboard with its settings and filters and we will do all the monitoring from there. Then come back at a later time to view and analyze all the data that we have collected for you.
Features
Dashboard management

Easily create and view dashboards of any healthcare related hashtags, topics, keywords, etc. For Corporate and Enterprise cutomers, you can arrange and organize your dashboards in any way that you want, and inside each dashboard you can toggle on/off the visualizations you want to see and rearrange them in the order that you desire.

Healthcare stakeholder filtering

These color coded stakeholder tags allow you to filter the current dataset on the fly by stakeholder selected allowing you to quickly isolate one or more stakeholders for further analysis. Simply click on the stakeholder tag(s) to activate the filter.


Access to Symplur Reports

Dashboard does a very good job giving you a quick overview, but whenever you need to do an in-depth research with advanced filtering tools click on the microscope icon to access the same dataset in Symplur Reports.