Symplur Signals originated as a precision tool for academic research. It's the only social media analytics platform built for healthcare.
Academic Research in Healthcare Social Media
The healthcare community uses Twitter to publicly share and discuss valuable, disease-specific information. This creates conversations—data—to the tune of billions of healthcare tweets.
World-renowned universities, government organizations, and researchers use Symplur Signals to access this data and conduct research at the intersection of healthcare and social media. In this expanding field, as evidenced by our growing database of published, peer-reviewed articles (over 300 to date), the sky's the limit on topics: from studying the use of Twitter by oncologists, pathologists, or engaged caregivers, to the language, perceptions, and experiences of a certain patient community, to the impact of Twitter usage on career advancement for scientists and doctors, and more.
Symplur Signals is an intuitive, user-friendly research platform equally suited to first-time researchers and advanced data scientists alike. Symplur Signals performs tasks and answers questions no generic tool can because it combines the best of both worlds. Hand curation and crowdsourcing ensure unparalleled healthcare subject matter expertise; machine learning and algorithms provide endless scalability.
Conference Analysis
How has social media usage changed at the annual medical conference over the past 5 years?
Symplur Signals has tracked over 12,000 medical meetings globally to date. Researchers frequently do analysis of trends in topics, stakeholder mix, research focus, vocabulary and sentiment changes over time.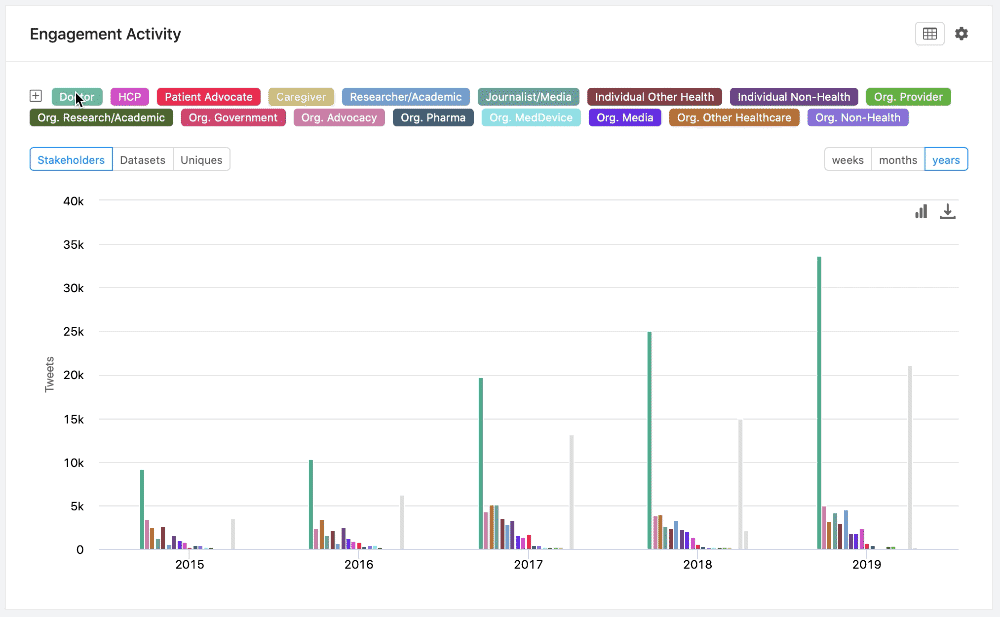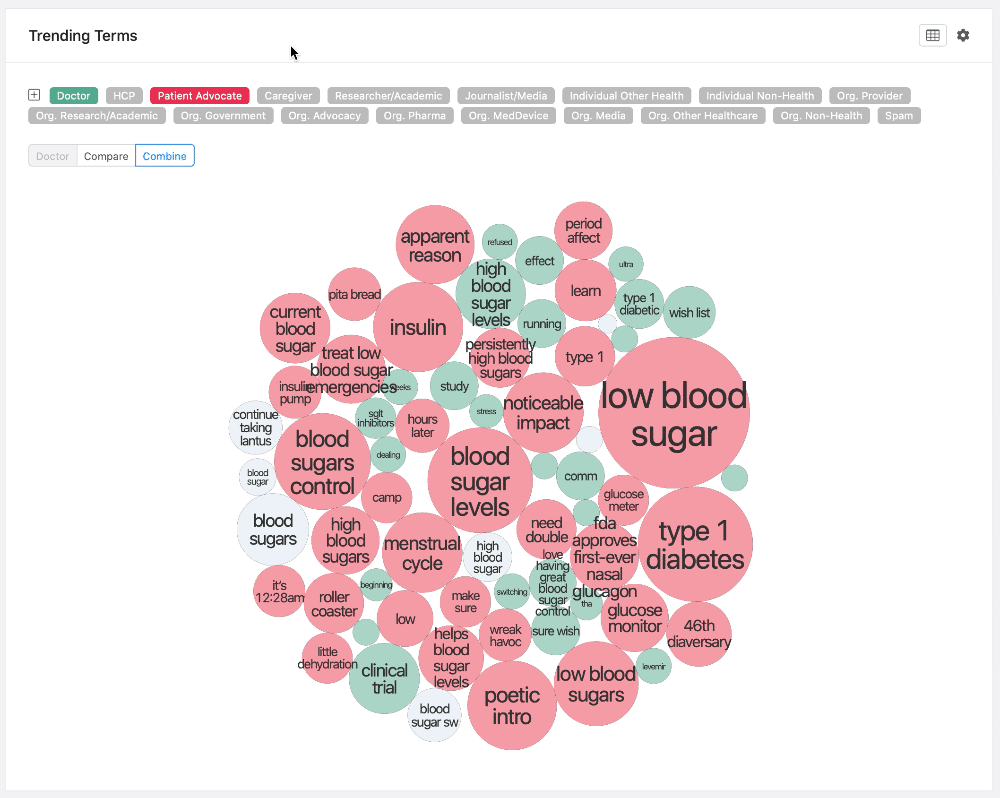 Content Analysis
What vocabulary are patients with diabetes using to describe their experience, and will understanding it lead to better doctor-patient communication?
For deep content analysis, access interactive snapshots of the Trending Medical Terms from any Twitter conversation via Symplur's natural language processing (NLP) algorithms. And, to better understand attitudes, optimize our Sentiment Algorithm by custom-training it to match your research team's specific needs.
HCP Influence Analysis
What is the impact of social media on career development and advancement for pathology?
Social media now plays a growing role in scholarship, education, information dissemination, and career advancement for physicians. With Symplur Signals, you are able to meassure which HCPs actually are having an impact in their field, who they interact with and how they publish medical content for social media.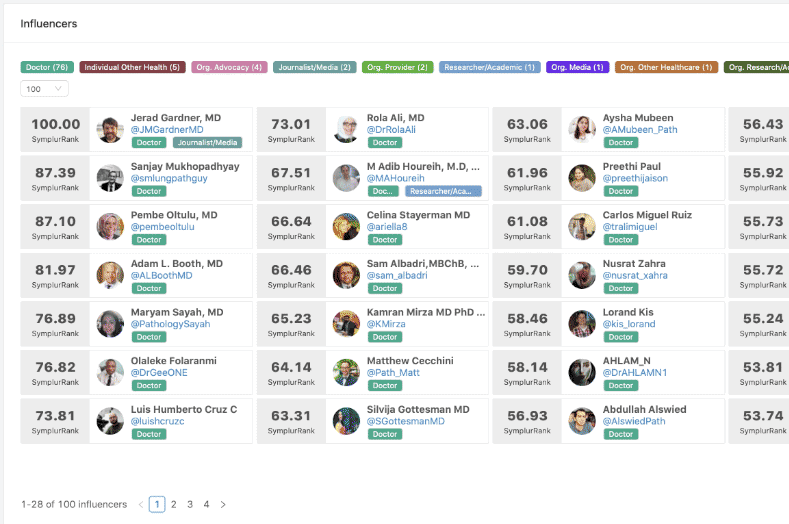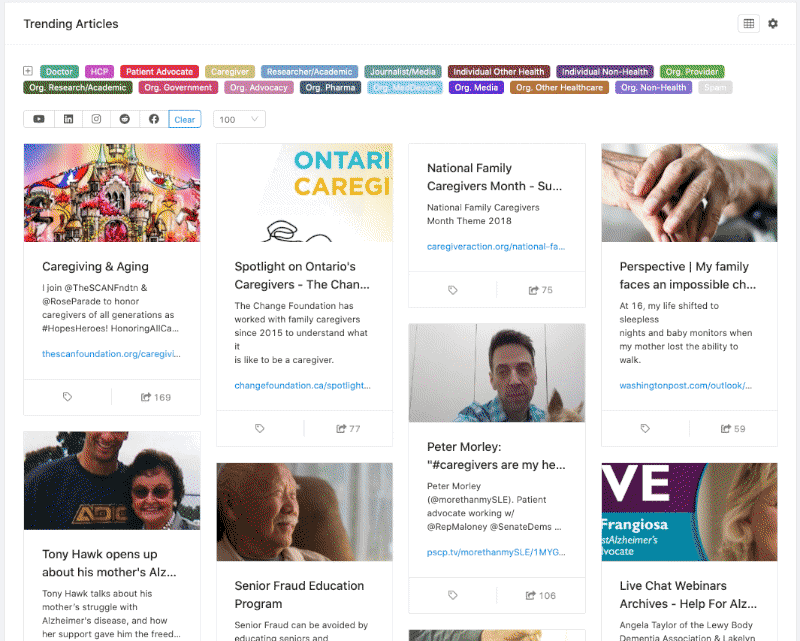 Health Literacy
How are clinicians using social media to debunk myths and propagate truth; how reliable are the links caregivers share?
Symplur Signals allows researchers to look at what type of content each healthcare stakeholder segment shares, and who engages and reads that content. Published research is highlighed with their DOI number and we pull in Altmetric data for deeper analysis.
"Symplur Signals provides the most robust analytic tool out there, and it gives me the flexibility to look at things in a very user-friendly way. Many clinicians, like myself, are eager to dig into this social media data, but don't have the programming or data analytic background to explore it. Symplur Signals provides an easy-to-use interface that gives rich and thorough data."
"Lately I've been studying how different groups (patients, caregivers, clinicians, organizations) are using Twitter to communicate, educate, and advocate in the area of asthma. Symplur Signals lets me identify and characterize the digital footprints of these conversations with great detail and provides insight into the conversations using the associated words and hashtags, the most commonly retweeted tweets, and the most commonly shared articles. This tool has been invaluable to me and my research into social media and medicine!"
- Chris Carroll, MD, Pediatric Critical Care Physician at Connecticut Children's Medical Center
Purpose-built for Research in Healthcare Social Media
The body of knowledge at the intersection of healthcare and social media is growing as researchers mine the exponentially increasing number of Twitter conversations around healthcare. To facilitate this, Symplur Signals provides 9 years of rich datasets, a clean research interface, powerful filtering, and algorithms with natural language processing capabilities, all optimized for healthcare. We designed our platform to yield powerful analytics and insights regardless of your researcher background: simply put, you don't need a degree in programming or data science to extract maximum value from Symplur Signals!
Stanford Medicine X | Symplur Signals Research Challenge
Stanford Medicine X and Symplur have hosted three initiatives designed to spark scholarly research activity in healthcare social media. The Stanford Medicine X | Symplur Research Challenge seeks to encourage all health care stakeholders to collaborate on health care social media research.