Symplur Signals is the only platform whose audience and engagement analysis is co-designed with healthcare Corporate Communications teams.
Social Media for Corporate Communications
It's no surprise that Corporate Communications teams at leading pharma and medical device companies use Symplur Signals to take control of and extract priceless value from their Twitter presence.
Whether managing a handful or dozens of Twitter accounts, preparing for a medical meeting, a thought leadership initiative, or an awareness campaign, they know that the ability to rapidly and accurately identify, segment, and understand their healthcare stakeholder audience is half the battle. They combine that with Symplur Signals' contextualized social listening capabilities to craft high-performing content, communication, and engagement strategies. And, Corporate Communications teams rely on our precision analytics and attractive graphic representations when reporting up the chain of command.
Symplur Signals performs tasks and answers questions no generic tool can because it combines the best of both worlds. Hand curation and crowdsourcing ensure unparalleled healthcare subject matter expertise; machine learning and algorithms provide endless scalability.
Account Performance
Has our healthcare social media influence improved in the past year? Where did we have the biggest impact? How does our Healthcare Social Graph Score compare to the competition's?
Symplur Signals measures millions of accounts on their weekly influence in healthcare social media. Each account receives a Healthcare Social Graph® Score and a comprehensive breakdown of their areas of impact.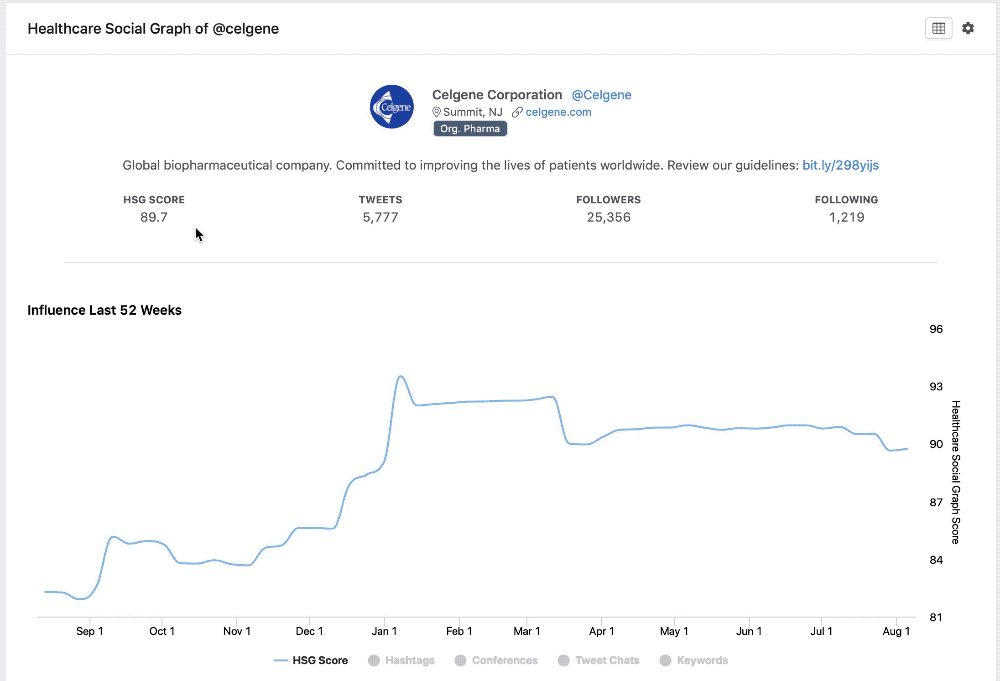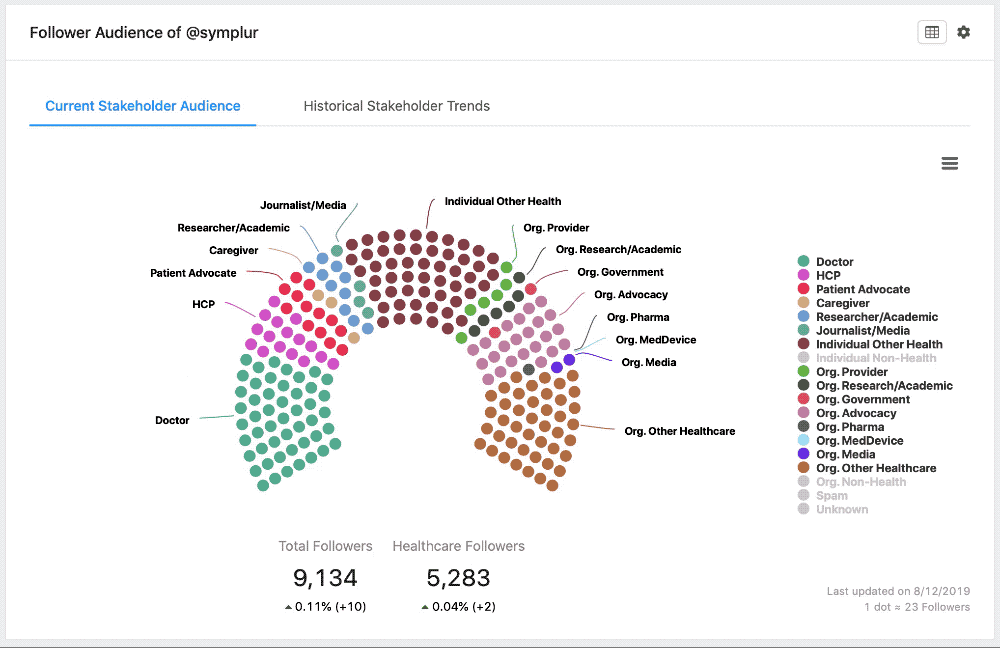 Audience Segmentation
We're getting new Twitter followers, but are they HCPs?
Not all followers are equal. We've worked with healthcare Corporate Communication teams to co-design a better way to analyze an account's Follower Audience. See the overall healthcare stakeholder breakdown and visualize the weekly or monthly gains for each healthcare segment.
Share of Voice & Competitive Analysis
How does our conference engagement compare to the competition's? Who had the greatest impact on our target audience?
With Symplur Signals, quickly compare your account's performance at the latest medical conference to that of your competitor's. A click of a button delivers insights tailored to healthcare: see which company received the most engagement from Doctors and which company sparked interaction from Patient Advocates during the meeting. Our built-in Healthcare Stakeholder Segmentation helps you understand your true performance.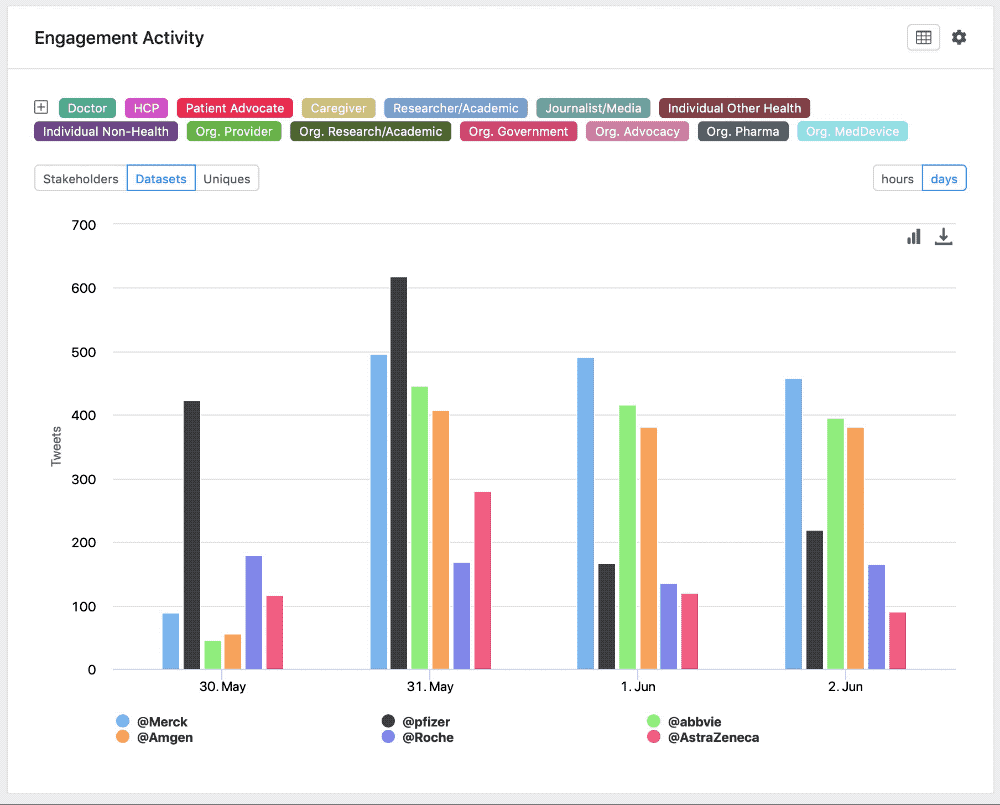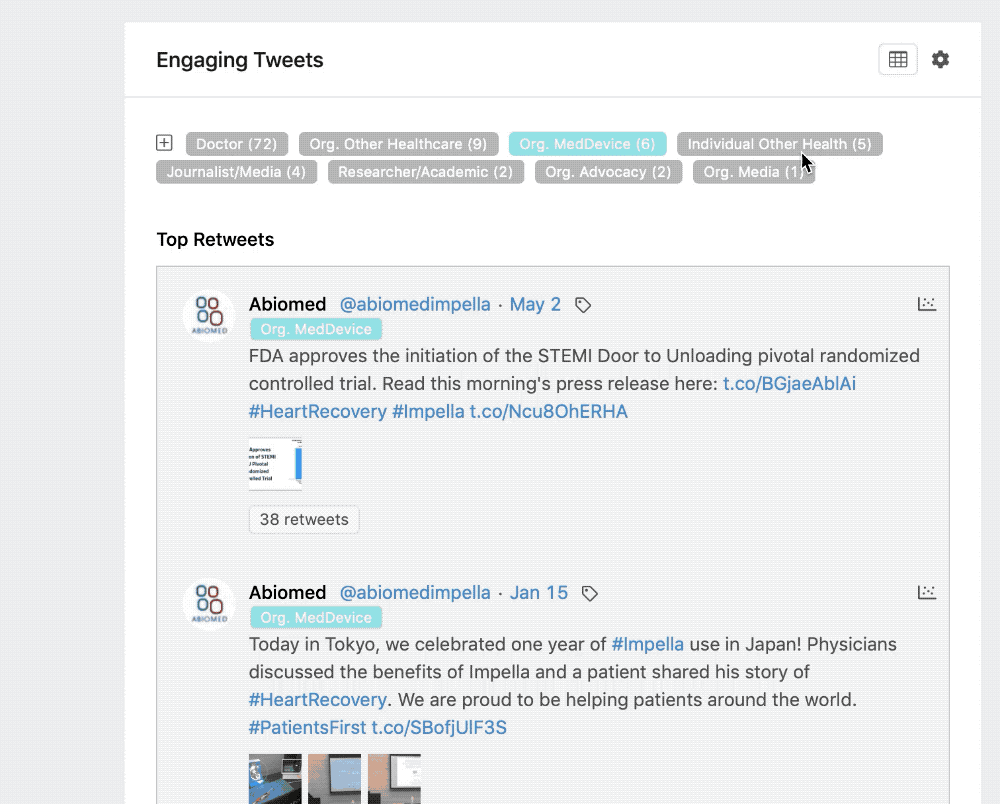 Engagement Analysis
Our tweets received a significant level of engagement at the latest medical conference, but was it from random accounts or relevant healthcare stakeholders?
The days of blindly reporting raw engagement numbers are over. Only with Symplur Signals are Corporate Communications teams able to look beyond retweets, mentions, and quote tweets to measure the actual outcomes of campaigns and content. The Tweet History feature allows you to unpack the real healthcare story behind elementary engagement numbers. Which stakeholders engaged with our tweet, who are the instigators of a tweet's "second life?"
"Having Symplur Signals is like being able to pop the trunk of Twitter and look under the hood. We can find influencers, conversations, keywords and more on any topic down to the micro-targeted level. We consider Symplur insights invaluable, providing data that helps inform everything from daily trend reports to sales pitches."
- Corporate Communications professional at a global healthcare company
Measuring Outcomes for Corporate Communications
The healthcare community uses Twitter to publicly share and discuss valuable, disease-specific information: this creates conversations to the tune of billions of healthcare tweets. How do you sift through all that data to surface the exact information you need (plus the information you didn't even know you needed) in a matter of minutes? How do you reap insights from and manage your Twitter presence in the midst of all that potential noise? How do you, with just a click or two, categorize and flag adverse event tweets or listen to what physicians, or patients, or scientists are saying at the annual medical meeting?
Do all that and more with Symplur Signals, the only platform on the market with audience and engagement analytics co-designed by healthcare Corporate Communications teams.