Symplur Signals is the only healthcare social media analytics platform that provides actionable insights across the entire spectrum of public health
Social Media for Government & Public Health
Health communication professionals at leading Government and Public Health agencies use Symplur Signals to take control of and extract priceless value from their Twitter presence.
Whether managing a handful or dozens of Twitter accounts, preparing for a disease awareness campaign, an annual conference, or a thought leadership initiative, they know that the ability to rapidly and accurately identify, segment, and understand their multi-stakeholder audience is half the battle. They combine that with Symplur Signals' contextualized social listening capabilities to craft high-performing content, communication, and engagement strategies covering the vast domain of public health. And, they rely on our precision analytics and attractive graphic representations when reporting up the chain of command.
Campaign Strategy
How can we tailor our campaign messaging so it accounts for our target audience's psychographics?
What words and phrases do the different healthcare stakeholder groups use to describe the same issues?
For deep content analysis, access interactive snapshots of the Trending Medical Terms from any Twitter conversation via Symplur's natural language processing (NLP) algorithms. And, to better understand attitudes, optimize our Sentiment Algorithm by custom-training it to match your research team's specific needs.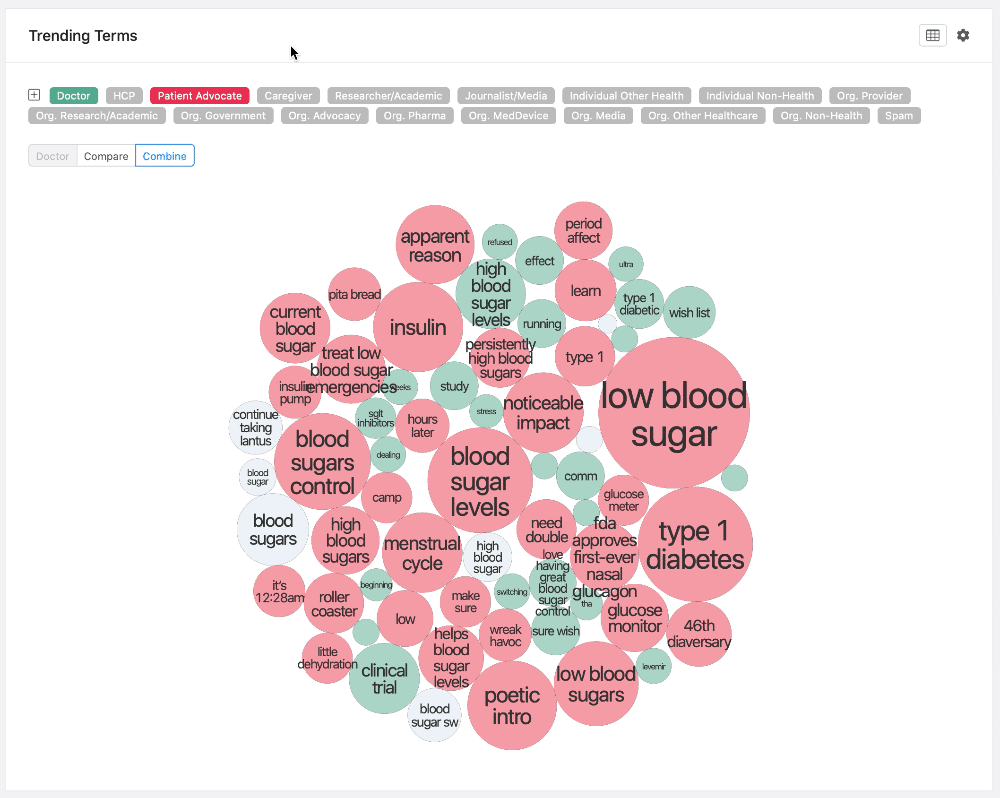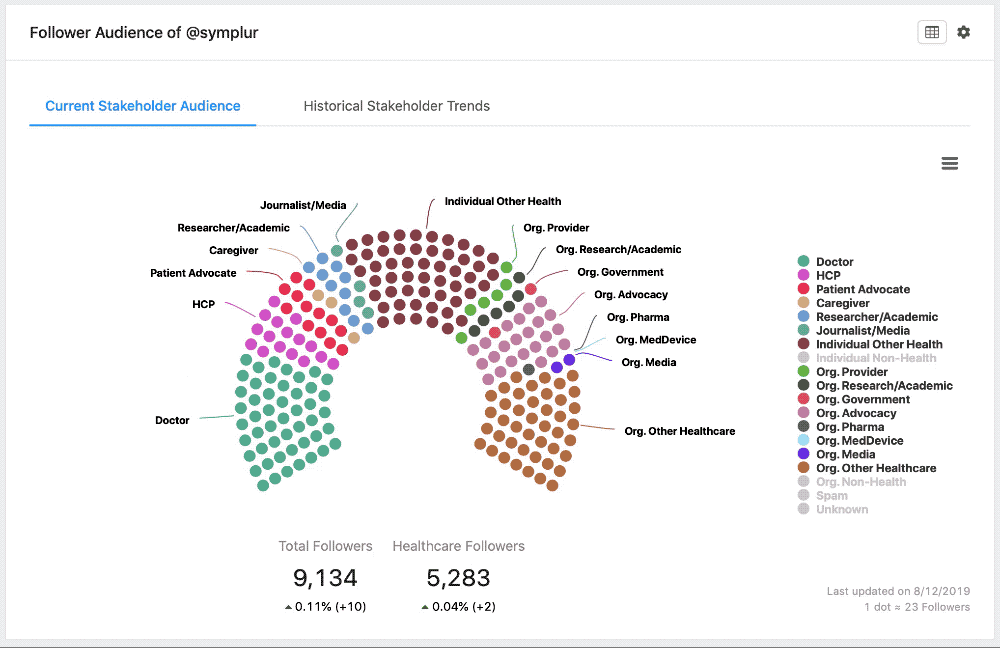 Follower Audience Segmentation
Who is following our Twitter account? Do we have the right follower breakdown? How do we make sure we are reaching the right audience groups?
Not all followers are equal. We've worked with public health teams to co-design a better way to analyze an account's Follower Audience. See the overall healthcare stakeholder breakdown and visualize the weekly or monthly gains for each healthcare segment.
Influencer Mapping
How can we increase our social media engagement with the influencers we're seeking to reach?
Accurate and granular Healthcare Stakeholder Segmentation is key, and the SymplurRank Algorithm delivers the most dependable KOL lists in healthcare. We've pre-categorized millions of Twitter accounts based on their public stakeholder identity, and our tools empower you to customize influencer segmentation to meet your needs in a rapidly changing environment.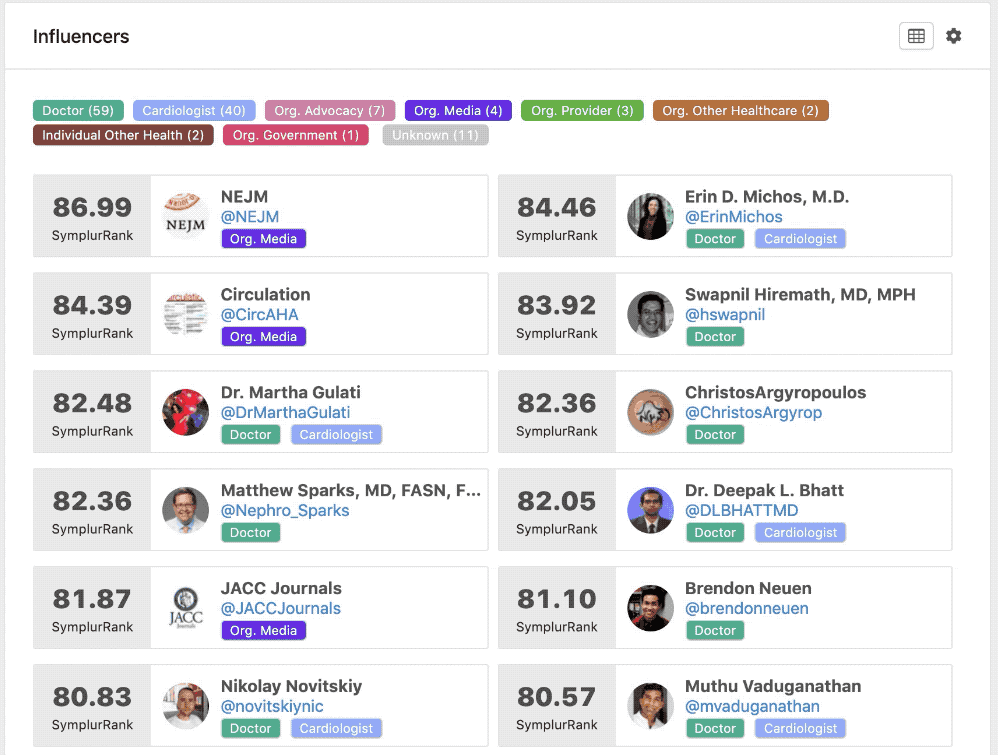 Who are the most influential cardiologists discussing SGLT2s?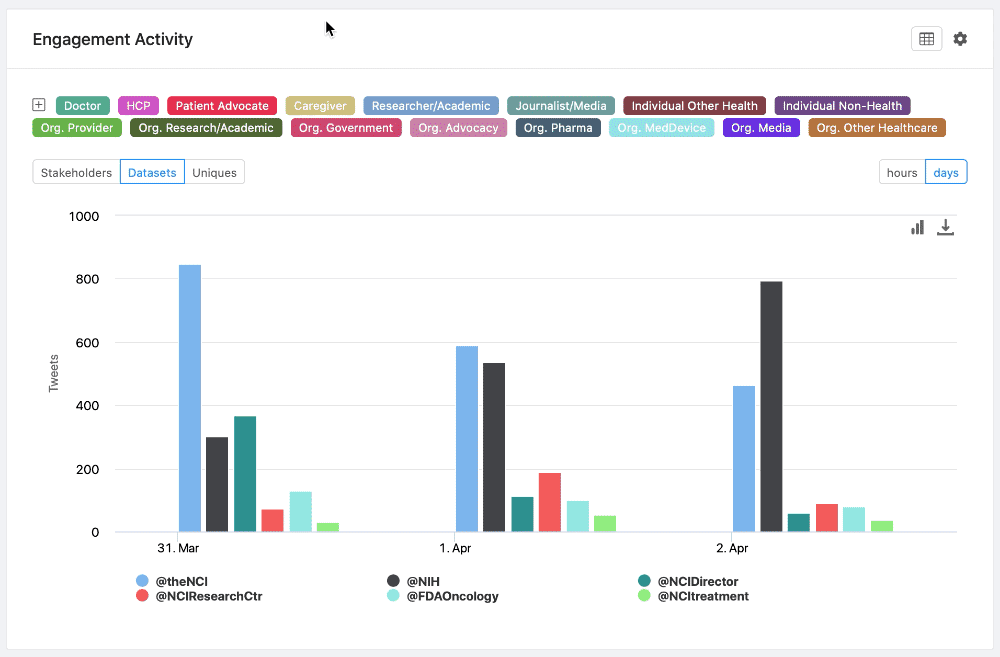 Conference Analysis & Share of Voice
How did our Twitter account perform before, during, and after the annual conference? How does it compare to last year's performance?
With Symplur Signals, quickly compare your account's performance at the latest medical conference to that of your competitor's. A click of a button delivers insights tailored to healthcare: see which public health organization received the most engagement from Doctors and which account sparked interaction from Patient Advocates during the meeting. Our built-in Healthcare Stakeholder Segmentation helps you understand your true performance.
Account Performance
How influential are we in healthcare social media? When did our HSG score break 90?
Symplur Signals measures millions of accounts on their weekly influence in healthcare social media. Each account receives a Healthcare Social Graph® Score and a comprehensive breakdown of their areas of impact. Understand where your account made an impact and build upon that strength.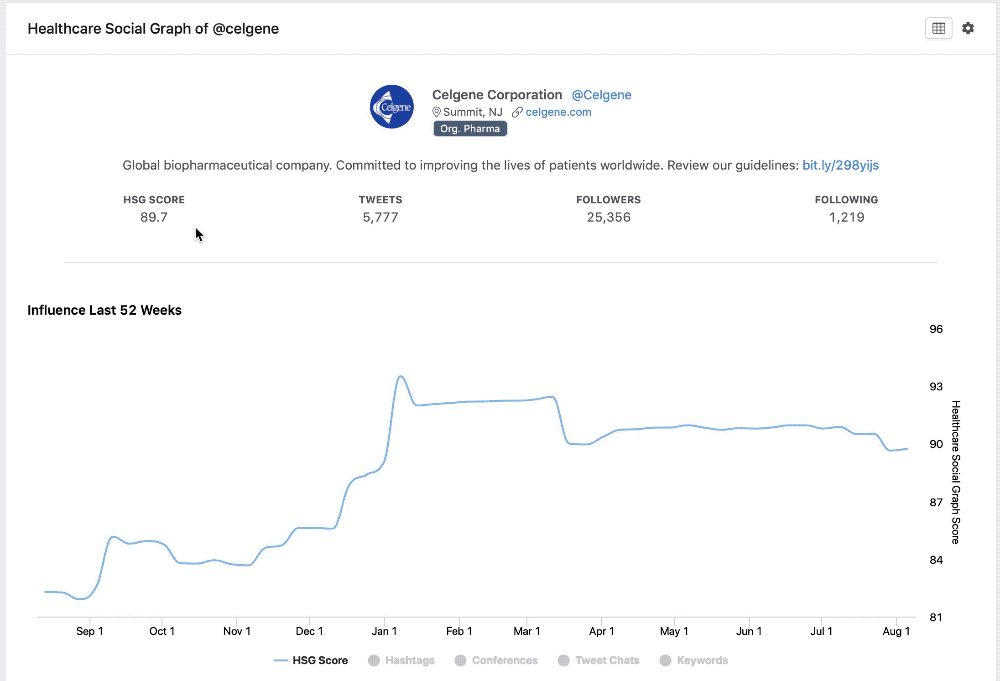 "Symplur Signals has become an essential tool for the government when it comes to developing strategy or reporting out on important events, observances, and initiatives related to public health. The tool has helped us become more strategic when communicating scientific research to various audience groups. It has also tremendously helped us with reporting internally as well as using the data to look back on and inform strategy for future events such as for annual conferences."
"In government practice we can be limited in what we say and who we reach out to. Symplur's audience segmentation by government organizations has helped us track other government entities to observe the content they are sharing, the language that they use, and other accounts they engage with. Additionally, it has helped us identify and reach out to organizations and individuals who are appropriate in this landscape."
— Senior communications specialist at a government institute
Social Media Analytics for Governments and Public Health
The healthcare community uses public social media to access and publicly share and discuss valuable information: this creates conversations to the tune of billions of healthcare tweets. How do you sift through all that data to surface the exact information you need (plus the information you didn't even know you needed) in a matter of minutes? How do you reap insights from and manage your Twitter presence in the midst of all that potential noise? How do you learn how your target populations talk about a given health topic, what they value, and where they convene online?
Do all that and more with Symplur Signals, the only healthcare social media analytics platform on the market that is fast and user-friendly, and provides actionable insights across the entire spectrum of public health—from individual diseases and epidemiology to bioinformatics, environmental issues, and beyond.