Symplur Signals is the only social media analytics platform on the market that provides precision segmentation of healthcare professionals.
Social Media for Medical Societies
It's no surprise that health communication professionals at leading Medical Societies use Symplur Signals to take control of and extract priceless value from their Twitter presence.
Whether managing a handful or dozens of Twitter accounts, preparing for an annual conference, promoting a portfolio of journals, or sourcing on point content for their members, they know that the ability to rapidly and accurately identify, segment, and understand their multi-stakeholder audience is half the battle. They combine that with Symplur Signals' contextualized social listening capabilities to craft high-performing content, communication, and engagement strategies. And, health communication professionals at medical societies rely on our precision analytics and attractive graphic representations when reporting up the chain of command.
Symplur Signals performs tasks and answers questions no generic tool can because it combines the best of both worlds. Hand curation and crowdsourcing ensure unparalleled healthcare subject matter expertise; machine learning and algorithms provide endless scalability.
Account Performance
How influential are we in healthcare social media? When did our Healthcare Social Graph Score break 90?
Over 6,000,000 healthcare profiles are scored every week on their impact in healthcare social media. Each account receives a Healthcare Social Graph® Score and a comprehensive breakdown of their areas of impact.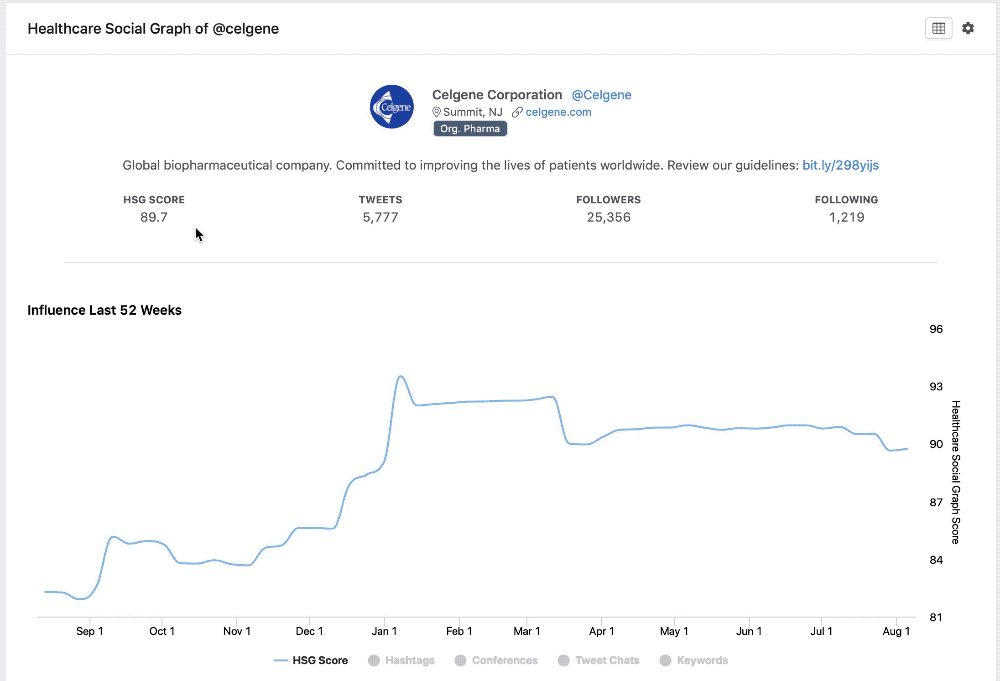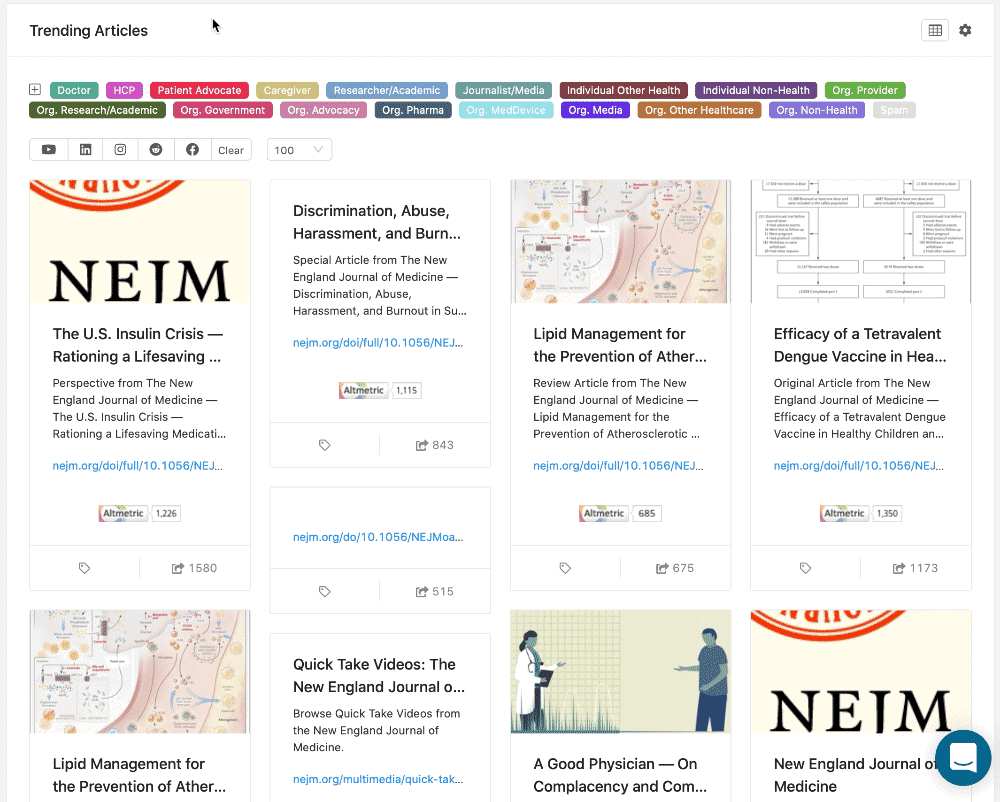 Article Analysis
Which journal articles got the highest engagement? How do our journals stack up against the competition?
With Symplur Signals you can segment article-sharing by healthcare stakeholders. See which journal articles were shared the most by Doctors, Patient Advocates, Pharma execs, Journalists, and more. You can also filter by disease, theraputics, or clinical trials. Find the full breakdown of who actually shared a specific article and absorb the Altmetric data we pull in through the DOI numbers.
Twitter Journal Clubs
Is our nephrology journal making an impact in the #nephJC Twitter Journal Club? How is it received?
Dozens of Twitter Journal Clubs are tracked in the Healthcare Social Graph database. Follow these high engagement tweet chats and see which journals and articles are generating large conversation volume from HCPs. Observe the interactions between the journals and their readers.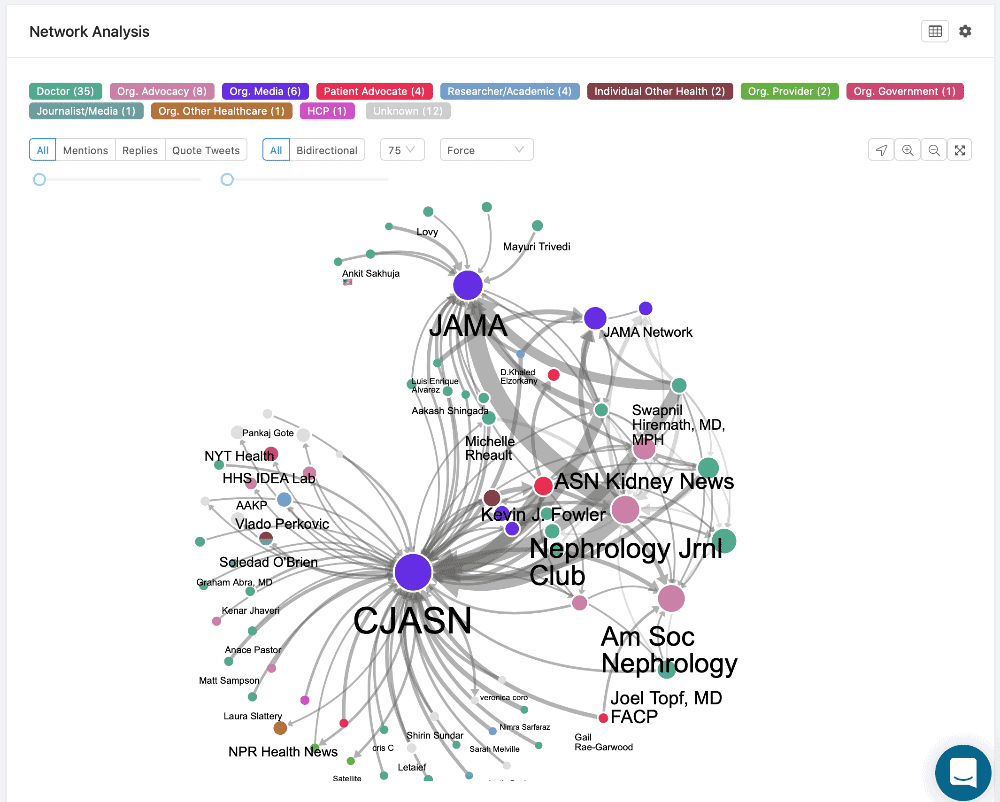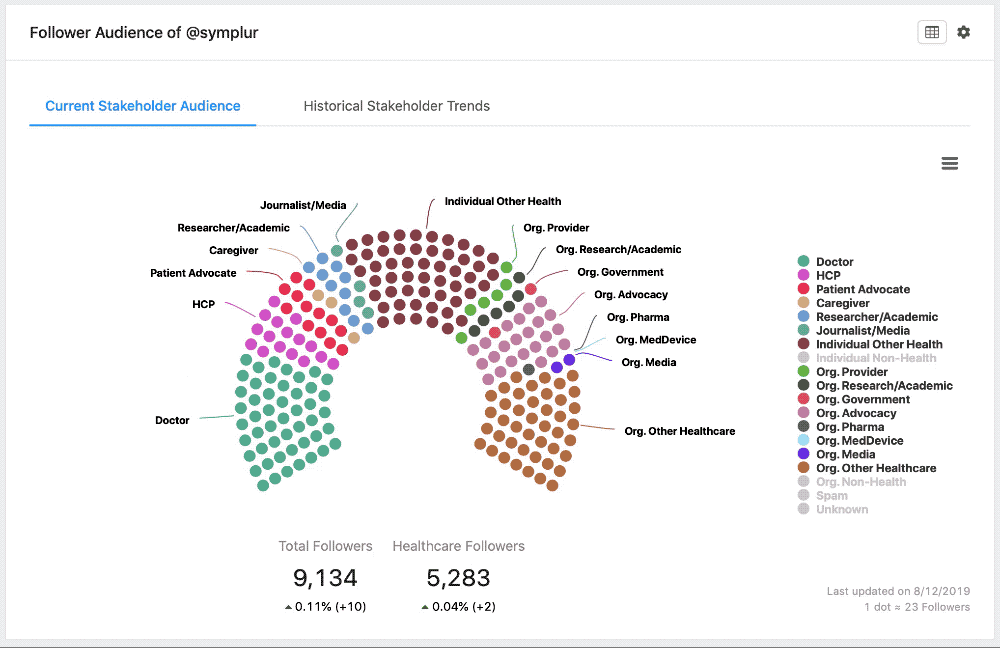 Follower Audience
Who is following our Twitter account? Do we have the right follower breakdown? How do we make sure we are reaching the right audience segments?
Not all followers are equal. We've worked with large healthcare organizations to co-design a better way to analyze an account's Follower Audience. See the overall healthcare stakeholder breakdown and visualize the weekly or monthly gains for each healthcare segment.
Conference Analysis & Share of Voice
How did our Twitter account perform before, during, and after the annual conference? How does it compare to last year's performance? What can we learn and apply to our strategy for next year's event?
Symplur Signals has tracked over 12,000 medical meetings globally to date. Medical Societies use this data to analyze trends in topics, stakeholder mix, research focus, vocabulary, and sentiment changes over time for both their own and competing medical meetings. A click of a button delivers insights tailored to healthcare: see which account received the most engagement from Doctors and which account sparked interaction from Patient Advocates during the meeting. Our built-in Healthcare Stakeholder Segmentation helps you understand your true performance.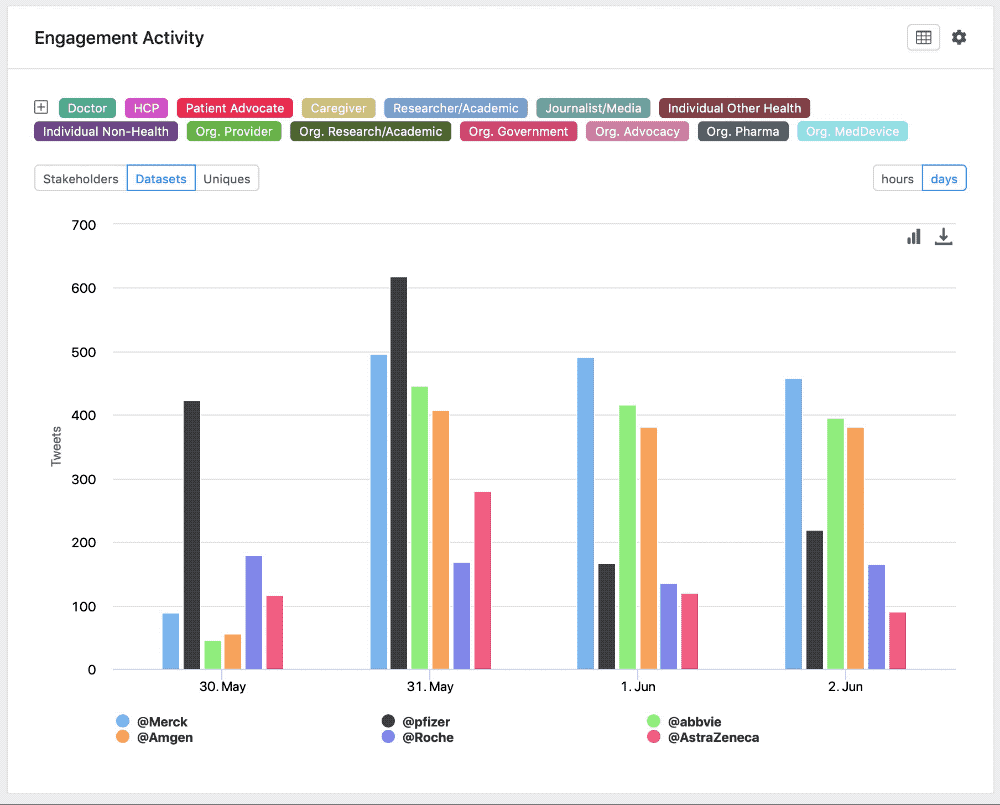 "Symplur Signals is an incredibly robust tool that allows us to capture social media metrics for our organization, discipline, and conferences. We organize and host 5+ global conferences annually that draw a combined attendance of tens of thousands of delegates."
"In this day and age a social media presence is imperative. It helps us to extend the reach of our messaging via a strong industry network, and to identify issues, trends, and subject matter that are resonating within our membership. Symplur Signals gives us everything we need to gauge the social media impact of our work and our field."
— Chief Marketing & Communications Officer at a medical society
Social Media Analytics for Medical Societies
The healthcare community uses Twitter to access and publicly share and discuss valuable, disease-specific information: this creates conversations to the tune of billions of healthcare tweets. How do you sift through all that data to surface the exact information you need (plus the information you didn't even know you needed) in a matter of minutes? How do you reap insights from and manage your Twitter presence in the midst of all that potential noise? How do you learn what your target audiences—your members, the public—value, how they talk about a given health topic, and where they convene online?
Symplur Live
"Symplur Live has more than doubled social media engagement at our global conferences and has been a valuable tool that has significantly improved our social media presence."
– Chief Marketing & Communications Officer at a medical society
Symplur Live is a real-time conference solution that promotes the right kind of conference tweets – the conversational tweets. Engage your conference audience and provide gamification of the social experience at your physical location by displaying real-time analytics on monitors and the stage.