A personal reflection on social media in medicine: I stand, no wiser than before
A healthcare social media research article published in International Review of Psychiatry, April 6, 2015
Title

A personal reflection on social media in medicine: I stand, no wiser than before

Authors (alpha)

John Weiner

Published

April 6, 2015

Journal

International Review of Psychiatry

Impact Factor

2.275

DOI

Pubmed

Altmetric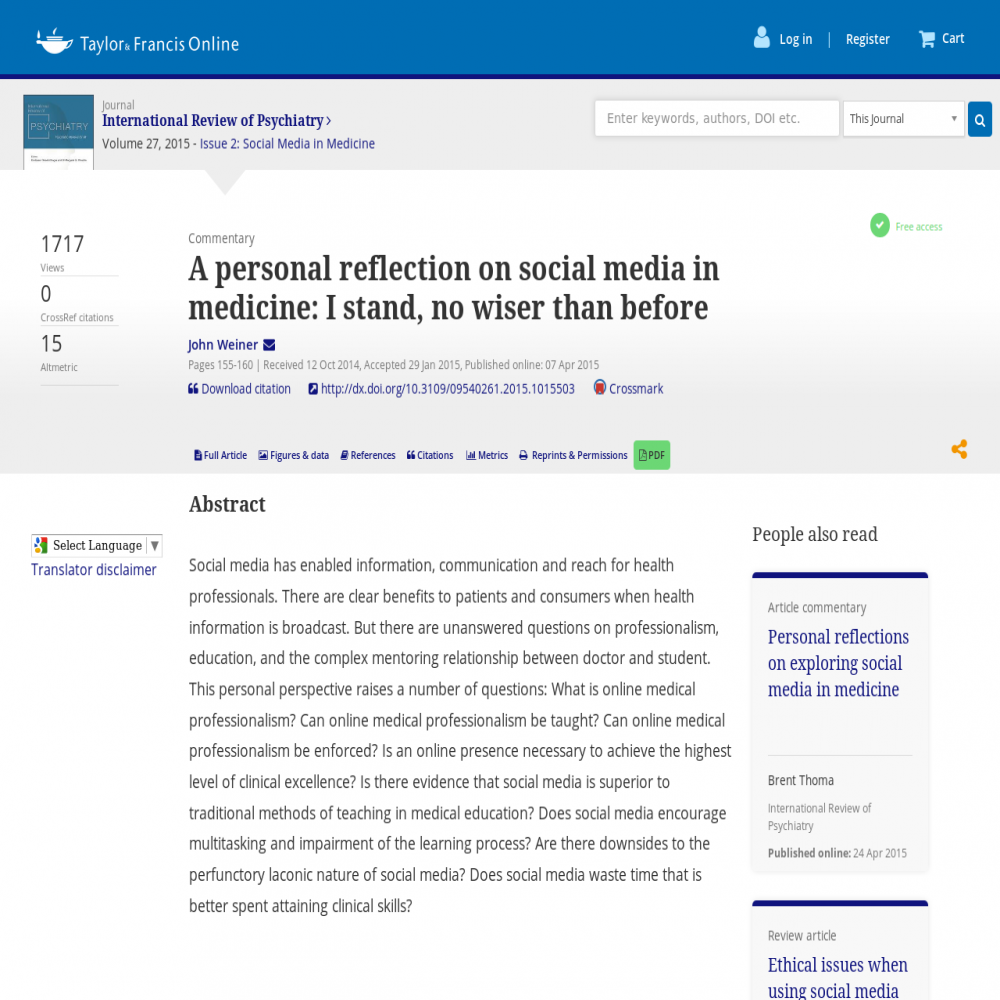 Abstract
Social media has enabled information, communication and reach for health professionals. There are clear benefits to patients and consumers when health information is broadcast. But there are unanswered questions on professionalism, education, and the complex mentoring relationship between doctor and student. This personal perspective raises a number of questions: What is online medical professionalism? Can online medical professionalism be taught? Can online medical professionalism be enforced? Is an online presence necessary to achieve the highest level of clinical excellence? Is there evidence that social media is superior to traditional methods of teaching in medical education? Does social media encourage multitasking and impairment of the learning process? Are there downsides to the perfunctory laconic nature of social media? Does social media waste time that is better spent attaining clinical skills?
---
Symplur Signals for Academic Research
Symplur Signals provides researchers with a simple research interface, rich datasets, powerful filtering, and algorithms with natural language processing capabilities optimized for our context of healthcare. Get access to up to 7 years of history from this trusted academic research platform.
Subscribe Now
Healthcare Social Media Research
See the full list of healthcare social media research articles with data from or reference to Symplur.
#hcsmR is a collaboration between Stanford Medicine X and Symplur.
---
Altmetric
The Altmetric Attention Score is based on the attention a research article gets on the internet. Each coloured thread in the circle represents a different type of online attention and the number in the centre is the Altmetric Attention Score. The score is calculated based on two main sources of online attention: social media and mainstream news media.