Another Time, Another Space: The Evolution of the Virtual Journal Club
A healthcare social media research article published in Academic Radiology, February 28, 2017
Title

Another Time, Another Space: The Evolution of the Virtual Journal Club

Authors (alpha)

Agnieszka O. Solberg, Alison L. Chetlen, Carol M. Dell, Hansel J. Otero, Kirsteen R. Burton, Matthew T. Heller, Nikita Lakomkin, Stacy E. Smith, Stephane L. Desouches

Published

February 28, 2017

Journal

Academic Radiology

Impact Factor

1.966

DOI

Pubmed

Altmetric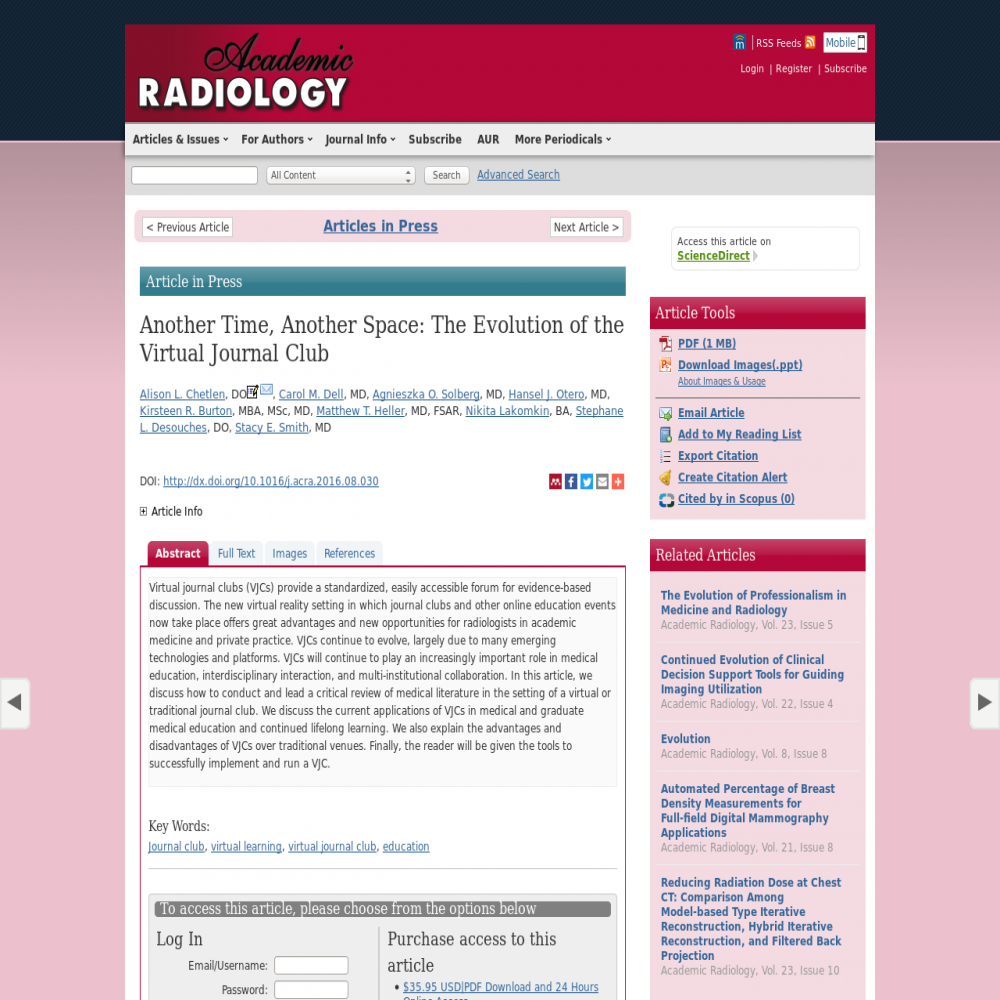 Abstract
Virtual journal clubs (VJCs) provide a standardized, easily accessible forum for evidence-based discussion. The new virtual reality setting in which journal clubs and other online education events now take place offers great advantages and new opportunities for radiologists in academic medicine and private practice. VJCs continue to evolve, largely due to many emerging technologies and platforms. VJCs will continue to play an increasingly important role in medical education, interdisciplinary interaction, and multi-institutional collaboration. In this article, we discuss how to conduct and lead a critical review of medical literature in the setting of a virtual or traditional journal club. We discuss the current applications of VJCs in medical and graduate medical education and continued lifelong learning. We also explain the advantages and disadvantages of VJCs over traditional venues. Finally, the reader will be given the tools to successfully implement and run a VJC.
---
Symplur Signals for Academic Research
Symplur Signals provides researchers with a simple research interface, rich datasets, powerful filtering, and algorithms with natural language processing capabilities optimized for our context of healthcare. Get access to up to 7 years of history from this trusted academic research platform.
Subscribe Now
Healthcare Social Media Research
See the full list of healthcare social media research articles with data from or reference to Symplur.
#hcsmR is a collaboration between Stanford Medicine X and Symplur.
---
Altmetric
The Altmetric Attention Score is based on the attention a research article gets on the internet. Each coloured thread in the circle represents a different type of online attention and the number in the centre is the Altmetric Attention Score. The score is calculated based on two main sources of online attention: social media and mainstream news media.