Ask an anatomist: Identifying global trends, topics and themes of academic anatomists using twitter
A healthcare social media research article published in Anatomical Sciences Education, October 3, 2017
Title

Ask an anatomist: Identifying global trends, topics and themes of academic anatomists using twitter

Authors (alpha)

Madeleine J. Marsland, Michelle D. Lazarus

Published

October 3, 2017

Journal

Anatomical Sciences Education

Impact Factor

2.303

DOI

Pubmed

Altmetric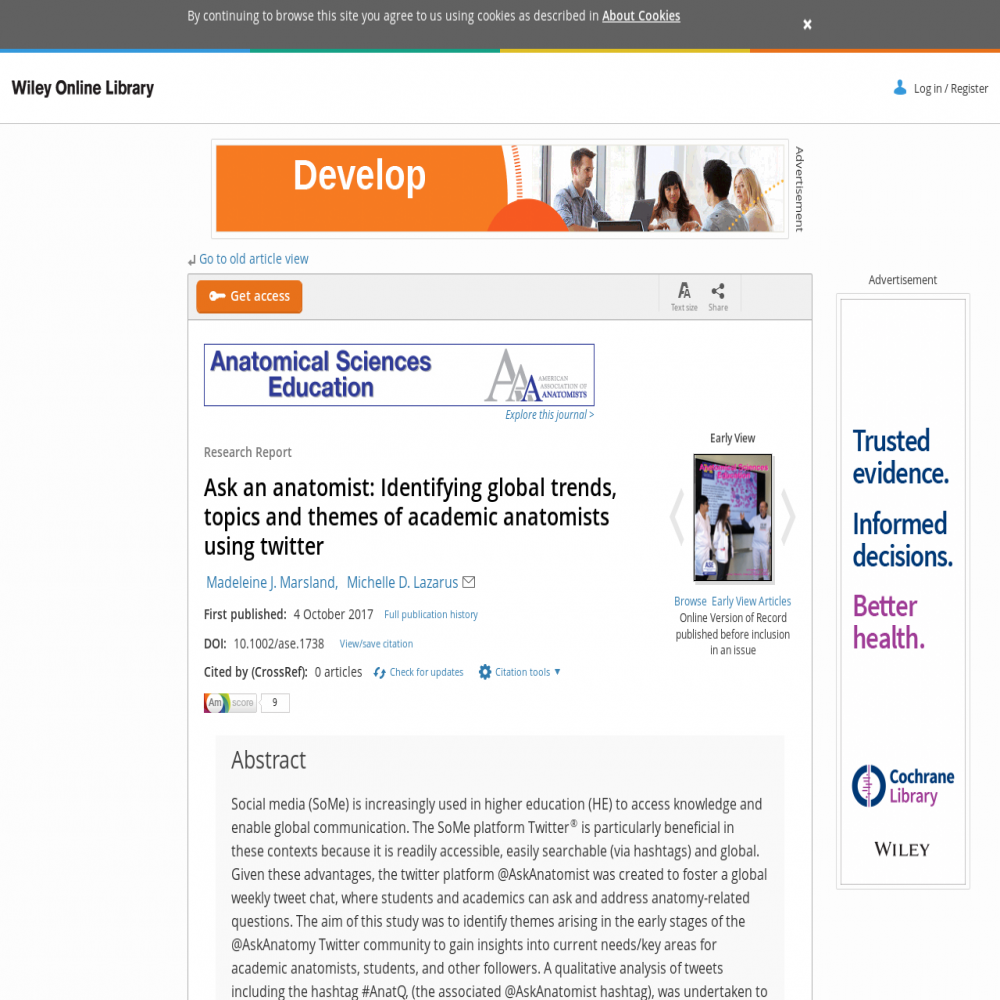 Abstract
Social media (SoMe) is increasingly used in higher education (HE) to access knowledge and enable global communication. The SoMe platform Twitter(®) is particularly beneficial in these contexts because it is readily accessible, easily searchable (via hashtags) and global. Given these advantages, the twitter platform @AskAnatomist was created to foster a global weekly tweet chat, where students and academics from can ask and address anatomy-related questions. The aim of this study was to identify themes arising in the early stages of the @AskAnatomy Twitter community to gain insights into current needs/key areas for academic anatomists, students, and other followers. A qualitative analysis of tweets including the hashtag #AnatQ, (the associated @AskAnatomist hashtag), was undertaken to achieve this aim. Thematic analysis revealed three core themes arising in the formative stages of the @AskAnatomist Twitter site: (1) anatomical education modalities, (2) specific anatomy content, and (3) research motivations. These themes reveal controversies within the field of anatomical sciences, areas for potential education resource improvement and research, as well as the humor of anatomists. Though the original intent of the @AskAnatomist site was to engage the general public in anatomy content and knowledge, tweet analysis suggests that academic anatomists were the primary active "tweeters". Interestingly, this analysis reveals that the @AskAnatomist site progressed into a web-based community of practice (CoP), suggesting an additional benefit of SoMe communities in the field of anatomy.
---
Symplur Signals for Academic Research
Symplur Signals provides researchers with a simple research interface, rich datasets, powerful filtering, and algorithms with natural language processing capabilities optimized for our context of healthcare. Get access to up to 7 years of history from this trusted academic research platform.
Subscribe Now
Healthcare Social Media Research
See the full list of healthcare social media research articles with data from or reference to Symplur.
#hcsmR is a collaboration between Stanford Medicine X and Symplur.
---
Altmetric
The Altmetric Attention Score is based on the attention a research article gets on the internet. Each coloured thread in the circle represents a different type of online attention and the number in the centre is the Altmetric Attention Score. The score is calculated based on two main sources of online attention: social media and mainstream news media.