Assessing the Viability of Social Media for Disseminating Evidence-Based Nutrition Practice Guideline Through Content Analysis of Twitter Messages and Health Professional Interviews: An Observational Study
A healthcare social media research article published in Journal of Medical Internet Research, November 14, 2016
Title

Assessing the Viability of Social Media for Disseminating Evidence-Based Nutrition Practice Guideline Through Content Analysis of Twitter Messages and Health Professional Interviews: An Observational Study

Authors (alpha)

Deric Kenne, Jenica K Abram, Michael Fleming, Rosa K. Hand, Taylor M Wolfram

Published

November 14, 2016

Journal

Journal of Medical Internet Research

Impact Factor

5.835

DOI

Pubmed

Altmetric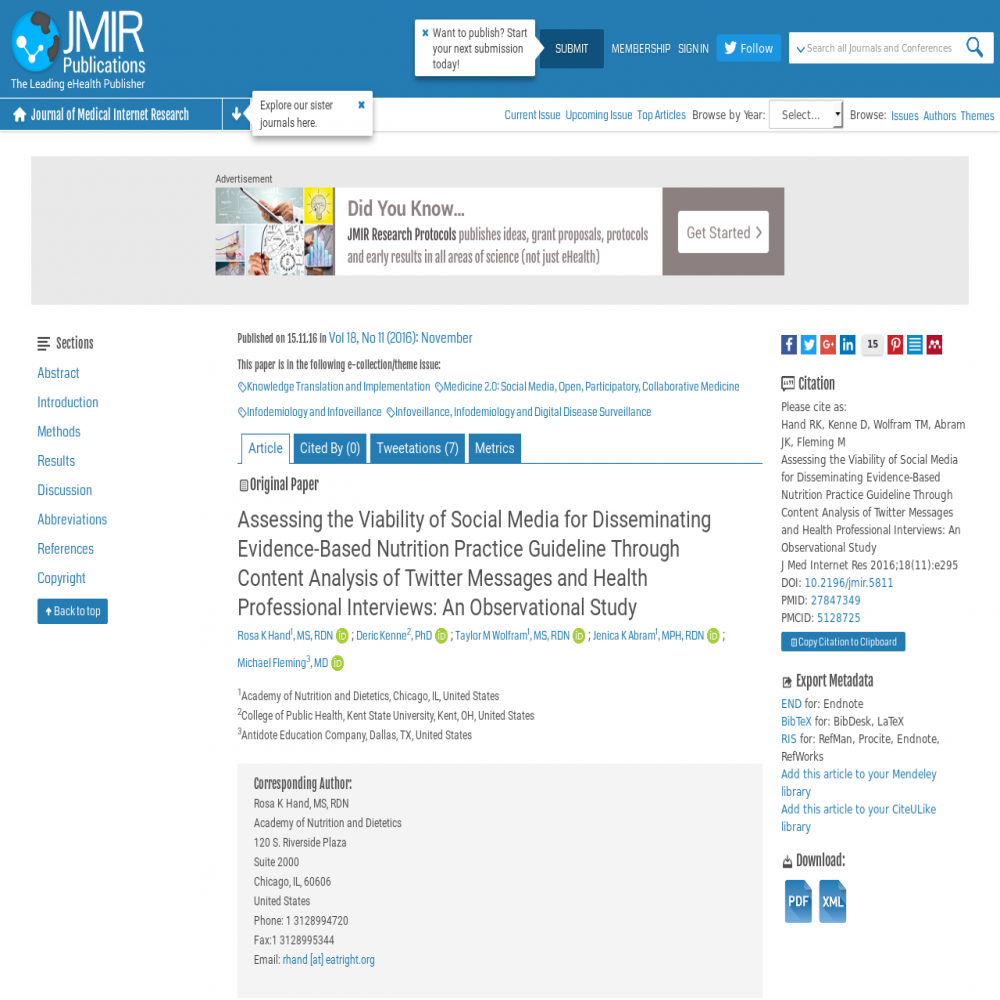 Abstract
Given the high penetration of social media use, social media has been proposed as a method for the dissemination of information to health professionals and patients. This study explored the potential for social media dissemination of the Academy of Nutrition and Dietetics Evidence-Based Nutrition Practice Guideline (EBNPG) for Heart Failure (HF). The objectives were to (1) describe the existing social media content on HF, including message content, source, and target audience, and (2) describe the attitude of physicians and registered dietitian nutritionists (RDNs) who care for outpatient HF patients toward the use of social media as a method to obtain information for themselves and to share this information with patients. The methods were divided into 2 parts. Part 1 involved conducting a content analysis of tweets related to HF, which were downloaded from Twitonomy and assigned codes for message content (19 codes), source (9 codes), and target audience (9 codes); code frequency was described. A comparison in the popularity of tweets (those marked as favorites or retweeted) based on applied codes was made using t tests. Part 2 involved conducting phone interviews with RDNs and physicians to describe health professionals' attitude toward the use of social media to communicate general health information and information specifically related to the HF EBNPG. Interviews were transcribed and coded; exemplar quotes representing frequent themes are presented. The sample included 294 original tweets with the hashtag "#heartfailure." The most frequent message content codes were "HF awareness" (166/294, 56.5%) and "patient support" (97/294, 33.0%). The most frequent source codes were "professional, government, patient advocacy organization, or charity" (112/277, 40.4%) and "patient or family" (105/277, 37.9%). The most frequent target audience codes were "unable to identify" (111/277, 40.1%) and "other" (55/277, 19.9%). Significant differences were found in the popularity of tweets with (mean 1, SD 1.3 favorites) or without (mean 0.7, SD 1.3 favorites), the content code being "HF research" (P=.049). Tweets with the source code "professional, government, patient advocacy organizations, or charities" were significantly more likely to be marked as a favorite and retweeted than those without this source code (mean 1.2, SD 1.4 vs mean 0.8, SD 1.2, P=.03) and (mean 1.5, SD 1.8 vs mean 0.9, SD 2.0, P=.03). Interview participants believed that social media was a useful way to gather professional information. They did not believe that social media was useful for communicating with patients due to privacy concerns and the fact that the information had to be kept general rather than be tailored for a specific patient and the belief that their patients did not use social media or technology. Existing Twitter content related to HF comes from a combination of patients and evidence-based organizations; however, there is little nutrition content. That gap may present an opportunity for EBNPG dissemination. Health professionals use social media to gather information for themselves but are skeptical of its value when communicating with patients, particularly due to privacy concerns and misconceptions about the characteristics of social media users.
---
Symplur Signals for Academic Research
Symplur Signals provides researchers with a simple research interface, rich datasets, powerful filtering, and algorithms with natural language processing capabilities optimized for our context of healthcare. Get access to up to 7 years of history from this trusted academic research platform.
Subscribe Now
Healthcare Social Media Research
See the full list of healthcare social media research articles with data from or reference to Symplur.
#hcsmR is a collaboration between Stanford Medicine X and Symplur.
---
Altmetric
The Altmetric Attention Score is based on the attention a research article gets on the internet. Each coloured thread in the circle represents a different type of online attention and the number in the centre is the Altmetric Attention Score. The score is calculated based on two main sources of online attention: social media and mainstream news media.