#CGS2015: An Evaluation of Twitter Use at the Canadian Geriatrics Society Annual Scientific Meeting
A healthcare social media research article published in Canadian geriatrics journal : CGJ, July 8, 2018
Title

#CGS2015: An Evaluation of Twitter Use at the Canadian Geriatrics Society Annual Scientific Meeting

Authors (alpha)

Amanda Gardhouse, Bonnie Cheung, Camilla L Wong, Christopher Frank, Laura Budd

Published

July 8, 2018

Journal

Canadian geriatrics journal : CGJ

DOI

Pubmed

Altmetric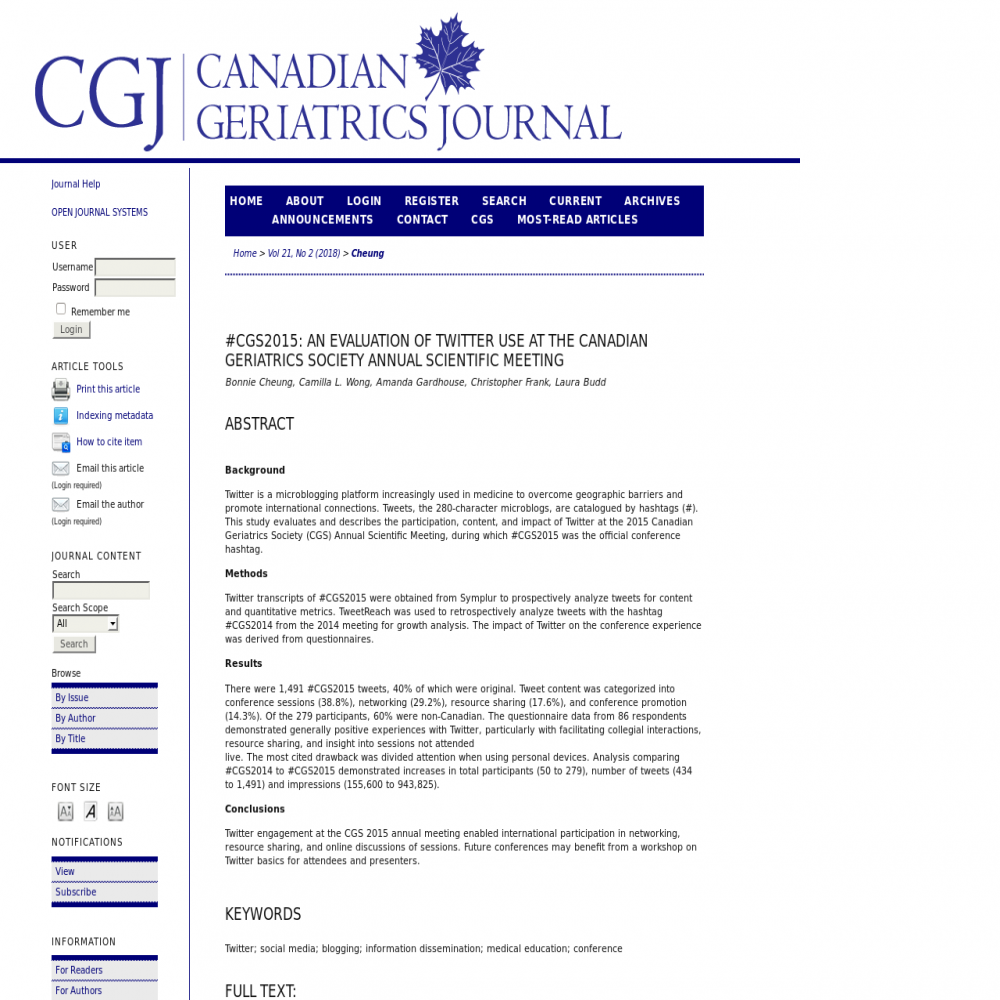 Abstract
Twitter is a microblogging platform increasingly used in medicine to overcome geographic barriers and promote international connections. Tweets, the 280-character microblogs, are catalogued by hashtags (#). This study evaluates and describes the participation, content, and impact of Twitter at the 2015 Canadian Geriatrics Society (CGS) Annual Scientific Meeting, during which #CGS2015 was the official conference hashtag. Twitter transcripts of #CGS2015 were obtained from Symplur to prospectively analyze tweets for content and quantitative metrics. TweetReach was used to retrospectively analyze tweets with the hashtag #CGS2014 from the 2014 meeting for growth analysis. The impact of Twitter on the conference experience was derived from questionnaires. There were 1,491 #CGS2015 tweets, 40% of which were original. Tweet content was categorized into conference sessions (38.8%), networking (29.2%), resource sharing (17.6%), and conference promotion (14.3%). Of the 279 participants, 60% were non-Canadian. The questionnaire data from 86 respondents demonstrated generally positive experiences with Twitter, particularly with facilitating collegial interactions, resource sharing, and insight into sessions not attended live. The most cited drawback was divided attention when using personal devices. Analysis comparing #CGS2014 to #CGS2015 demonstrated increases in total participants (50 to 279), number of tweets (434 to 1,491) and impressions (155,600 to 943,825). Twitter engagement at the CGS 2015 annual meeting enabled international participation in networking, resource sharing, and online discussions of sessions. Future conferences may benefit from a workshop on Twitter basics for attendees and presenters.
---
Symplur Signals for Academic Research
Symplur Signals provides researchers with a simple research interface, rich datasets, powerful filtering, and algorithms with natural language processing capabilities optimized for our context of healthcare. Get access to up to 7 years of history from this trusted academic research platform.
Subscribe Now
Healthcare Social Media Research
See the full list of healthcare social media research articles with data from or reference to Symplur.
#hcsmR is a collaboration between Stanford Medicine X and Symplur.
---
Altmetric
The Altmetric Attention Score is based on the attention a research article gets on the internet. Each coloured thread in the circle represents a different type of online attention and the number in the centre is the Altmetric Attention Score. The score is calculated based on two main sources of online attention: social media and mainstream news media.