Content Analysis of Social Media Related to Left Ventricular Assist Devices
A healthcare social media research article published in Circulation: Cardiovascular Quality & Outcomes, July 27, 2015
Title

Content Analysis of Social Media Related to Left Ventricular Assist Devices

Authors (alpha)

Courtenay R. Bruce, Estevan D. Delgado, Jennifer S. Blumenthal-Barby, Kristin M. Kostick, Lidija A. Wilhelms

Published

July 27, 2015

Journal

Circulation: Cardiovascular Quality & Outcomes

DOI

Pubmed

Altmetric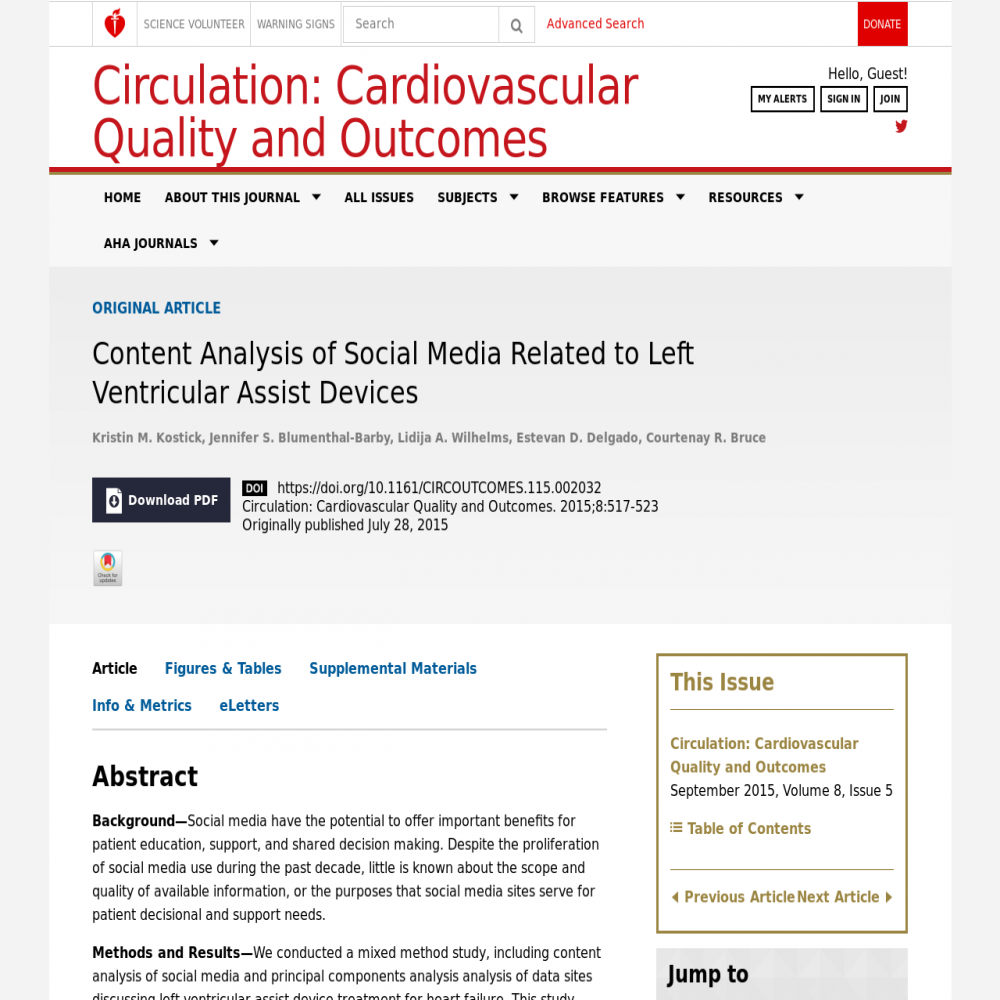 Abstract
Social media have the potential to offer important benefits for patient education, support, and shared decision making. Despite the proliferation of social media use during the past decade, little is known about the scope and quality of available information, or the purposes that social media sites serve for patient decisional and support needs. We conducted a mixed method study, including content analysis of social media and principal components analysis analysis of data sites discussing left ventricular assist device treatment for heart failure. This study explored aspects of interactivity, user-friendliness, appeal, medium, purpose, audience, and accuracy of information. Higher levels of interactivity (eg, posting comments) seem to enhance the appeal and usability of available information but also introduce greater potential for inaccuracy and inconsistency. The current lack of oversight into the content and quality of available information constitute a challenge for the reliable use of social media as forums for information-seeking and social network-based support. We conclude that social media outlets constitute a promising source of informational and psychosocial support for patients, caregivers, and candidates, and if used in conjunction with patient-provider dialog, can contribute to informed decision making by facilitating reflection and discussion of personal concerns, values, and informational needs.
---
Symplur Signals for Academic Research
Symplur Signals provides researchers with a simple research interface, rich datasets, powerful filtering, and algorithms with natural language processing capabilities optimized for our context of healthcare. Get access to up to 7 years of history from this trusted academic research platform.
Subscribe Now
Healthcare Social Media Research
See the full list of healthcare social media research articles with data from or reference to Symplur.
#hcsmR is a collaboration between Stanford Medicine X and Symplur.
---
Altmetric
The Altmetric Attention Score is based on the attention a research article gets on the internet. Each coloured thread in the circle represents a different type of online attention and the number in the centre is the Altmetric Attention Score. The score is calculated based on two main sources of online attention: social media and mainstream news media.