Crafting a positive professional digital profile to augment your practice
A healthcare social media research article published in Neurology Clinical Practice, January 20, 2016
Title

Crafting a positive professional digital profile to augment your practice

Authors (alpha)

Jeff Kraakevik

Published

January 20, 2016

Journal

Neurology Clinical Practice

DOI

Pubmed

Altmetric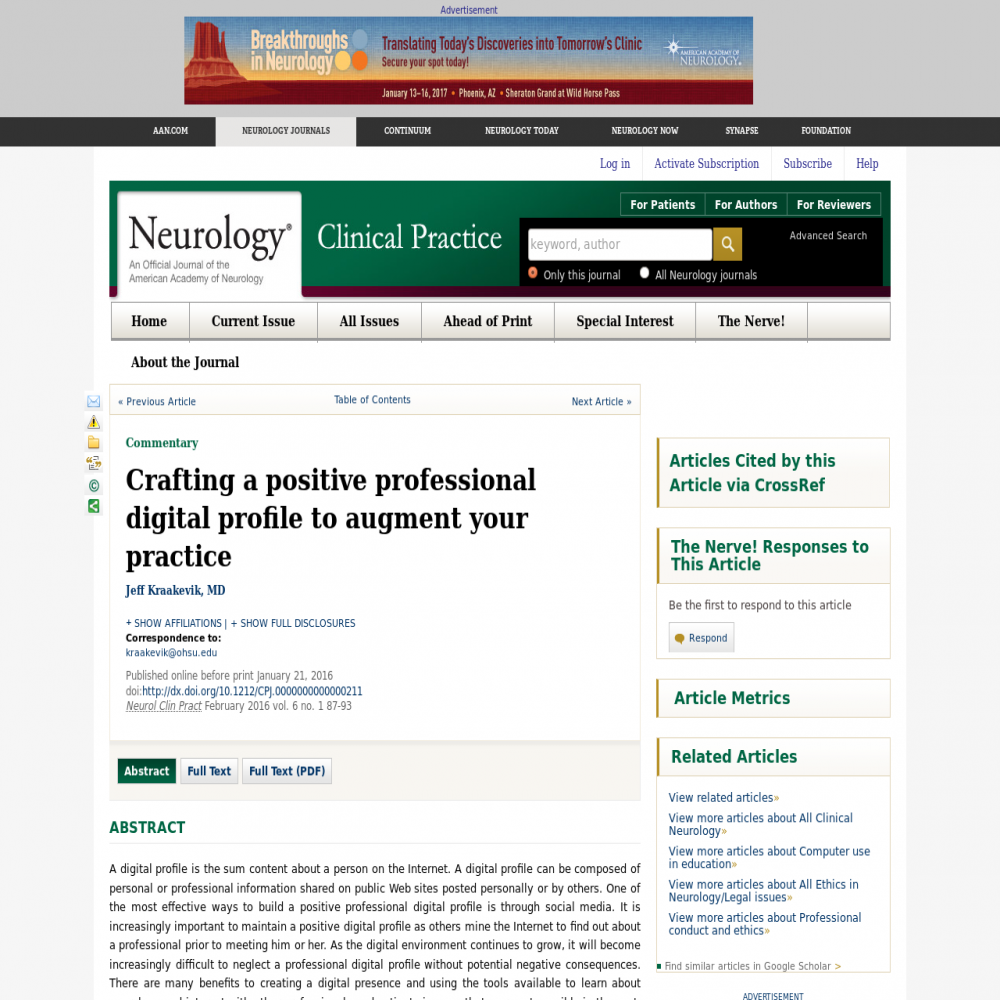 Abstract
A digital profile is the sum content about a person on the Internet. A digital profile can be composed of personal or professional information shared on public Web sites posted personally or by others. One of the most effective ways to build a positive professional digital profile is through social media. It is increasingly important to maintain a positive digital profile as others mine the Internet to find out about a professional prior to meeting him or her. As the digital environment continues to grow, it will become increasingly difficult to neglect a professional digital profile without potential negative consequences. There are many benefits to creating a digital presence and using the tools available to learn about neurology and interact with other professionals and patients in ways that were not possible in the past. The spread of social media to a large part of the population makes it unlikely to go away.
---
Symplur Signals for Academic Research
Symplur Signals provides researchers with a simple research interface, rich datasets, powerful filtering, and algorithms with natural language processing capabilities optimized for our context of healthcare. Get access to up to 7 years of history from this trusted academic research platform.
Subscribe Now
Healthcare Social Media Research
See the full list of healthcare social media research articles with data from or reference to Symplur.
#hcsmR is a collaboration between Stanford Medicine X and Symplur.
---
Altmetric
The Altmetric Attention Score is based on the attention a research article gets on the internet. Each coloured thread in the circle represents a different type of online attention and the number in the centre is the Altmetric Attention Score. The score is calculated based on two main sources of online attention: social media and mainstream news media.