Effective use of Twitter and Facebook in pathology practice
A healthcare social media research article published in Human Pathology, February 28, 2018
Title

Effective use of Twitter and Facebook in pathology practice

Authors (alpha)

Abul Ala Syed Rifat Mannan, Jerad M. Gardner, Pembe Oltulu

Published

February 28, 2018

Journal

Human Pathology

Impact Factor

3.125

DOI

Pubmed

Altmetric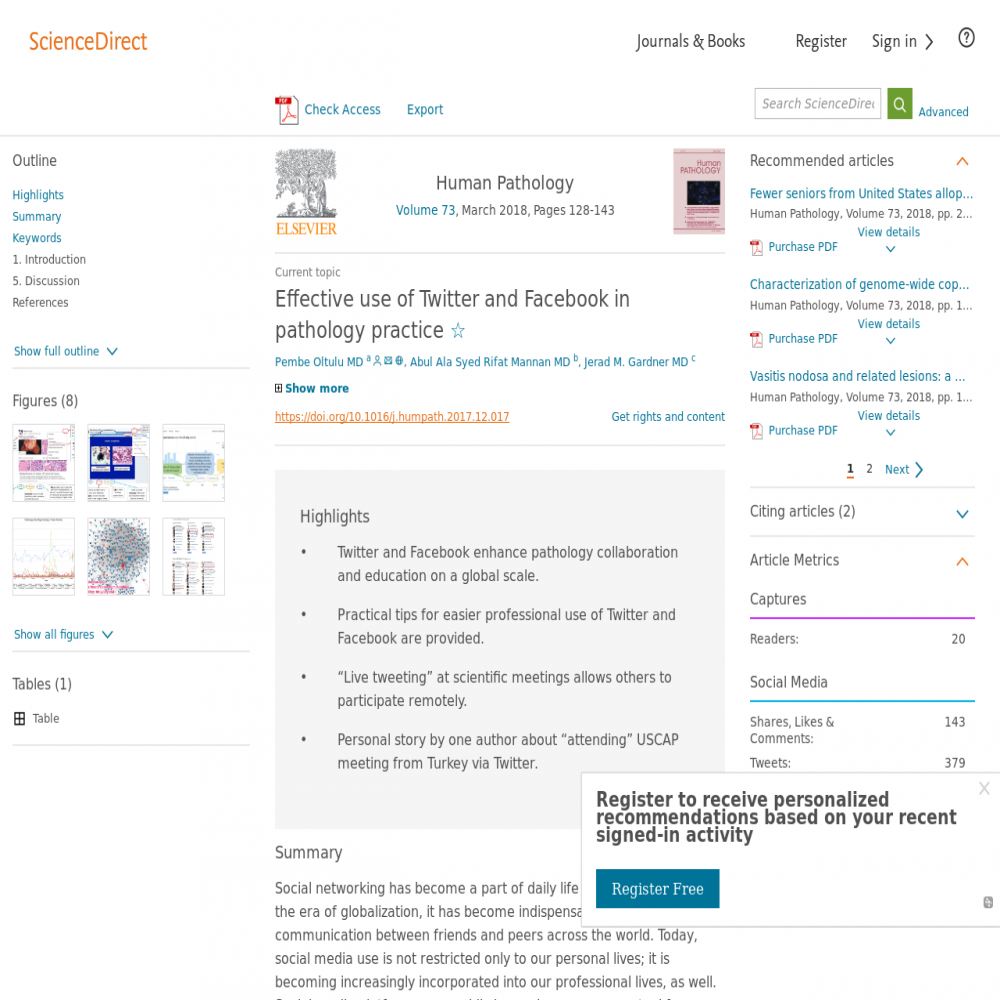 Abstract
Social networking has become a part of daily life for most people. In the era of globalization, it has become indispensable for effective communication between friends and peers across the world. Today, social media use is not only restricted to our personal lives; it is becoming increasingly incorporated into our professional lives, as well. Social media platforms are rapidly becoming a necessary tool for medical professionals. Apt use of social media platforms can revolutionize scientific communication and collaboration. Pathologists are increasingly counted among Facebook's 2 billion users and Twitter's 328 million members. Social media can be a powerful tool not only for individual career progression, but also for raising the public profile of the specialty of pathology. It is now possible for us to reach out to millions of people, simultaneously and instantaneously, just by touching a screen. Real time interactions between physicians, across geographic borders and subspecialty borders, will undeniably open unexplored avenues for effective communication, consultation, research collaboration, and education. Knowledge sharing through social media will immensely enrich and grow our careers as pathologists; it will also enlighten the public and physicians of other specialties as to the crucial role of pathologists in patient care. We discuss the uses of Facebook and Twitter in modern day pathology, its implication in routine daily practice, pros and cons, and tips for effective social media use by pathologists.
---
Symplur Signals for Academic Research
Symplur Signals provides researchers with a simple research interface, rich datasets, powerful filtering, and algorithms with natural language processing capabilities optimized for our context of healthcare. Get access to up to 7 years of history from this trusted academic research platform.
Subscribe Now
Healthcare Social Media Research
See the full list of healthcare social media research articles with data from or reference to Symplur.
#hcsmR is a collaboration between Stanford Medicine X and Symplur.
---
Altmetric
The Altmetric Attention Score is based on the attention a research article gets on the internet. Each coloured thread in the circle represents a different type of online attention and the number in the centre is the Altmetric Attention Score. The score is calculated based on two main sources of online attention: social media and mainstream news media.