Evaluating and selecting mobile health apps: strategies for healthcare providers and healthcare organizations
A healthcare social media research article published in Translational Behavioral Medicine, September 23, 2014
Title

Evaluating and selecting mobile health apps: strategies for healthcare providers and healthcare organizations

Authors (alpha)

Edwin D Boudreaux, Molly E. Waring, Rajani S Sadasivam, Rashelle B Hayes, Sean Mullen, Sherry Pagoto

Published

September 23, 2014

Journal

Translational Behavioral Medicine

Impact Factor

2.189

DOI

Pubmed

Altmetric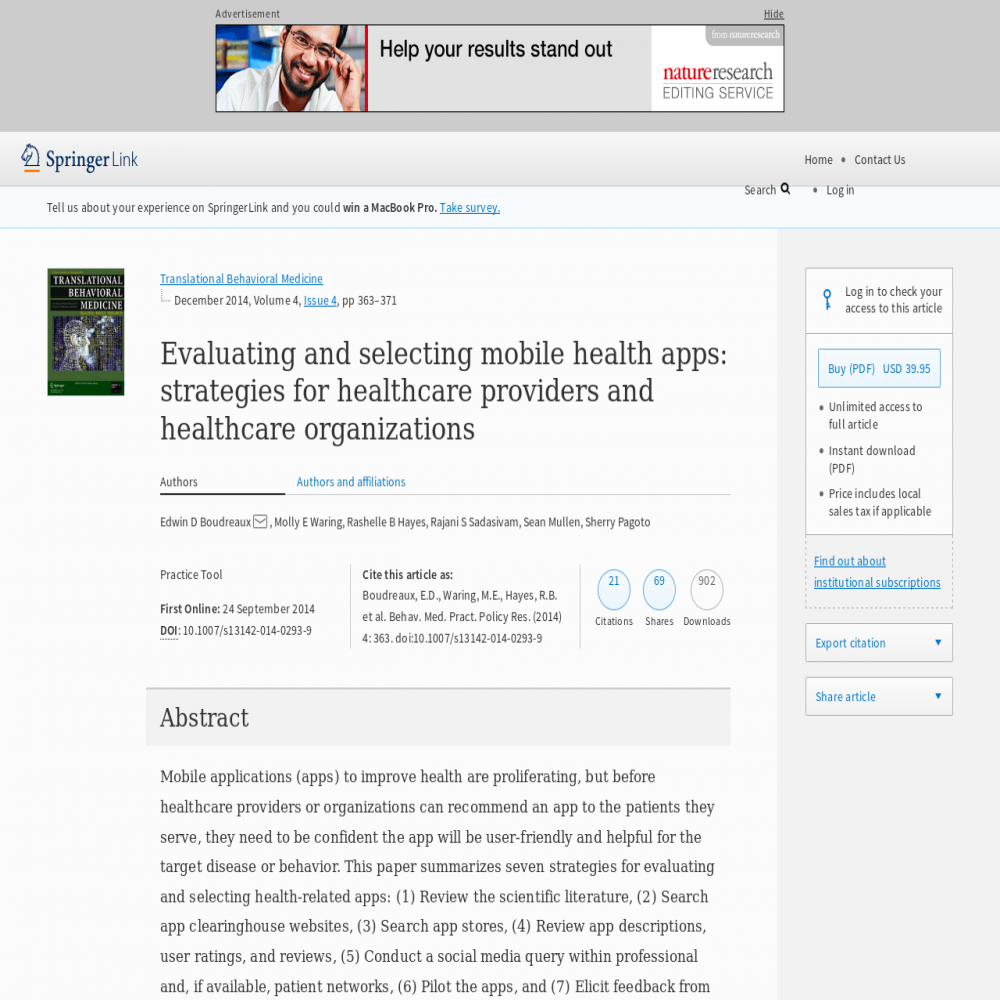 Abstract
Mobile applications (apps) to improve health are proliferating, but before healthcare providers or organizations can recommend an app to the patients they serve, they need to be confident the app will be user-friendly and helpful for the target disease or behavior. This paper summarizes seven strategies for evaluating and selecting health-related apps: (1) Review the scientific literature, (2) Search app clearinghouse websites, (3) Search app stores, (4) Review app descriptions, user ratings, and reviews, (5) Conduct a social media query within professional and, if available, patient networks, (6) Pilot the apps, and (7) Elicit feedback from patients. The paper concludes with an illustrative case example. Because of the enormous range of quality among apps, strategies for evaluating them will be necessary for adoption to occur in a way that aligns with core values in healthcare, such as the Hippocratic principles of nonmaleficence and beneficence.
---
Symplur Signals for Academic Research
Symplur Signals provides researchers with a simple research interface, rich datasets, powerful filtering, and algorithms with natural language processing capabilities optimized for our context of healthcare. Get access to up to 7 years of history from this trusted academic research platform.
Subscribe Now
Healthcare Social Media Research
See the full list of healthcare social media research articles with data from or reference to Symplur.
#hcsmR is a collaboration between Stanford Medicine X and Symplur.
---
Altmetric
The Altmetric Attention Score is based on the attention a research article gets on the internet. Each coloured thread in the circle represents a different type of online attention and the number in the centre is the Altmetric Attention Score. The score is calculated based on two main sources of online attention: social media and mainstream news media.