Future of Education or Present Reality: MD Anderson Cancer Center Hematopathology Virtual Educational Platform under Coronavirus Disease 2019 (COVID-19) Pandemic
A healthcare social media research article published in Archives of Pathology & Laboratory Medicine, July 19, 2021
Title

Future of Education or Present Reality: MD Anderson Cancer Center Hematopathology Virtual Educational Platform under Coronavirus Disease 2019 (COVID-19) Pandemic

Authors (alpha)

Haneen Al-Maghrabi, Jie Xu, Joseph D. Khoury, Kirill A. Lyapichev, L. Jeffrey Medeiros, Sanam Loghavi, Sergej Konoplev, Siba El Hussein

Published

July 19, 2021

Journal

Archives of Pathology & Laboratory Medicine

Impact Factor

2.838

DOI

Pubmed

Altmetric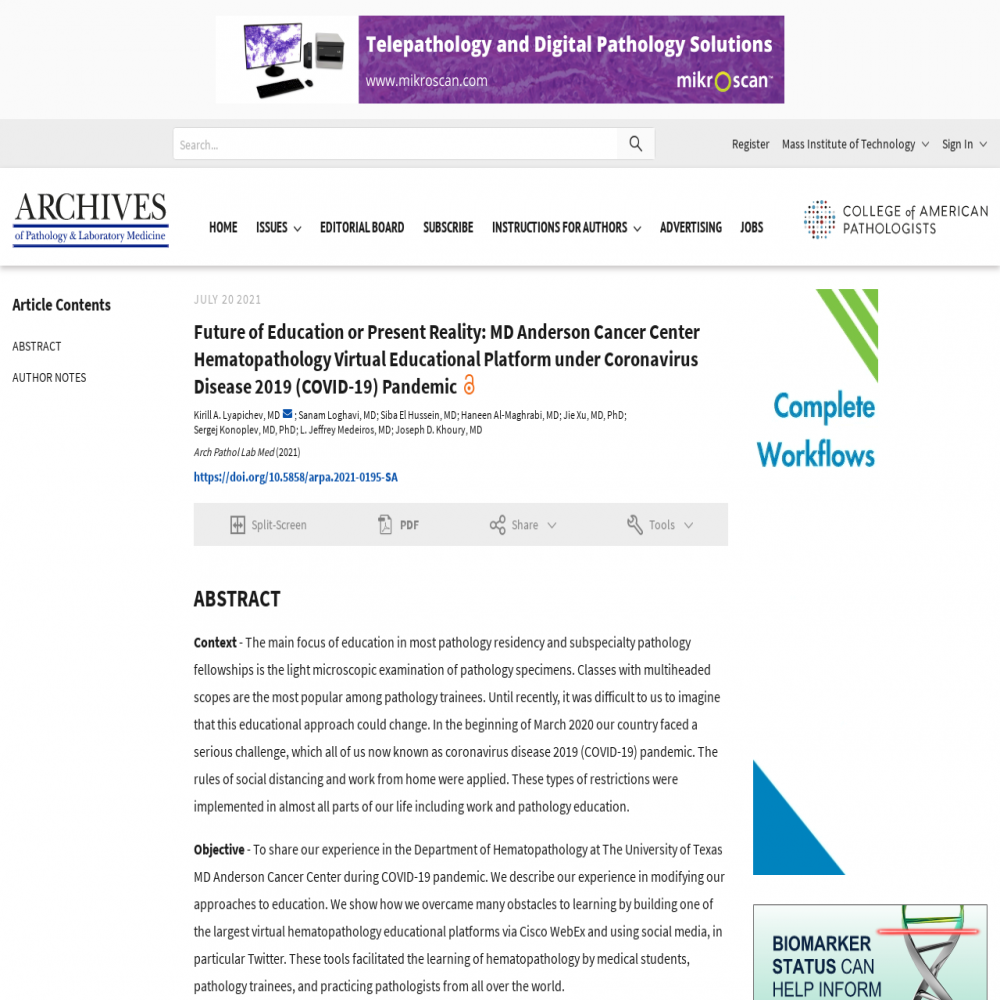 Abstract
Context - The main focus of education in most pathology residency and subspecialty pathology fellowships is the light microscopic examination of pathology specimens. Classes with multiheaded scopes are the most popular among pathology trainees. Until recently, it was difficult to us to imagine that this educational approach could change. In the beginning of March 2020 our country faced a serious challenge, which all of us now known as coronavirus disease 2019 (COVID-19) pandemic. The rules of social distancing and work from home were applied. These types of restrictions were implemented in almost all parts of our life including work and pathology education. Objective - To share our experience in the Department of Hematopathology at The University of Texas MD Anderson Cancer Center during COVID-19 pandemic. We describe our experience in modifying our approaches to education. We show how we overcame many obstacles to learning by building one of the largest virtual hematopathology educational platforms via Cisco WebEx and using social media, in particular Twitter. These tools facilitated the learning of hematopathology by medical students, pathology trainees, and practicing pathologists from all over the world. Data Sources - During the three months of the pandemic (April, May and June 2020), we evaluated the visitors' attendance to MD Anderson Cancer Center Hematopathology Virtual Educational Platform using data collected by Cisco WebEx website. For examination of the impact of the hematopathology community on Twitter on medical education the analytic metrics obtained from Symplur LLC (www.symplur.com, 04/27/2020) were used via its Symplur Signals program. Conclusions - Our experience using the MD Anderson Hematopathology Virtual Platform showed that there is substantial, global interest and desire for virtual hematopathology education, especially during the pandemic time.
---
Symplur Signals for Academic Research
Symplur Signals provides researchers with a simple research interface, rich datasets, powerful filtering, and algorithms with natural language processing capabilities optimized for our context of healthcare. Get access to up to 7 years of history from this trusted academic research platform.
Subscribe Now
Healthcare Social Media Research
See the full list of healthcare social media research articles with data from or reference to Symplur.
#hcsmR is a collaboration between Stanford Medicine X and Symplur.
---
Altmetric
The Altmetric Attention Score is based on the attention a research article gets on the internet. Each coloured thread in the circle represents a different type of online attention and the number in the centre is the Altmetric Attention Score. The score is calculated based on two main sources of online attention: social media and mainstream news media.