Global Emergency Medicine Journal Club: A Social Media Discussion About the Outpatient Management of Patients With Spontaneous Pneumothorax by Using Pigtail Catheters
A healthcare social media research article published in Annals of Emergency Medicine, September 30, 2015
Title

Global Emergency Medicine Journal Club: A Social Media Discussion About the Outpatient Management of Patients With Spontaneous Pneumothorax by Using Pigtail Catheters

Authors (alpha)

Heather Murray, Michelle Lin, N. Seth Trueger, Scott Kobner

Published

September 30, 2015

Journal

Annals of Emergency Medicine

Impact Factor

4.676

DOI

Pubmed

Altmetric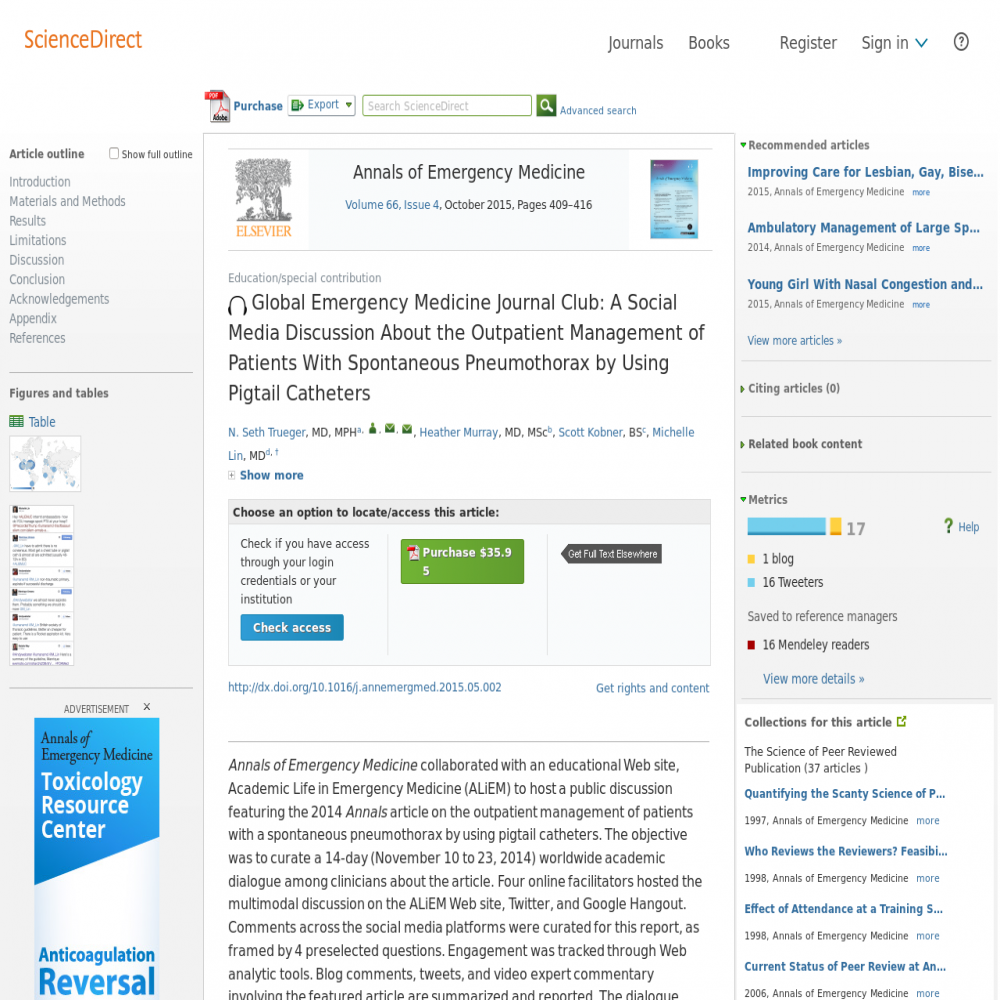 Abstract
Annals of Emergency Medicine collaborated with an educational Web site, Academic Life in Emergency Medicine (ALiEM) to host a public discussion featuring the 2014 Annals article on the outpatient management of patients with a spontaneous pneumothorax by using pigtail catheters. The objective was to curate a 14-day (November 10 to 23, 2014) worldwide academic dialogue among clinicians about the article. Four online facilitators hosted the multimodal discussion on the ALiEM Web site, Twitter, and Google Hangout. Comments across the social media platforms were curated for this report, as framed by 4 preselected questions. Engagement was tracked through Web analytic tools. Blog comments, tweets, and video expert commentary involving the featured article are summarized and reported. The dialogue resulted in 1,023 page views from 347 cities in 49 countries on the ALiEM Web site, 279,027 Twitter impressions, and 88 views of the video interview with experts. This Global Emergency Medicine Journal Club created a virtual community of practice from around the world and identified common themes around the management of spontaneous pneumothorax, which included substantial practice variation in regard to inpatient versus outpatient management, location of chest tube, the use of aspiration, and chest radiography after placement.
---
Symplur Signals for Academic Research
Symplur Signals provides researchers with a simple research interface, rich datasets, powerful filtering, and algorithms with natural language processing capabilities optimized for our context of healthcare. Get access to up to 7 years of history from this trusted academic research platform.
Subscribe Now
Healthcare Social Media Research
See the full list of healthcare social media research articles with data from or reference to Symplur.
#hcsmR is a collaboration between Stanford Medicine X and Symplur.
---
Altmetric
The Altmetric Attention Score is based on the attention a research article gets on the internet. Each coloured thread in the circle represents a different type of online attention and the number in the centre is the Altmetric Attention Score. The score is calculated based on two main sources of online attention: social media and mainstream news media.