Global Emergency Medicine Journal Club: Social Media Responses to the January 2014 Online Emergency Medicine Journal Club on Subarachnoid Hemorrhage
A healthcare social media research article published in Annals of Emergency Medicine, June 30, 2014
Title

Global Emergency Medicine Journal Club: Social Media Responses to the January 2014 Online Emergency Medicine Journal Club on Subarachnoid Hemorrhage

Authors (alpha)

Hans Rosenberg, Michelle Lin, Teresa M. Chan

Published

June 30, 2014

Journal

Annals of Emergency Medicine

Impact Factor

4.676

DOI

Pubmed

Altmetric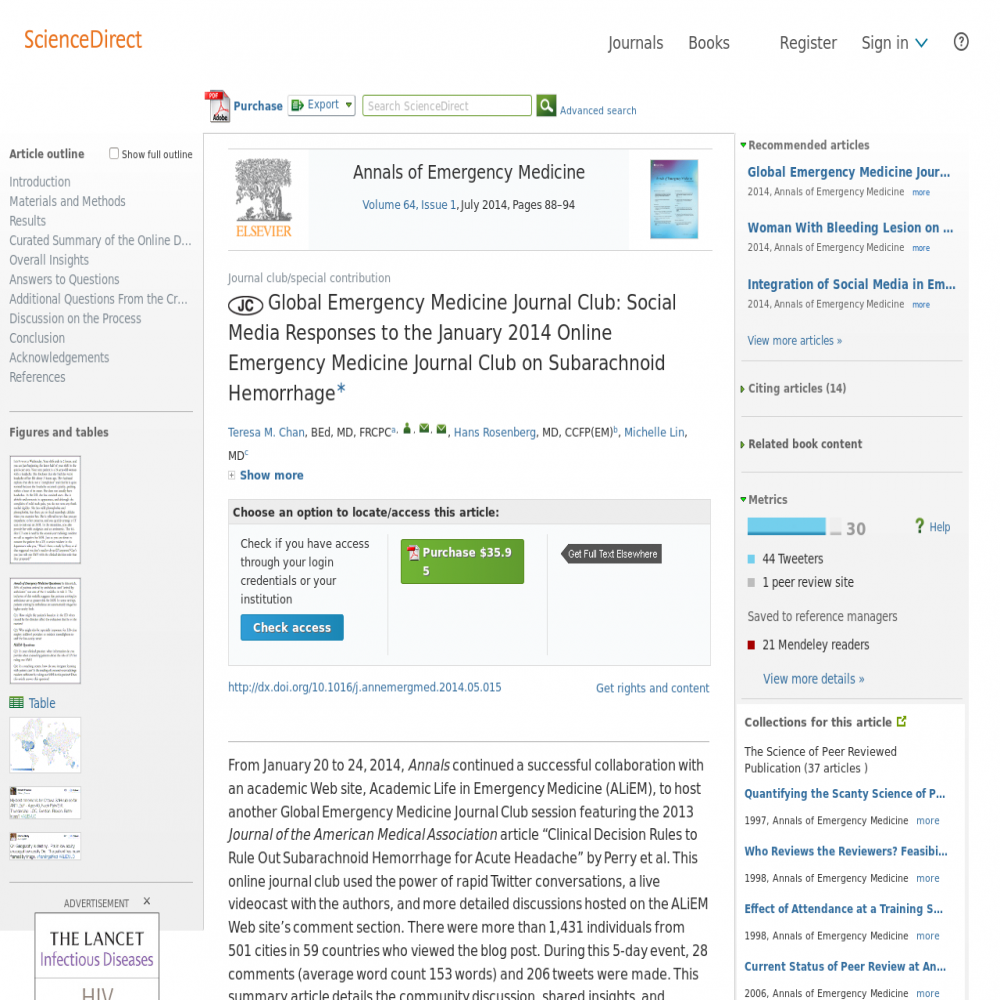 Abstract
From January 20 to 24, 2014, Annals continued a successful collaboration with an academic Web site, Academic Life in Emergency Medicine (ALiEM), to host another Global Emergency Medicine Journal Club session featuring the 2013 Journal of the American Medical Association article "Clinical Decision Rules to Rule Out Subarachnoid Hemorrhage for Acute Headache" by Perry et al. This online journal club used the power of rapid Twitter conversations, a live videocast with the authors, and more detailed discussions hosted on the ALiEM Web site's comment section. There were more than 1,431 individuals from 501 cities in 59 countries who viewed the blog post. During this 5-day event, 28 comments (average word count 153 words) and 206 tweets were made. This summary article details the community discussion, shared insights, and analytic data generated during this novel, multiplatform approach.
---
Symplur Signals for Academic Research
Symplur Signals provides researchers with a simple research interface, rich datasets, powerful filtering, and algorithms with natural language processing capabilities optimized for our context of healthcare. Get access to up to 7 years of history from this trusted academic research platform.
Subscribe Now
Healthcare Social Media Research
See the full list of healthcare social media research articles with data from or reference to Symplur.
#hcsmR is a collaboration between Stanford Medicine X and Symplur.
---
Altmetric
The Altmetric Attention Score is based on the attention a research article gets on the internet. Each coloured thread in the circle represents a different type of online attention and the number in the centre is the Altmetric Attention Score. The score is calculated based on two main sources of online attention: social media and mainstream news media.