#IHMayDay: tweeting for empowerment and social and emotional wellbeing
A healthcare social media research article published in Australasian Psychiatry, October 19, 2015
Title

#IHMayDay: tweeting for empowerment and social and emotional wellbeing

Authors (alpha)

Kerry McCallum, Lynore Geia, Melissa Sweet, Pat Dudgeon

Published

October 19, 2015

Journal

Australasian Psychiatry

Impact Factor

0.469

DOI

Pubmed

Altmetric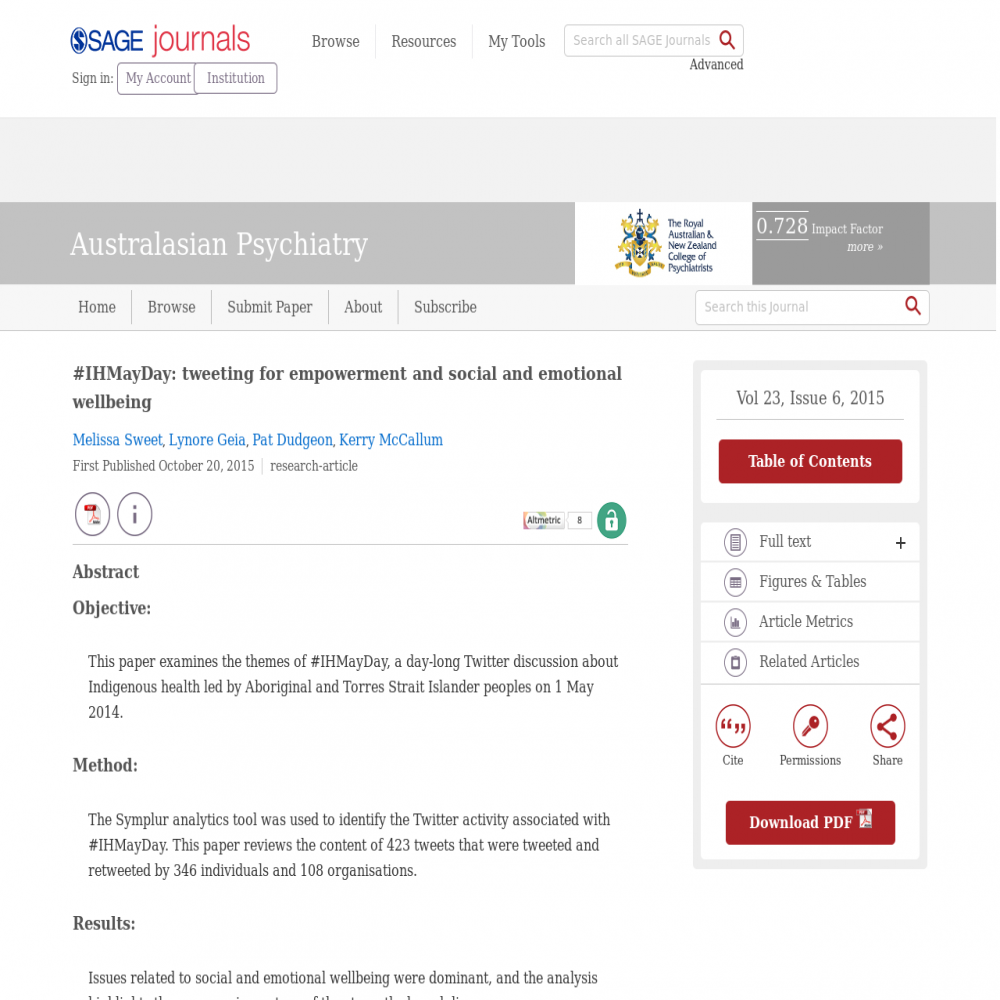 Abstract
This paper examines the themes of #IHMayDay, a day-long Twitter discussion about Indigenous health led by Aboriginal and Torres Strait Islander peoples on 1 May 2014. The Symplur analytics tool was used to identify the Twitter activity associated with #IHMayDay. This paper reviews the content of 423 tweets that were tweeted and retweeted by 346 individuals and 108 organisations. Issues related to social and emotional wellbeing were dominant, and the analysis highlights the empowering nature of the strengths-based discourse. Twitter-based events such as #IHMayDay and initiatives such as the rotated, curated account @IndigenousX are powerful platforms for learning, exchange, advocacy and dialogue about the social and emotional wellbeing and mental health of Aboriginal and Torres Strait Islander peoples.
---
Symplur Signals for Academic Research
Symplur Signals provides researchers with a simple research interface, rich datasets, powerful filtering, and algorithms with natural language processing capabilities optimized for our context of healthcare. Get access to up to 7 years of history from this trusted academic research platform.
Subscribe Now
Healthcare Social Media Research
See the full list of healthcare social media research articles with data from or reference to Symplur.
#hcsmR is a collaboration between Stanford Medicine X and Symplur.
---
Altmetric
The Altmetric Attention Score is based on the attention a research article gets on the internet. Each coloured thread in the circle represents a different type of online attention and the number in the centre is the Altmetric Attention Score. The score is calculated based on two main sources of online attention: social media and mainstream news media.