Integrating Social Media into Urologic Health care: What Can We Learn from Other Disciplines?
A healthcare social media research article published in Current Urology Reports, January 12, 2016
Title

Integrating Social Media into Urologic Health care: What Can We Learn from Other Disciplines?

Authors (alpha)

Declan G. Murphy, Hendrik Borgmann, Johannes Salem

Published

January 12, 2016

Journal

Current Urology Reports

Impact Factor

1.597

DOI

Pubmed

Altmetric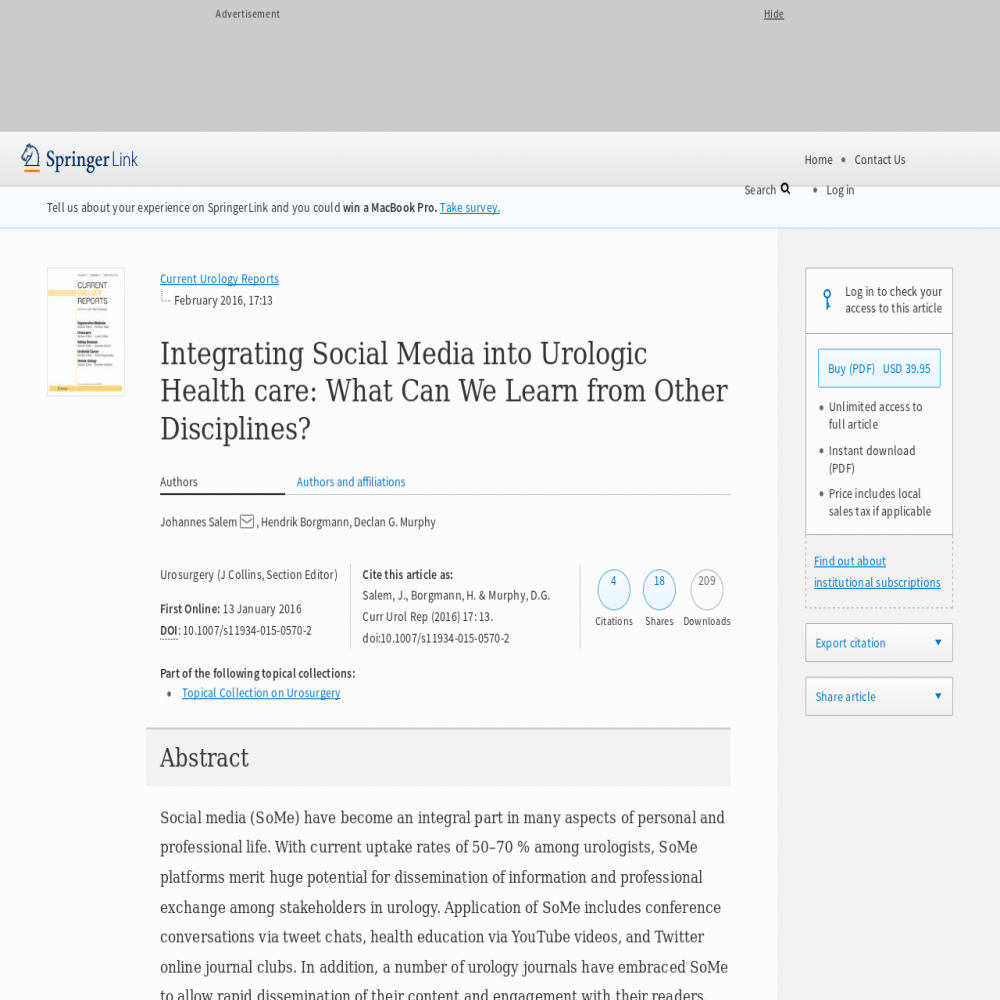 Abstract
Social media (SoMe) have become an integral part in many aspects of personal and professional life. With current uptake rates of 50-70 % among urologists, SoMe platforms merit huge potential for dissemination of information and professional exchange among stakeholders in urology. Application of SoMe includes conference conversations via tweet chats, health education via YouTube videos, and Twitter online journal clubs. In addition, a number of urology journals have embraced SoMe to allow rapid dissemination of their content and engagement with their readers. Guidance for the appropriate use of SoMe is provided to urologists by several organizations. Besides urology, other disciplines have adopted SoMe for a variety of areas: continuing professional development, awareness of rare diseases, recruitment of study participants, patient education and support, and publicizing research. Openness to new approaches is the basic prerequisite for a transfer of successful concepts embraced by other specialties, to the field of urology.
---
Symplur Signals for Academic Research
Symplur Signals provides researchers with a simple research interface, rich datasets, powerful filtering, and algorithms with natural language processing capabilities optimized for our context of healthcare. Get access to up to 7 years of history from this trusted academic research platform.
Subscribe Now
Healthcare Social Media Research
See the full list of healthcare social media research articles with data from or reference to Symplur.
#hcsmR is a collaboration between Stanford Medicine X and Symplur.
---
Altmetric
The Altmetric Attention Score is based on the attention a research article gets on the internet. Each coloured thread in the circle represents a different type of online attention and the number in the centre is the Altmetric Attention Score. The score is calculated based on two main sources of online attention: social media and mainstream news media.