#InterventionalRadiology
A healthcare social media research article published in Journal of Vascular and Interventional Radiology, April 30, 2018
Title

#InterventionalRadiology

Authors (alpha)

Anthony N. Hage, Brian Jeffers, Jeffrey Forris Beecham Chick, Joseph J. Gemmete, Rajiv N. Srinivasa, Ravi N. Srinivasa

Published

April 30, 2018

Journal

Journal of Vascular and Interventional Radiology

DOI

Pubmed

Altmetric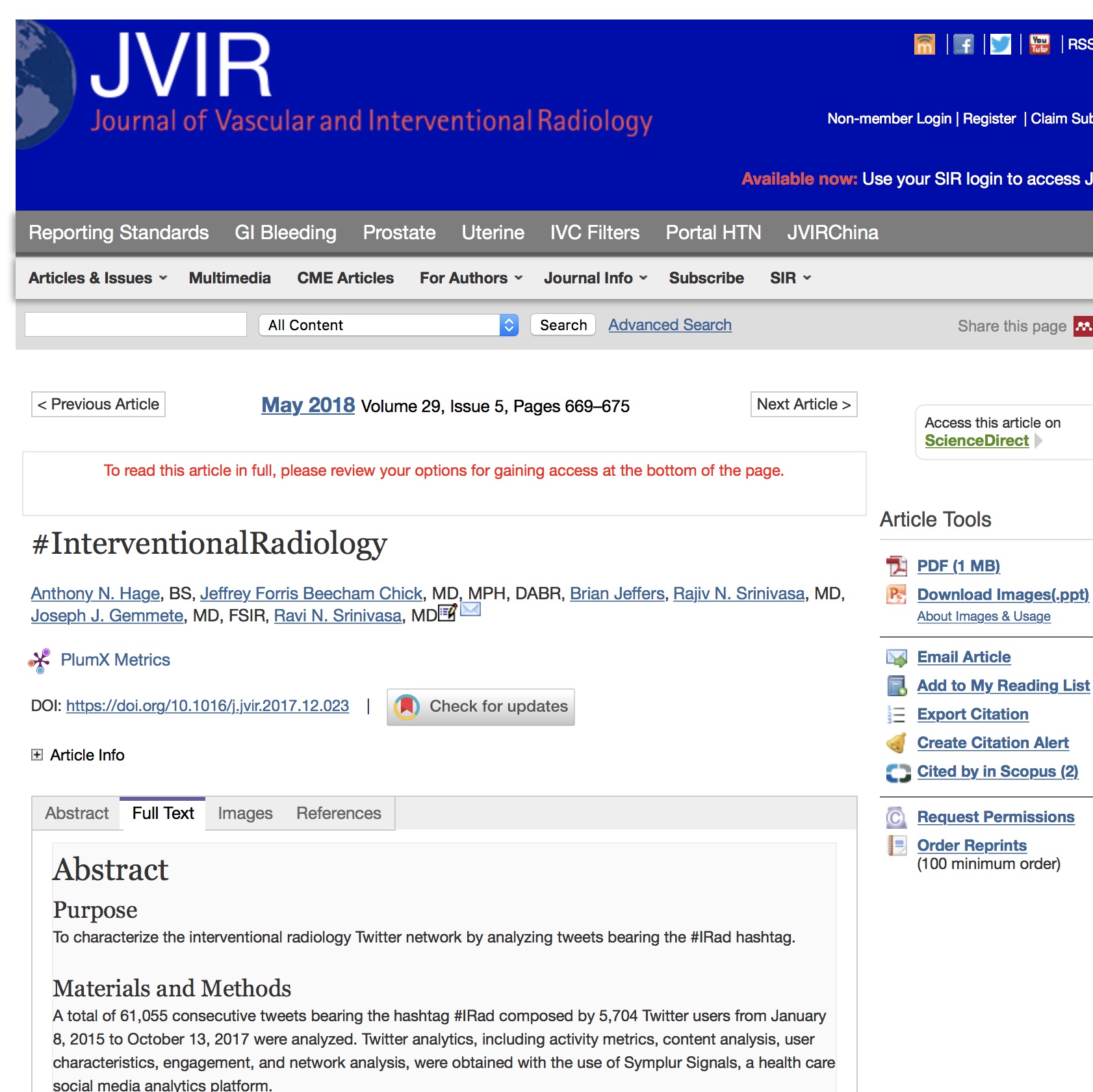 Abstract
To characterize the interventional radiology Twitter network by analyzing tweets bearing the #IRad hashtag. A total of 61,055 consecutive tweets bearing the hashtag #IRad composed by 5,704 Twitter users from January 8, 2015 to October 13, 2017 were analyzed. Twitter analytics, including activity metrics, content analysis, user characteristics, engagement, and network analysis, were obtained with the use of Symplur Signals, a health care social media analytics platform. The number of tweets bearing the #IRad hashtag, the number of users, and the number of impressions increased by 124%, 76%, and 102%, respectively, over the past year. Regarding tweet content, 4,571 tweets (7.5%) reported new or innovative topics and 4,040 tweets (6.6%) pertained to patients; 19,409 (31.8%) tweets contained at least 1 image and 15,245 tweets (25.0%) included links to websites or journals. Embolization, ablation, and stent placement were commonly discussed topics. Endoscopy, transarterial chemoembolization, uterine artery embolization, and prostate artery embolization discussions were trending more commonly. As for engagement, there were 39,953 retweets (65.4%), 50,452 mentions (82.6%), and 1,704 replies (2.8%). Physicians and patients authored 29,182 (47.8%) and 127 (0.8%) tweets, respectively. Network analysis demonstrated advocate, provider, and media organizations, and physicians as the most active participants using the #IRad hashtag on Twitter. The use of the #IRad hashtag by interventional radiologists is growing rapidly, with the majority of discussions involving medical professionals and medical-related organizations.
---
Symplur Signals for Academic Research
Symplur Signals provides researchers with a simple research interface, rich datasets, powerful filtering, and algorithms with natural language processing capabilities optimized for our context of healthcare. Get access to up to 7 years of history from this trusted academic research platform.
Subscribe Now
Healthcare Social Media Research
See the full list of healthcare social media research articles with data from or reference to Symplur.
#hcsmR is a collaboration between Stanford Medicine X and Symplur.
---
Altmetric
The Altmetric Attention Score is based on the attention a research article gets on the internet. Each coloured thread in the circle represents a different type of online attention and the number in the centre is the Altmetric Attention Score. The score is calculated based on two main sources of online attention: social media and mainstream news media.