Measuring Audience Engagement for Public Health Twitter Chats: Insights From #LiveFitNOLA
A healthcare social media research article published in JMIR Public Health and Surveillance, June 7, 2017
Title

Measuring Audience Engagement for Public Health Twitter Chats: Insights From #LiveFitNOLA

Authors (alpha)

Carolyn C Johnson, Connie L. Bish, Kristina M Rabarison, Merriah A Croston, Naomi K Englar, Shelbi M Flynn

Published

June 7, 2017

Journal

JMIR Public Health and Surveillance

Impact Factor

5.175

DOI

Pubmed

Altmetric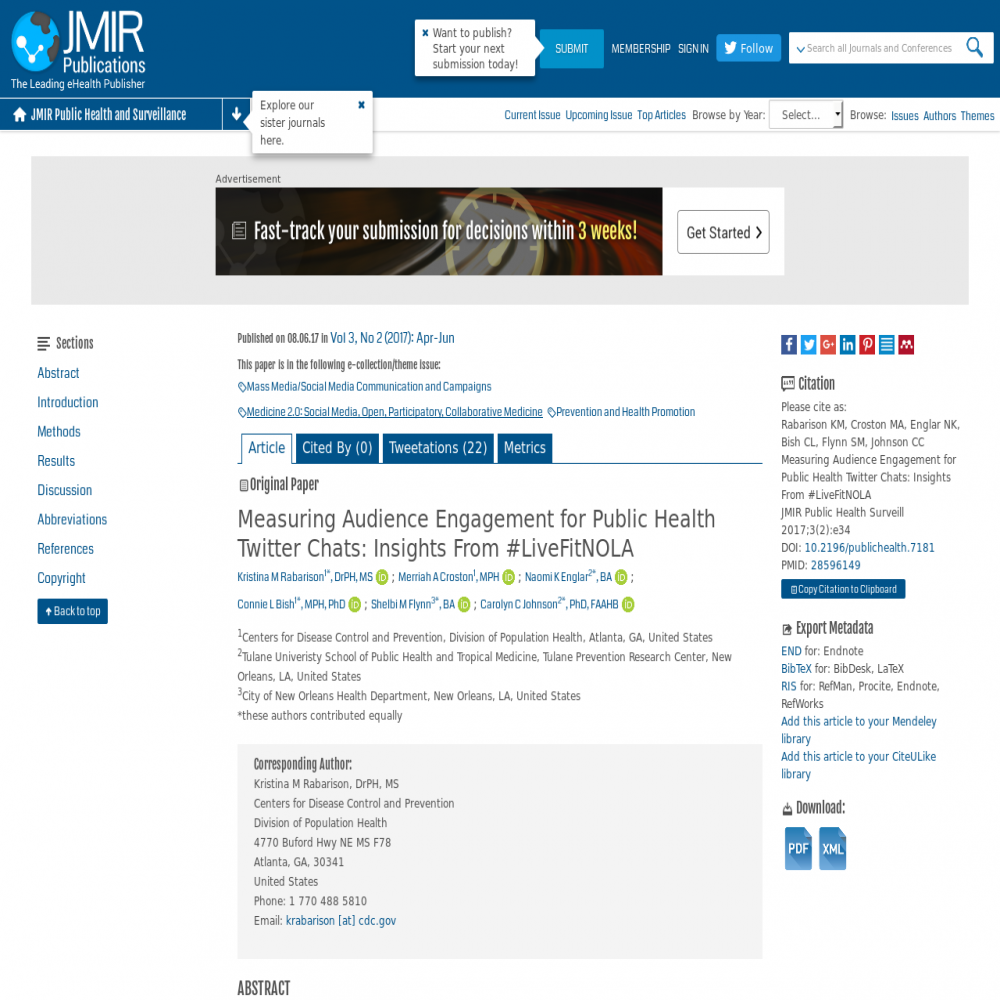 Abstract
Little empirical evidence exists on the effectiveness of using Twitter as a two-way communication tool for public health practice, such as Twitter chats. We analyzed whether Twitter chats facilitate engagement in two-way communications between public health entities and their audience. We also describe how to measure two-way communications, incoming and outgoing mentions, between users in a protocol using free and publicly available tools (Symplur, OpenRefine, and Gephi). We used a mixed-methods approach, social network analysis, and content analysis. The study population comprised individuals and organizations participating or who were mentioned in the first #LiveFitNOLA chat, during a 75-min period on March 5, 2015, from 12:00 PM to 1:15 PM Central Time. We assessed audience engagement in two-way communications with two metrics: engagement ratio and return on engagement (ROE). The #LiveFitNOLA chat had 744 tweets and 66 participants with an average of 11 tweets per participant. The resulting network had 134 network members and 474 engagements. The engagement ratios and ROEs for the #LiveFitNOLA organizers were 1:1, 40% (13/32) (@TulanePRC) and 2:1, -40% (-25/63) (@FitNOLA). Content analysis showed information sharing (63.9%, 314/491) and health information (27.9%, 137/491) as the most salient theme and sub-theme, respectively. Our findings suggest Twitter chats facilitate audience engagement in two-way communications between public health entities and their audience. The #LiveFitNOLA organizers' engagement ratios and ROEs indicated a moderate level of engagement with their audience. The practical significance of the engagement ratio and ROE depends on the audience, context, scope, scale, and goal of a Twitter chat or other organized hashtag-based communications on Twitter.
---
Symplur Signals for Academic Research
Symplur Signals provides researchers with a simple research interface, rich datasets, powerful filtering, and algorithms with natural language processing capabilities optimized for our context of healthcare. Get access to up to 7 years of history from this trusted academic research platform.
Subscribe Now
Healthcare Social Media Research
See the full list of healthcare social media research articles with data from or reference to Symplur.
#hcsmR is a collaboration between Stanford Medicine X and Symplur.
---
Altmetric
The Altmetric Attention Score is based on the attention a research article gets on the internet. Each coloured thread in the circle represents a different type of online attention and the number in the centre is the Altmetric Attention Score. The score is calculated based on two main sources of online attention: social media and mainstream news media.