Novel Use of Twitter to Disseminate and Evaluate Adherence with Clinical Guidelines by the European Association of Urology
A healthcare social media research article published in British Journal of Urology, March 9, 2017
Title

Novel Use of Twitter to Disseminate and Evaluate Adherence with Clinical Guidelines by the European Association of Urology

Authors (alpha)

Inge Van Oort, James N'dow, Jarka Bloemberg, Julie Darraugh, Marc Van Gurp, Maria J. Ribal, Morgan Roupret, Stacy Loeb

Published

March 9, 2017

Journal

British Journal of Urology

DOI

Pubmed

Altmetric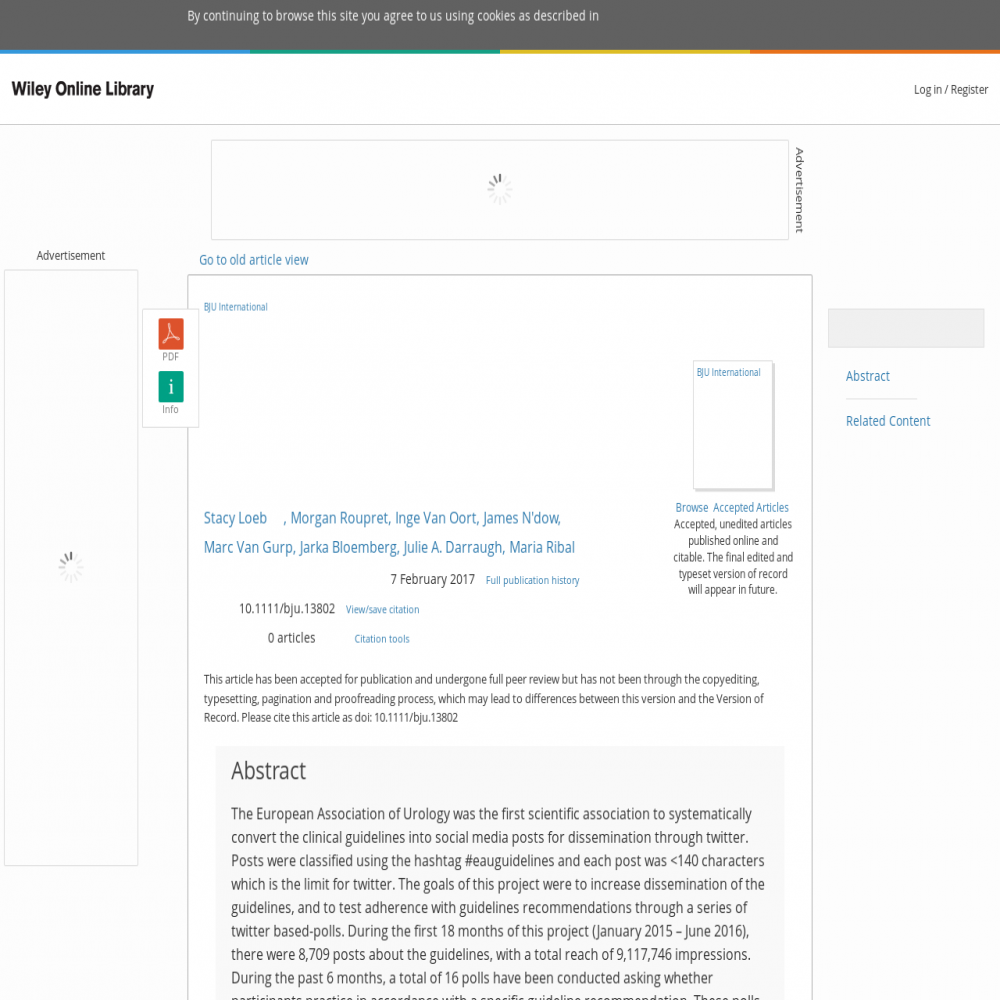 Abstract
The European Association of Urology was the first scientific association to systematically convert the clinical guidelines into social media posts for dissemination through twitter. Posts were classified using the hashtag #eauguidelines and each post was <140 characters which is the limit for twitter. The goals of this project were to increase dissemination of the guidelines, and to test adherence with guidelines recommendations through a series of twitter based-polls. During the first 18 months of this project (January 2015 - June 2016), there were 8,709 posts about the guidelines, with a total reach of 9,117,746 impressions. During the past 6 months, a total of 16 polls have been conducted asking whether participants practice in accordance with a specific guideline recommendation. These polls have had an average of 126 participants and average reach of 3013 impressions. Adherence with the guideline recommendations has ranged from 13 to 92% across polls. Herein, we demonstrate a proof-of-principal study on the use of twitter© as a platform for the dissemination and real-time evaluation of clinical guidelines. These strategies should be considered by other professional societies to increase the reach and obtain rapid feedback on guidelines recommendations. This article is protected by copyright. All rights reserved.
---
Symplur Signals for Academic Research
Symplur Signals provides researchers with a simple research interface, rich datasets, powerful filtering, and algorithms with natural language processing capabilities optimized for our context of healthcare. Get access to up to 7 years of history from this trusted academic research platform.
Subscribe Now
Healthcare Social Media Research
See the full list of healthcare social media research articles with data from or reference to Symplur.
#hcsmR is a collaboration between Stanford Medicine X and Symplur.
---
Altmetric
The Altmetric Attention Score is based on the attention a research article gets on the internet. Each coloured thread in the circle represents a different type of online attention and the number in the centre is the Altmetric Attention Score. The score is calculated based on two main sources of online attention: social media and mainstream news media.