Online Discussion on #KidneyStones: A Longitudinal Assessment of Activity, Users and Content
A healthcare social media research article published in PLoS ONE, August 17, 2016
Title

Online Discussion on #KidneyStones: A Longitudinal Assessment of Activity, Users and Content

Authors (alpha)

Andreas Neisius, Arkadiusz Miernik, Axel Haferkamp, Axel Heidenreich, Christian Thomas, Hans-Martin Fritsche, Hendrik Borgmann, Igor Tsaur, Johannes Salem, Matthew Bultitude, Thomas Knoll

Published

August 17, 2016

Journal

PLoS ONE

Impact Factor

3.057

DOI

Pubmed

Altmetric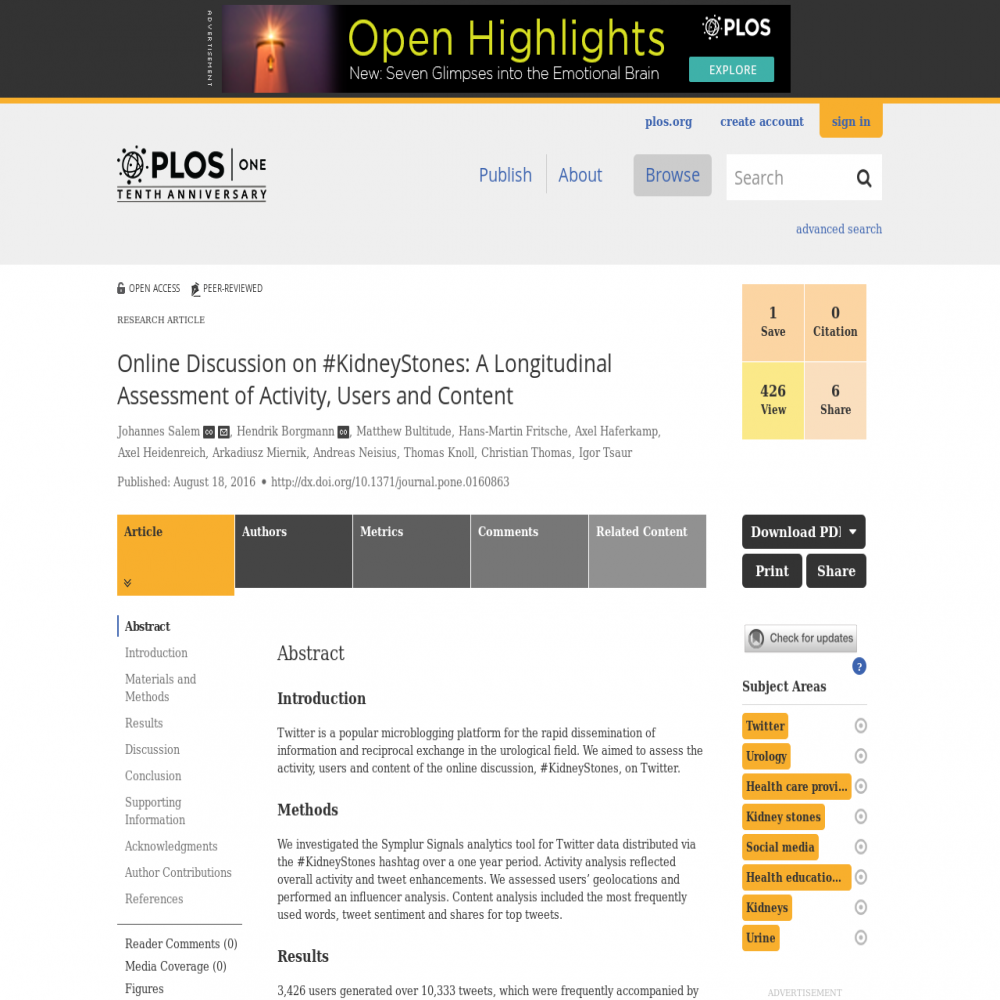 Abstract
Twitter is a popular microblogging platform for the rapid dissemination of information and reciprocal exchange in the urological field. We aimed to assess the activity, users and content of the online discussion, #KidneyStones, on Twitter. We investigated the Symplur Signals analytics tool for Twitter data distributed via the #KidneyStones hashtag over a one year period. Activity analysis reflected overall activity and tweet enhancements. We assessed users' geolocations and performed an influencer analysis. Content analysis included the most frequently used words, tweet sentiment and shares for top tweets. 3,426 users generated over 10,333 tweets, which were frequently accompanied by links (49%), mentions (30%) and photos (13%). Users came from 106 countries across the globe and were most frequently from North America (63%) and Europe (16%). Individual and organisational healthcare professionals made up 56% of the influencers of the Twitter discussion on #KidneyStones. Besides the words 'kidney' (used 4,045 times) and 'stones' (3,335), 'pain' (1,233), 'urine' (1,158), and 'risk' (1,023) were the most frequently used words. 56% of tweets had a positive sentiment. The median (range) number of shares was 85 (62-587) for the top 10 links, 45.5 (17-94) for the top 10 photos, and 44 (22-95) for the top 10 retweets. The rapidly growing Twitter discussion on #KidneyStones engaged multiple stakeholders in the healthcare sector on a global scale and reached both professionals and laypeople. When used effectively and responsibly, the Twitter platform could improve prevention and medical care of kidney stone patients.
---
Symplur Signals for Academic Research
Symplur Signals provides researchers with a simple research interface, rich datasets, powerful filtering, and algorithms with natural language processing capabilities optimized for our context of healthcare. Get access to up to 7 years of history from this trusted academic research platform.
Subscribe Now
Healthcare Social Media Research
See the full list of healthcare social media research articles with data from or reference to Symplur.
#hcsmR is a collaboration between Stanford Medicine X and Symplur.
---
Altmetric
The Altmetric Attention Score is based on the attention a research article gets on the internet. Each coloured thread in the circle represents a different type of online attention and the number in the centre is the Altmetric Attention Score. The score is calculated based on two main sources of online attention: social media and mainstream news media.