Perspectives on social media in and as research: A synthetic review
A healthcare social media research article published in International Review of Psychiatry, March 4, 2015
Title

Perspectives on social media in and as research: A synthetic review

Authors (alpha)

Annalisa Manca, Natalie T Lafferty

Published

March 4, 2015

Journal

International Review of Psychiatry

Impact Factor

2.275

DOI

Pubmed

Altmetric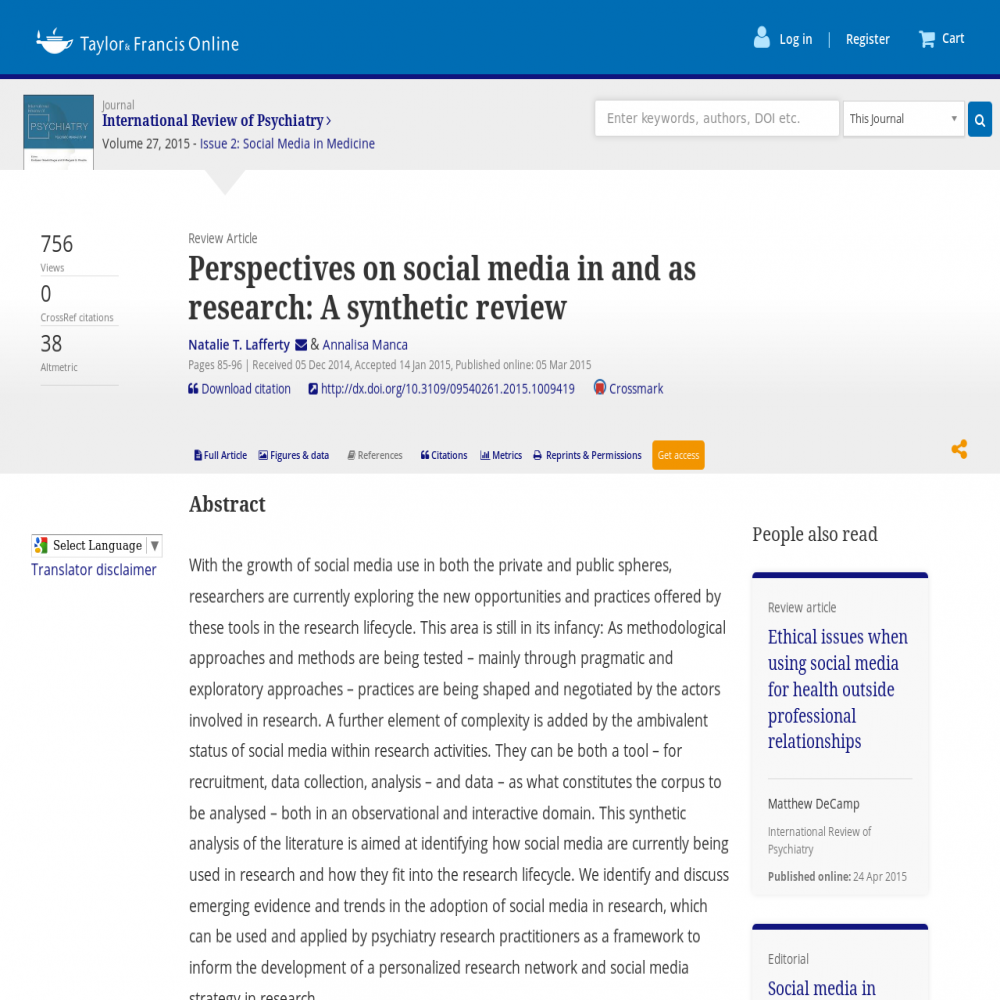 Abstract
With the growth of social media use in both the private and public spheres, researchers are currently exploring the new opportunities and practices offered by these tools in the research lifecycle. This area is still in its infancy: As methodological approaches and methods are being tested - mainly through pragmatic and exploratory approaches - practices are being shaped and negotiated by the actors involved in research. A further element of complexity is added by the ambivalent status of social media within research activities. They can be both a tool - for recruitment, data collection, analysis - and data - as what constitutes the corpus to be analysed - both in an observational and interactive domain. This synthetic analysis of the literature is aimed at identifying how social media are currently being used in research and how they fit into the research lifecycle. We identify and discuss emerging evidence and trends in the adoption of social media in research, which can be used and applied by psychiatry research practitioners as a framework to inform the development of a personalized research network and social media strategy in research.
---
Symplur Signals for Academic Research
Symplur Signals provides researchers with a simple research interface, rich datasets, powerful filtering, and algorithms with natural language processing capabilities optimized for our context of healthcare. Get access to up to 7 years of history from this trusted academic research platform.
Subscribe Now
Healthcare Social Media Research
See the full list of healthcare social media research articles with data from or reference to Symplur.
#hcsmR is a collaboration between Stanford Medicine X and Symplur.
---
Altmetric
The Altmetric Attention Score is based on the attention a research article gets on the internet. Each coloured thread in the circle represents a different type of online attention and the number in the centre is the Altmetric Attention Score. The score is calculated based on two main sources of online attention: social media and mainstream news media.