Prostate cancer and social media
A healthcare social media research article published in Nature Reviews Urology, April 10, 2018
Title

Prostate cancer and social media

Authors (alpha)

Aisha Langford, Matthew S Katz, Nataliya Byrne, Shannon Ciprut, Stacy Loeb

Published

April 10, 2018

Journal

Nature Reviews Urology

DOI

Pubmed

Altmetric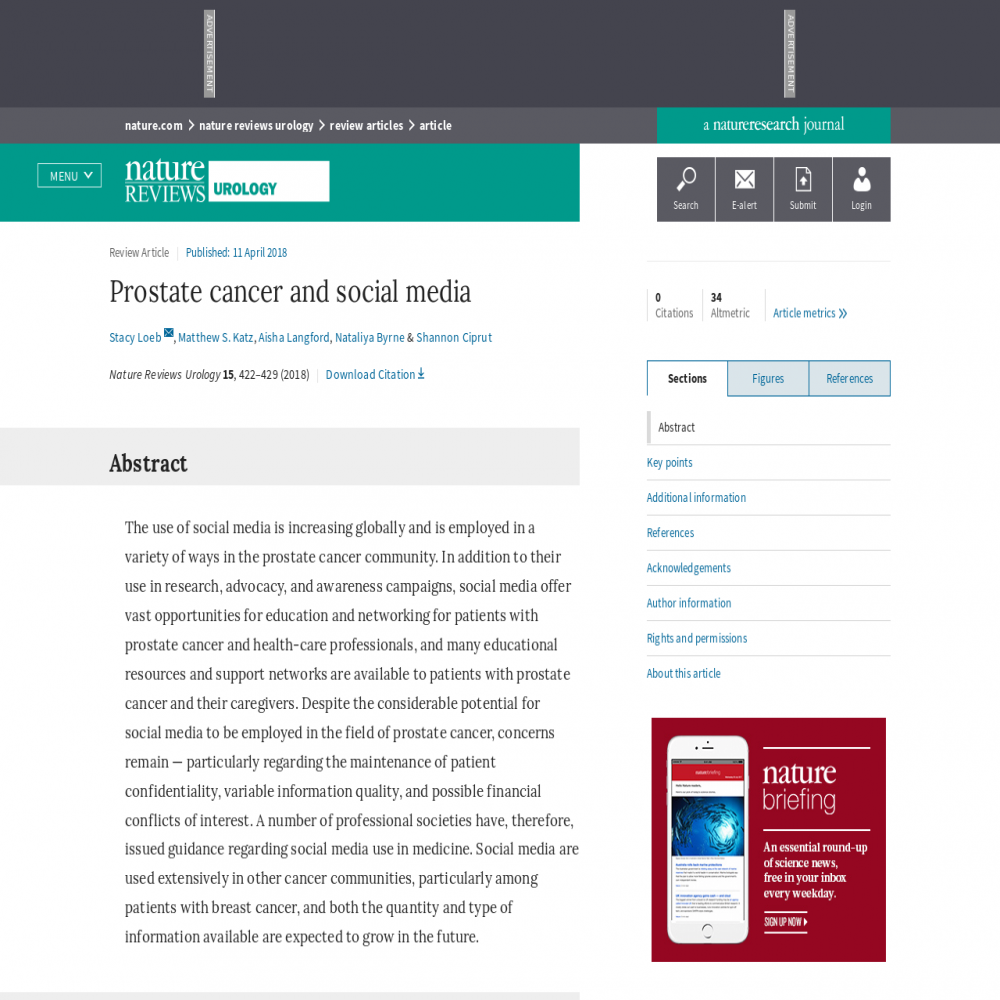 Abstract
The use of social media is increasing globally and is employed in a variety of ways in the prostate cancer community. In addition to their use in research, advocacy, and awareness campaigns, social media offer vast opportunities for education and networking for patients with prostate cancer and health-care professionals, and many educational resources and support networks are available to patients with prostate cancer and their caregivers. Despite the considerable potential for social media to be employed in the field of prostate cancer, concerns remain - particularly regarding the maintenance of patient confidentiality, variable information quality, and possible financial conflicts of interest. A number of professional societies have, therefore, issued guidance regarding social media use in medicine. Social media are used extensively in other cancer communities, particularly among patients with breast cancer, and both the quantity and type of information available are expected to grow in the future.
---
Symplur Signals for Academic Research
Symplur Signals provides researchers with a simple research interface, rich datasets, powerful filtering, and algorithms with natural language processing capabilities optimized for our context of healthcare. Get access to up to 7 years of history from this trusted academic research platform.
Subscribe Now
Healthcare Social Media Research
See the full list of healthcare social media research articles with data from or reference to Symplur.
#hcsmR is a collaboration between Stanford Medicine X and Symplur.
---
Altmetric
The Altmetric Attention Score is based on the attention a research article gets on the internet. Each coloured thread in the circle represents a different type of online attention and the number in the centre is the Altmetric Attention Score. The score is calculated based on two main sources of online attention: social media and mainstream news media.