Radiologists' Usage of Social Media: Results of the RANSOM Survey
A healthcare social media research article published in Journal of Digital Imaging, February 2, 2016
Title

Radiologists' Usage of Social Media: Results of the RANSOM Survey

Authors (alpha)

Erik R. Ranschaert, Geraldine B. McGinty, Paul M Parizel, Peter M. A. Van Ooijen

Published

February 2, 2016

Journal

Journal of Digital Imaging

Impact Factor

1.19

DOI

Pubmed

Altmetric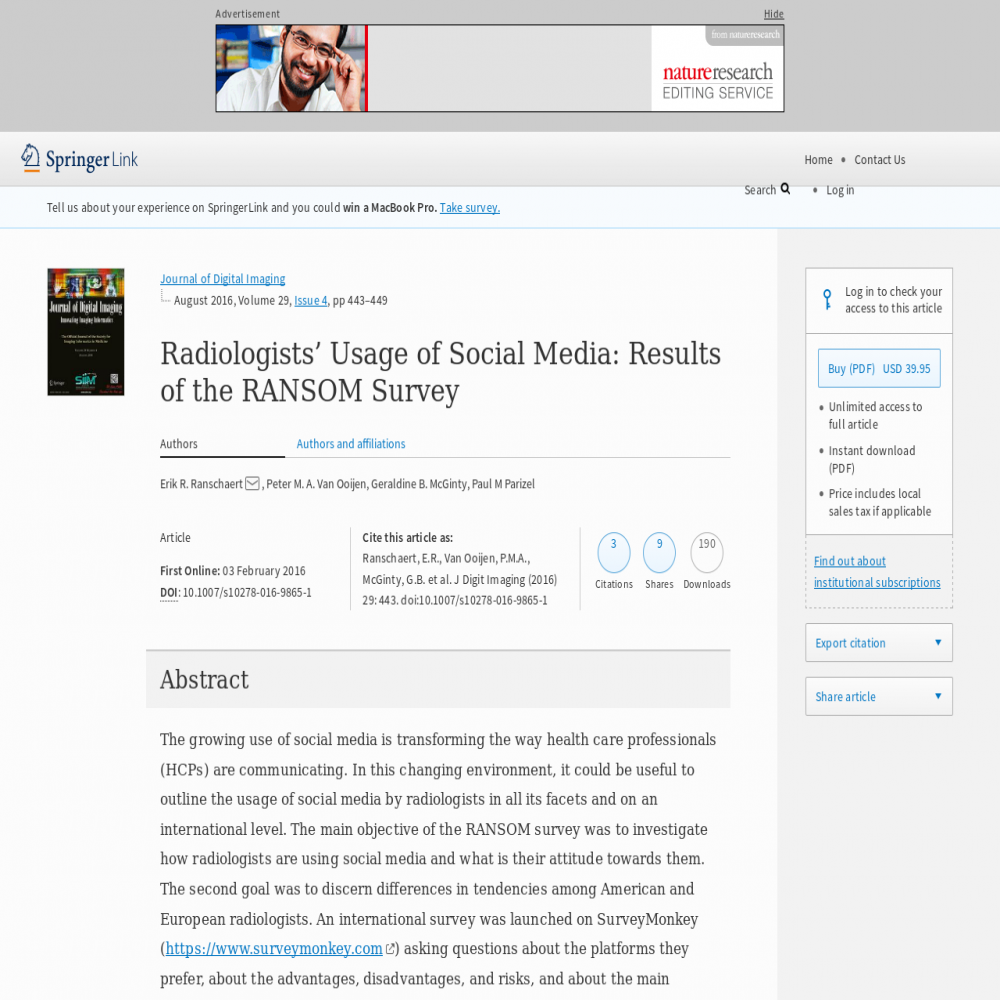 Abstract
The growing use of social media is transforming the way health care professionals (HCPs) are communicating. In this changing environment, it could be useful to outline the usage of social media by radiologists in all its facets and on an international level. The main objective of the RANSOM survey was to investigate how radiologists are using social media and what is their attitude towards them. The second goal was to discern differences in tendencies among American and European radiologists. An international survey was launched on SurveyMonkey ( https://www.surveymonkey.com ) asking questions about the platforms they prefer, about the advantages, disadvantages, and risks, and about the main incentives and barriers to use social media. A total of 477 radiologists participated in the survey, of which 277 from Europe and 127 from North America. The results show that 85 % of all survey participants are using social media, mostly for a mixture of private and professional reasons. Facebook is the most popular platform for general purposes, whereas LinkedIn and Twitter are more popular for professional usage. The most important reason for not using social media is an unwillingness to mix private and professional matters. Eighty-two percent of all participants are aware of the educational opportunities offered by social media. The survey results underline the need to increase radiologists' skills in using social media efficiently and safely. There is also a need to create clear guidelines regarding the online and social media presence of radiologists to maximize the potential benefits of engaging with social media.
---
Symplur Signals for Academic Research
Symplur Signals provides researchers with a simple research interface, rich datasets, powerful filtering, and algorithms with natural language processing capabilities optimized for our context of healthcare. Get access to up to 7 years of history from this trusted academic research platform.
Subscribe Now
Healthcare Social Media Research
See the full list of healthcare social media research articles with data from or reference to Symplur.
#hcsmR is a collaboration between Stanford Medicine X and Symplur.
---
Altmetric
The Altmetric Attention Score is based on the attention a research article gets on the internet. Each coloured thread in the circle represents a different type of online attention and the number in the centre is the Altmetric Attention Score. The score is calculated based on two main sources of online attention: social media and mainstream news media.