Review of Twitter for Infectious Diseases Clinicians: Useful or a Waste of Time?
A healthcare social media research article published in Clinical Infectious Diseases, February 3, 2015
Title

Review of Twitter for Infectious Diseases Clinicians: Useful or a Waste of Time?

Authors (alpha)

D. A. Goff, J. G. Newland, R. Kullar

Published

February 3, 2015

Journal

Clinical Infectious Diseases

Impact Factor

8.886

DOI

Pubmed

Altmetric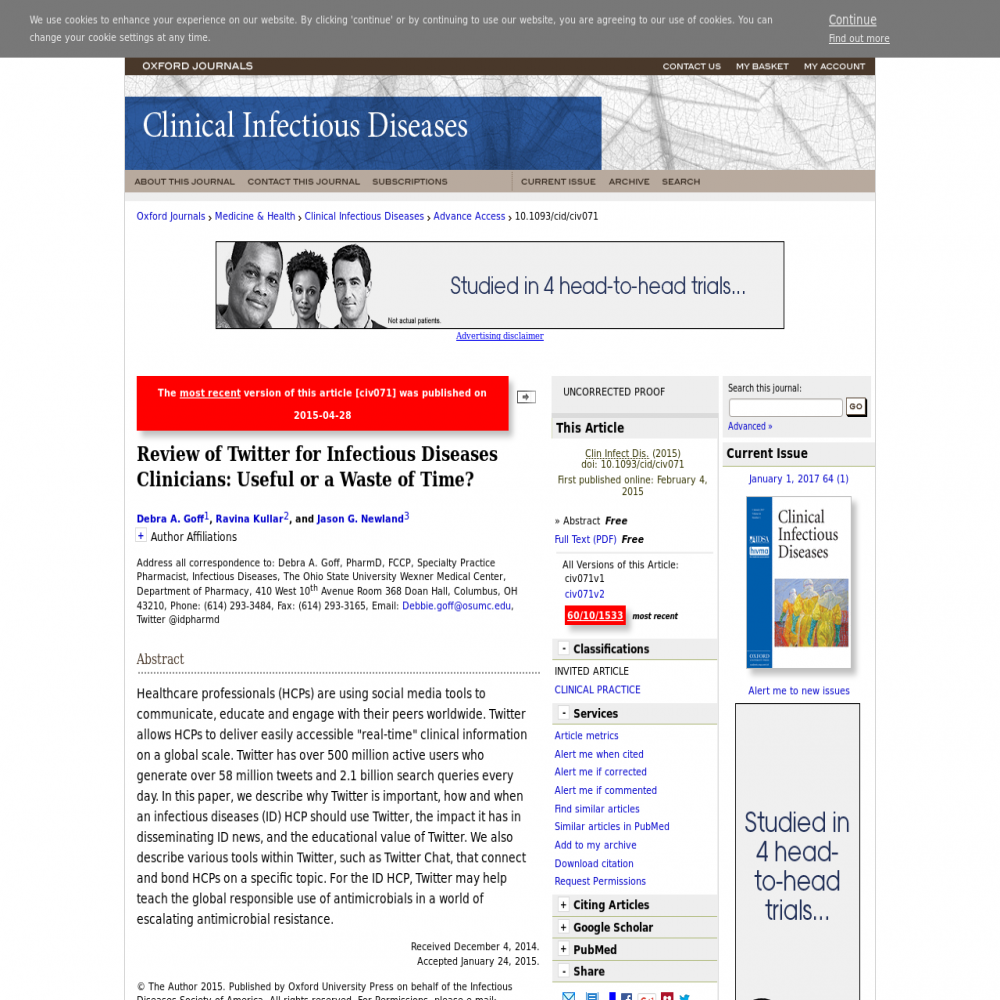 Abstract
Healthcare professionals (HCPs) are using social media tools to communicate, educate and engage with their peers worldwide. Twitter allows HCPs to deliver easily accessible "real-time" clinical information on a global scale. Twitter has over 500 million active users who generate over 58 million tweets and 2.1 billion search queries every day. In this paper, we describe why Twitter is important, how and when an infectious diseases (ID) HCP should use Twitter, the impact it has in disseminating ID news, and the educational value of Twitter. We also describe various tools within Twitter, such as Twitter Chat, that connect and bond HCPs on a specific topic. For the ID HCP, Twitter may help teach the global responsible use of antimicrobials in a world of escalating antimicrobial resistance.
---
Symplur Signals for Academic Research
Symplur Signals provides researchers with a simple research interface, rich datasets, powerful filtering, and algorithms with natural language processing capabilities optimized for our context of healthcare. Get access to up to 7 years of history from this trusted academic research platform.
Subscribe Now
Healthcare Social Media Research
See the full list of healthcare social media research articles with data from or reference to Symplur.
#hcsmR is a collaboration between Stanford Medicine X and Symplur.
---
Altmetric
The Altmetric Attention Score is based on the attention a research article gets on the internet. Each coloured thread in the circle represents a different type of online attention and the number in the centre is the Altmetric Attention Score. The score is calculated based on two main sources of online attention: social media and mainstream news media.