Risks and Benefits of Twitter Use by Hematologists / Oncologists in the Era of Digital Medicine
A healthcare social media research article published in Seminars in Hematology (ScienceDirect), September 30, 2017
Title

Risks and Benefits of Twitter Use by Hematologists / Oncologists in the Era of Digital Medicine

Authors (alpha)

Audun Utengen, David L Graham, Deanna J. Attai, Don S Dizon, Jennifer Kesselheim, Matthew S Katz, Merry Jennifer Markham, Michael A. Thompson, Michael J Fisch, Mina S Sedrak, Nathan A. Pennell, Patricia F Anderson

Published

September 30, 2017

Journal

Seminars in Hematology (ScienceDirect)

DOI

Pubmed

Altmetric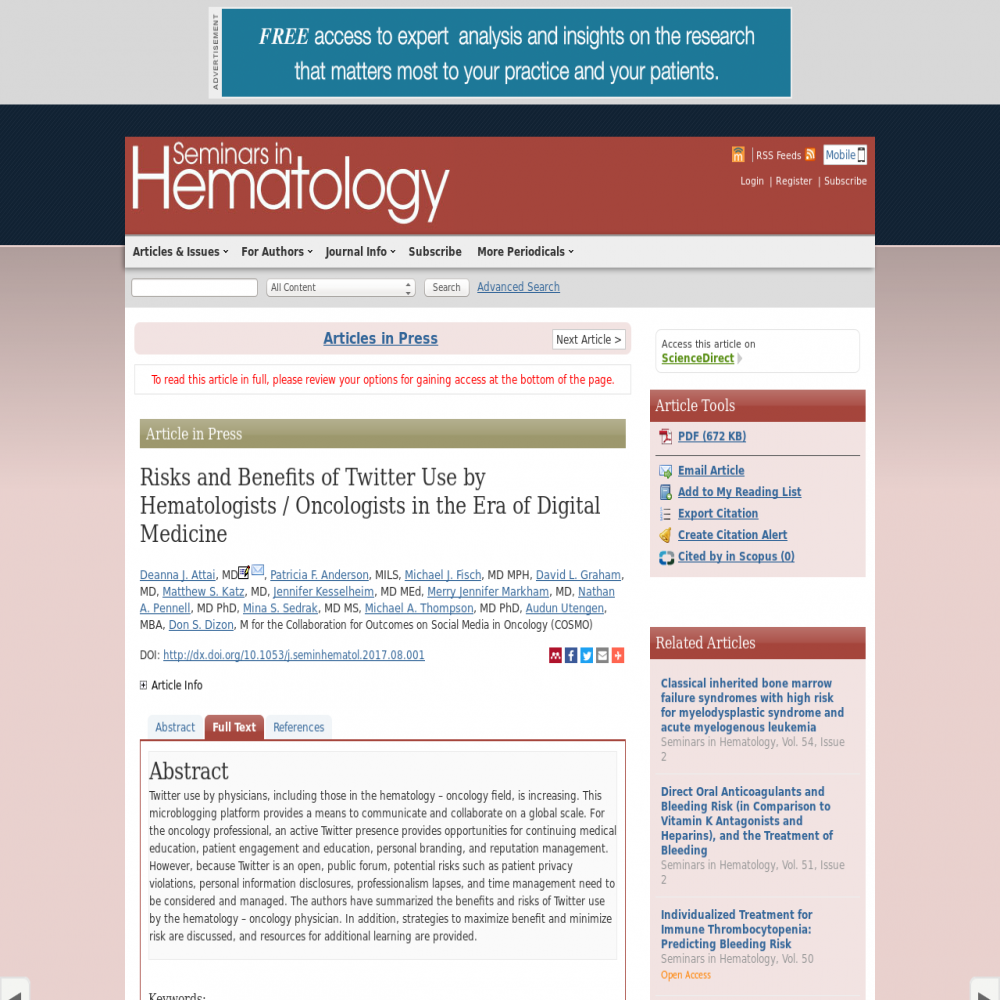 Abstract
Twitter use by physicians, including those in the hematology-oncology field, is increasing. This microblogging platform provides a means to communicate and collaborate on a global scale. For the oncology professional, an active Twitter presence provides opportunities for continuing medical education, patient engagement and education, personal branding, and reputation management. However, because Twitter is an open, public forum, potential risks such as patient privacy violations, personal information disclosures, professionalism lapses, and time management need to be considered and managed. The authors have summarized the benefits and risks of Twitter use by the hematology-oncology physician. In addition, strategies to maximize benefit and minimize risk are discussed, and resources for additional learning are provided.
---
Symplur Signals for Academic Research
Symplur Signals provides researchers with a simple research interface, rich datasets, powerful filtering, and algorithms with natural language processing capabilities optimized for our context of healthcare. Get access to up to 7 years of history from this trusted academic research platform.
Subscribe Now
Healthcare Social Media Research
See the full list of healthcare social media research articles with data from or reference to Symplur.
#hcsmR is a collaboration between Stanford Medicine X and Symplur.
---
Altmetric
The Altmetric Attention Score is based on the attention a research article gets on the internet. Each coloured thread in the circle represents a different type of online attention and the number in the centre is the Altmetric Attention Score. The score is calculated based on two main sources of online attention: social media and mainstream news media.