Social media: A tool to spread information: A case study analysis of Twitter conversation at the Cardiac Society of Australia & New Zealand 61st Annual Scientific Meeting 2013
A healthcare social media research article published in Australia., May 31, 2014
Title

Social media: A tool to spread information: A case study analysis of Twitter conversation at the Cardiac Society of Australia & New Zealand 61st Annual Scientific Meeting 2013

Authors (alpha)

Caleb Ferguson, Patricia M. Davidson, Peter J.S. Cripps, Peter S. Macdonald, Phillip J. Newton, Sally C. Inglis

Published

May 31, 2014

Journal

Australia.

DOI

Pubmed

Altmetric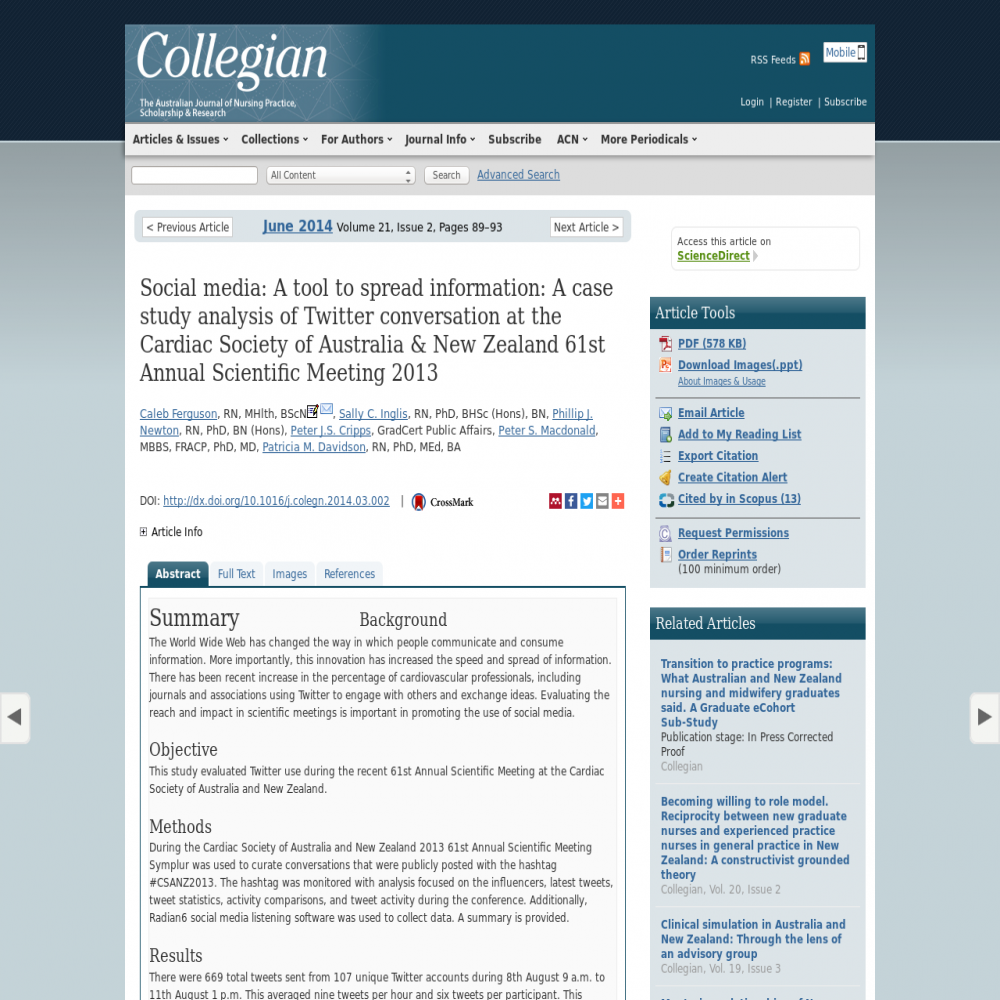 Abstract
The World Wide Web has changed the way in which people communicate and consume information. More importantly, this innovation has increased the speed and spread of information. There has been recent increase in the percentage of cardiovascular professionals, including journals and associations using Twitter to engage with others and exchange ideas. Evaluating the reach and impact in scientific meetings is important in promoting the use of social media.
---
Symplur Signals for Academic Research
Symplur Signals provides researchers with a simple research interface, rich datasets, powerful filtering, and algorithms with natural language processing capabilities optimized for our context of healthcare. Get access to up to 7 years of history from this trusted academic research platform.
Subscribe Now
Healthcare Social Media Research
See the full list of healthcare social media research articles with data from or reference to Symplur.
#hcsmR is a collaboration between Stanford Medicine X and Symplur.
---
Altmetric
The Altmetric Attention Score is based on the attention a research article gets on the internet. Each coloured thread in the circle represents a different type of online attention and the number in the centre is the Altmetric Attention Score. The score is calculated based on two main sources of online attention: social media and mainstream news media.