Social Media and Internet Resources for Patients with Blastic Plasmacytoid Dendritic Cell Neoplasm (BPDCN)
A healthcare social media research article published in Current Hematologic Malignancy Reports, August 3, 2016
Title

Social Media and Internet Resources for Patients with Blastic Plasmacytoid Dendritic Cell Neoplasm (BPDCN)

Authors (alpha)

Andrew A. Lane, Michael A. Thompson, Naveen Pemmaraju, Vikas Gupta

Published

August 3, 2016

Journal

Current Hematologic Malignancy Reports

Impact Factor

2.2

DOI

Pubmed

Altmetric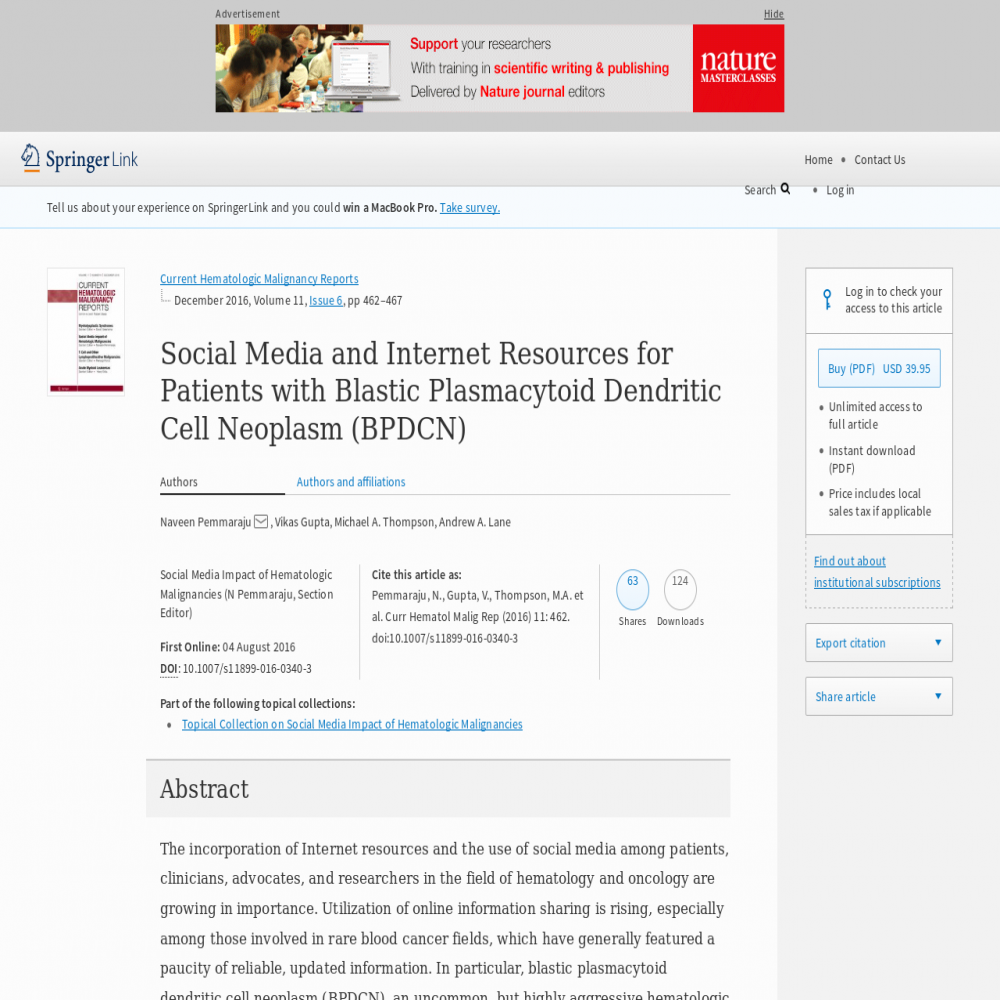 Abstract
The incorporation of Internet resources and the use of social media among patients, clinicians, advocates, and researchers in the field of hematology and oncology are growing in importance. Utilization of online information sharing is rising, especially among those involved in rare blood cancer fields, which have generally featured a paucity of reliable, updated information. In particular, blastic plasmacytoid dendritic cell neoplasm (BPDCN), an uncommon, but highly aggressive hematologic malignancy, is one example of a cancer with limited information readily available to the general public. The infrequent incidence of BPDCN, the challenges in recognizing the disease and making a clinico-pathologic diagnosis, and the lack of standard therapies are some of the reasons accounting for the dearth of expert opinion, scientific publications and discussion, and accessibility of online information for patients. This article highlights social media and Internet sources available for patients and other healthcare stakeholders in the field of BPDCN and discusses our efforts to increase awareness and propagation of BPDCN electronic resources, including the founding of an online Twitter community, #BPDCN.
---
Symplur Signals for Academic Research
Symplur Signals provides researchers with a simple research interface, rich datasets, powerful filtering, and algorithms with natural language processing capabilities optimized for our context of healthcare. Get access to up to 7 years of history from this trusted academic research platform.
Subscribe Now
Healthcare Social Media Research
See the full list of healthcare social media research articles with data from or reference to Symplur.
#hcsmR is a collaboration between Stanford Medicine X and Symplur.
---
Altmetric
The Altmetric Attention Score is based on the attention a research article gets on the internet. Each coloured thread in the circle represents a different type of online attention and the number in the centre is the Altmetric Attention Score. The score is calculated based on two main sources of online attention: social media and mainstream news media.