Social Media and Myeloproliferative Neoplasms (MPN): Analysis of Advanced Metrics From the First Year of a New Twitter Community: #MPNSM
A healthcare social media research article published in Current Hematologic Malignancy Reports, August 3, 2016
Title

Social Media and Myeloproliferative Neoplasms (MPN): Analysis of Advanced Metrics From the First Year of a New Twitter Community: #MPNSM

Authors (alpha)

Audun Utengen, Jean-Jacques Kiladjian, Michael A. Thompson, Naveen Pemmaraju, Ruben Mesa, Vikas Gupta

Published

August 3, 2016

Journal

Current Hematologic Malignancy Reports

Impact Factor

2.2

DOI

Pubmed

Altmetric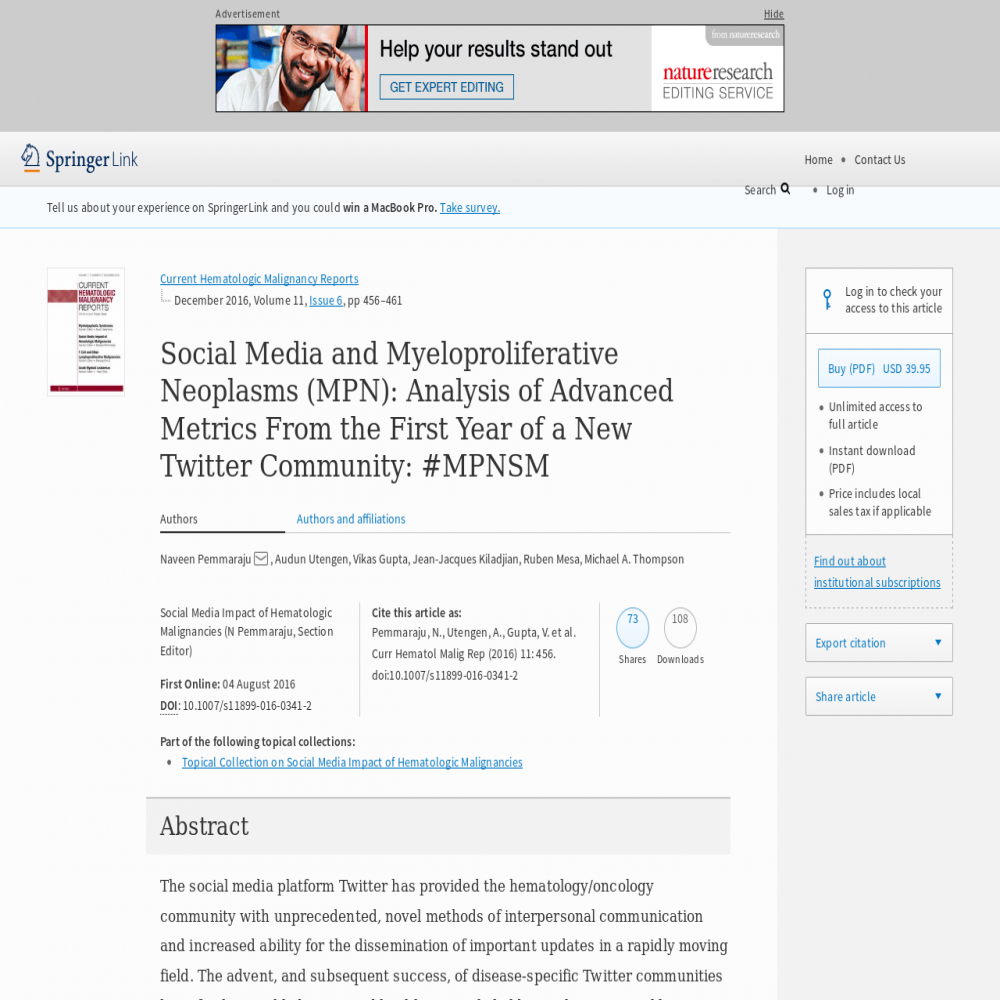 Abstract
The social media platform Twitter has provided the hematology/oncology community with unprecedented, novel methods of interpersonal communication and increased ability for the dissemination of important updates in a rapidly moving field. The advent, and subsequent success, of disease-specific Twitter communities have further enabled interested healthcare stakeholders to become quickly organized around a unique set of rare medical conditions, such as hematologic malignancies, that, historically, generally lack large amounts of reliable online information. One example is the Twitter community #MPNSM (myeloproliferative neoplasms on social media), which was started approximately one and half years ago and has served as a recognized venue for discussion among many members of the MPN community, including patients, researchers, providers, and advocacy organizations. This article will focus on understanding the impact of the founding of this community via the analysis of advanced Twitter metrics of user experience, from the first year of use for this novel healthcare hashtag.
---
Symplur Signals for Academic Research
Symplur Signals provides researchers with a simple research interface, rich datasets, powerful filtering, and algorithms with natural language processing capabilities optimized for our context of healthcare. Get access to up to 7 years of history from this trusted academic research platform.
Subscribe Now
Healthcare Social Media Research
See the full list of healthcare social media research articles with data from or reference to Symplur.
#hcsmR is a collaboration between Stanford Medicine X and Symplur.
---
Altmetric
The Altmetric Attention Score is based on the attention a research article gets on the internet. Each coloured thread in the circle represents a different type of online attention and the number in the centre is the Altmetric Attention Score. The score is calculated based on two main sources of online attention: social media and mainstream news media.