Social Media and Professional Development for Oncology Professionals
A healthcare social media research article published in JCO Oncology Practice, March 20, 2022
Title

Social Media and Professional Development for Oncology Professionals

Authors (alpha)

Anusha Chidharla, Audun Utengen, Deanna J. Attai, Elizabeth Henry, Emily K. Drake, G.J. van Londen, Ishwaria M. Subbiah, Martina Murphy, Maura M. Barry, Merry J. Markham, Michael A. Thompson, Rami Manochakian, Scott Moerdler, Stacy Loeb, Stephanie L. Graff, Yan Leyfman

Published

March 20, 2022

Journal

JCO Oncology Practice

DOI

Pubmed

Altmetric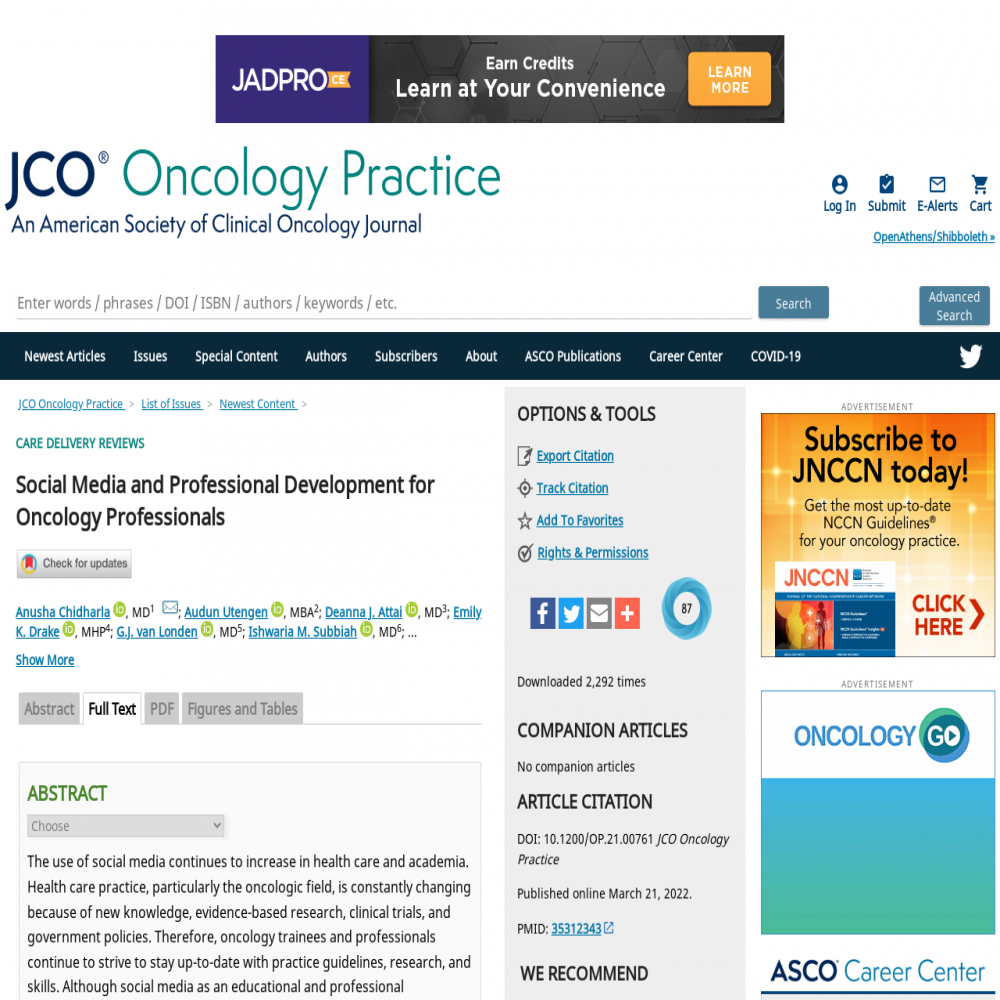 Abstract
The use of social media continues to increase in health care and academia. Health care practice, particularly the oncologic field, is constantly changing because of new knowledge, evidence-based research, clinical trials, and government policies. Therefore, oncology trainees and professionals continue to strive to stay up-to-date with practice guidelines, research, and skills. Although social media as an educational and professional development tool is no longer completely new to medicine and has been embraced, it is still under-researched in terms of various outcomes. Social media plays several key roles in professional development and academic advancement. We reviewed the literature to evaluate how social media can be used for professional development and academic promotion of oncology professionals.
---
Symplur Signals for Academic Research
Symplur Signals provides researchers with a simple research interface, rich datasets, powerful filtering, and algorithms with natural language processing capabilities optimized for our context of healthcare. Get access to up to 7 years of history from this trusted academic research platform.
Subscribe Now
Healthcare Social Media Research
See the full list of healthcare social media research articles with data from or reference to Symplur.
#hcsmR is a collaboration between Stanford Medicine X and Symplur.
---
Altmetric
The Altmetric Attention Score is based on the attention a research article gets on the internet. Each coloured thread in the circle represents a different type of online attention and the number in the centre is the Altmetric Attention Score. The score is calculated based on two main sources of online attention: social media and mainstream news media.