Social Media and the Adolescent and Young Adult (AYA) Patient with Cancer
A healthcare social media research article published in Current Hematologic Malignancy Reports, February 17, 2016
Title

Social Media and the Adolescent and Young Adult (AYA) Patient with Cancer

Authors (alpha)

Emily K. Drake, Miguel-Angel Perales, Naveen Pemmaraju, William A. Wood

Published

February 17, 2016

Journal

Current Hematologic Malignancy Reports

Impact Factor

2.2

DOI

Pubmed

Altmetric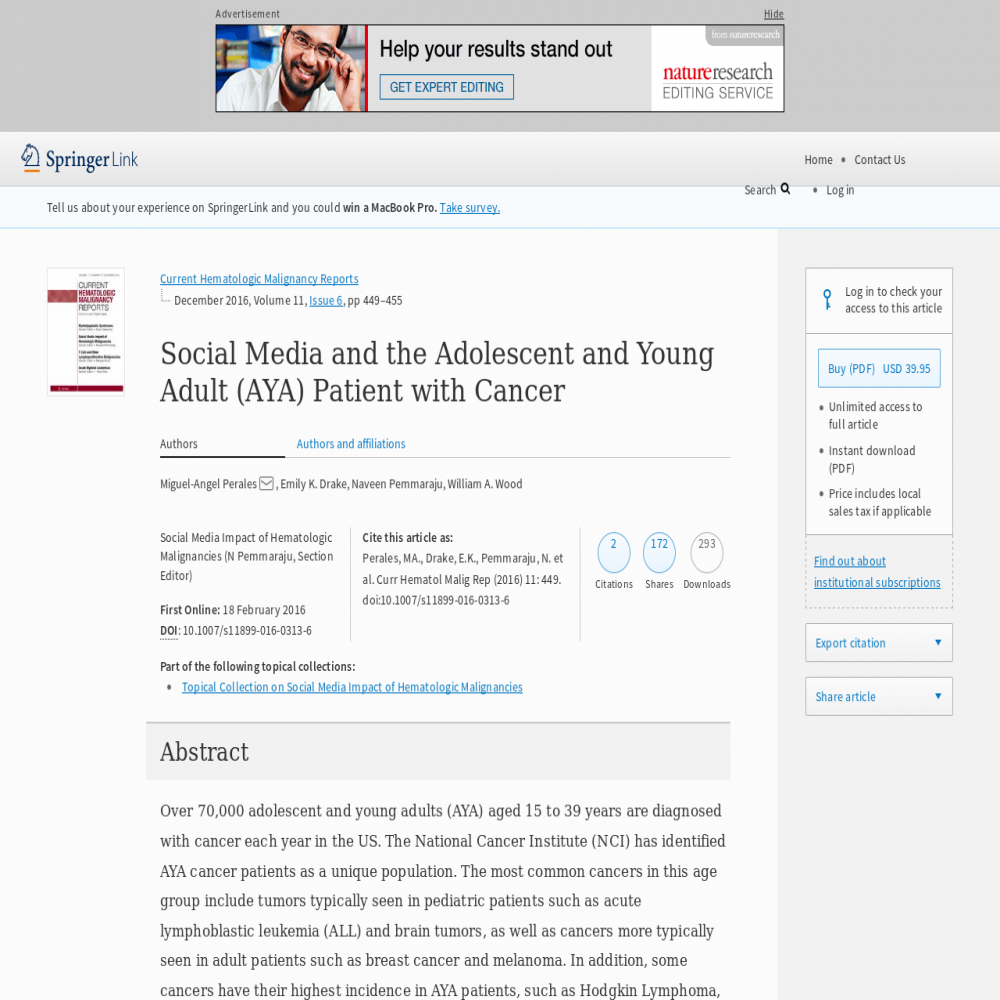 Abstract
Over 70,000 adolescent and young adults (AYA) aged 15 to 39 years are diagnosed with cancer each year in the US. The National Cancer Institute (NCI) has identified AYA cancer patients as a unique population. The most common cancers in this age group include tumors typically seen in pediatric patients such as acute lymphoblastic leukemia (ALL) and brain tumors, as well as cancers more typically seen in adult patients such as breast cancer and melanoma. In addition, some cancers have their highest incidence in AYA patients, such as Hodgkin Lymphoma, testicular cancer, and bone tumors. AYA patients face additional unique issues due to their age, not just questions about treatment choices due to lack of data but also questions about fertility, relationships, loss of autonomy, and interruptions in school/work with potentially significant financial complications. This age group also has very high rates of social media usage with up to 90 % of adults aged 18 to 29 using social networking sites. In this review, we will describe the use of social media in AYAs with cancer and highlight some of the online resources for AYAs.
---
Symplur Signals for Academic Research
Symplur Signals provides researchers with a simple research interface, rich datasets, powerful filtering, and algorithms with natural language processing capabilities optimized for our context of healthcare. Get access to up to 7 years of history from this trusted academic research platform.
Subscribe Now
Healthcare Social Media Research
See the full list of healthcare social media research articles with data from or reference to Symplur.
#hcsmR is a collaboration between Stanford Medicine X and Symplur.
---
Altmetric
The Altmetric Attention Score is based on the attention a research article gets on the internet. Each coloured thread in the circle represents a different type of online attention and the number in the centre is the Altmetric Attention Score. The score is calculated based on two main sources of online attention: social media and mainstream news media.