Social Media and the Practicing Hematologist: Twitter 101 for the Busy Healthcare Provider
A healthcare social media research article published in Current Hematologic Malignancy Reports, October 8, 2015
Title

Social Media and the Practicing Hematologist: Twitter 101 for the Busy Healthcare Provider

Authors (alpha)

Michael A. Thompson, Miguel-Angel Perales, Mu00e9lanie Chaboissier, Navneet S. Majhail, William A. Wood

Published

October 8, 2015

Journal

Current Hematologic Malignancy Reports

Impact Factor

2.2

DOI

Pubmed

Altmetric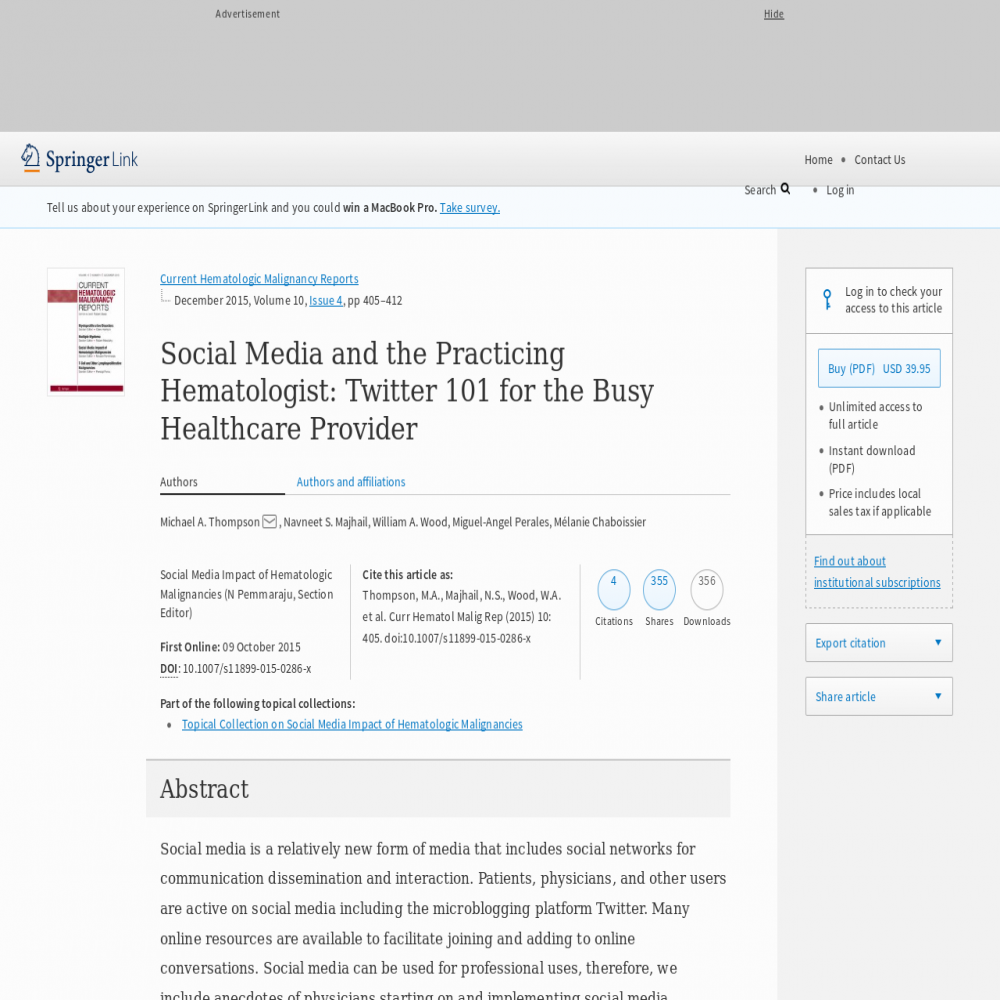 Abstract
Social media is a relatively new form of media that includes social networks for communication dissemination and interaction. Patients, physicians, and other users are active on social media including the microblogging platform Twitter. Many online resources are available to facilitate joining and adding to online conversations. Social media can be used for professional uses, therefore, we include anecdotes of physicians starting on and implementing social media successfully despite the limits of time in busy practices. Various applications demonstrating the utility of social media are explored. These include case discussions, patient groups, research collaborations, medical education, and crowdsourcing/crowdfunding. Social media is integrating into the professional workflow for some individuals and hematology/oncology societies. The potential for improving hematology care and research is just starting to be explored.
---
Symplur Signals for Academic Research
Symplur Signals provides researchers with a simple research interface, rich datasets, powerful filtering, and algorithms with natural language processing capabilities optimized for our context of healthcare. Get access to up to 7 years of history from this trusted academic research platform.
Subscribe Now
Healthcare Social Media Research
See the full list of healthcare social media research articles with data from or reference to Symplur.
#hcsmR is a collaboration between Stanford Medicine X and Symplur.
---
Altmetric
The Altmetric Attention Score is based on the attention a research article gets on the internet. Each coloured thread in the circle represents a different type of online attention and the number in the centre is the Altmetric Attention Score. The score is calculated based on two main sources of online attention: social media and mainstream news media.