Social media for arthritis-related comparative effectiveness and safety research and the impact of direct-to-consumer advertising
A healthcare social media research article published in Arthritis Research and Therapy, March 6, 2017
Title

Social media for arthritis-related comparative effectiveness and safety research and the impact of direct-to-consumer advertising

Authors (alpha)

James Willig, Jeffrey R. Curtis, Joseph Coe, Kaitlin Ou2019Hara, Lang Chen, Monika Safford, Phillip Higginbotham, Roee Sau2019adon, Ronit Gal-Levy, W. Benjamin Nowell

Published

March 6, 2017

Journal

Arthritis Research and Therapy

Impact Factor

3.979

DOI

Pubmed

Altmetric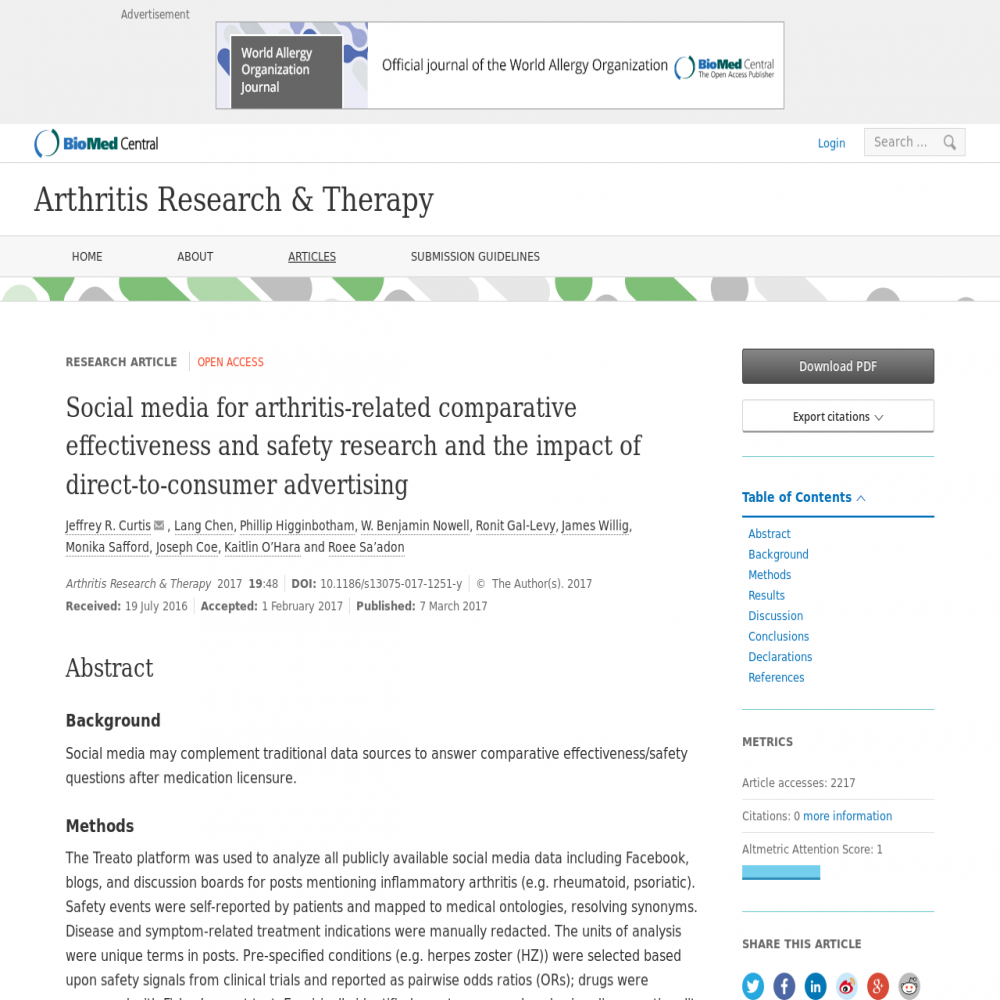 Abstract
Social media may complement traditional data sources to answer comparative effectiveness/safety questions after medication licensure. The Treato platform was used to analyze all publicly available social media data including Facebook, blogs, and discussion boards for posts mentioning inflammatory arthritis (e.g. rheumatoid, psoriatic). Safety events were self-reported by patients and mapped to medical ontologies, resolving synonyms. Disease and symptom-related treatment indications were manually redacted. The units of analysis were unique terms in posts. Pre-specified conditions (e.g. herpes zoster (HZ)) were selected based upon safety signals from clinical trials and reported as pairwise odds ratios (ORs); drugs were compared with Fisher's exact test. Empirically identified events were analyzed using disproportionality analysis and reported as relative reporting ratios (RRRs). The accuracy of a natural language processing (NLP) classifier to identify cases of shingles associated with arthritis medications was assessed. As of October 2015, there were 785,656 arthritis-related posts. Posts were predominantly US posts (75%) from patient authors (87%) under 40 years of age (61%). For HZ posts (n = 1815), ORs were significantly increased with tofacitinib versus other rheumatoid arthritis therapies. ORs for mentions of perforated bowel (n = 13) were higher with tocilizumab versus other therapies. RRRs associated with tofacitinib were highest in conditions related to baldness and hair regrowth, infections and cancer. The NLP classifier had a positive predictive value of 91% to identify HZ. There was a threefold increase in posts following television direct-to-consumer advertisement (p = 0.04); posts expressing medication safety concerns were significantly more frequent than favorable posts. Social media is a challenging yet promising data source that may complement traditional approaches for comparative effectiveness research for new medications.
---
Symplur Signals for Academic Research
Symplur Signals provides researchers with a simple research interface, rich datasets, powerful filtering, and algorithms with natural language processing capabilities optimized for our context of healthcare. Get access to up to 7 years of history from this trusted academic research platform.
Subscribe Now
Healthcare Social Media Research
See the full list of healthcare social media research articles with data from or reference to Symplur.
#hcsmR is a collaboration between Stanford Medicine X and Symplur.
---
Altmetric
The Altmetric Attention Score is based on the attention a research article gets on the internet. Each coloured thread in the circle represents a different type of online attention and the number in the centre is the Altmetric Attention Score. The score is calculated based on two main sources of online attention: social media and mainstream news media.