Social Media As a Leadership Tool for Pharmacists
A healthcare social media research article published in Hospital Pharmacy, June 30, 2015
Title

Social Media As a Leadership Tool for Pharmacists

Authors (alpha)

Blake Toney, Debra A. Goff, Robert J. Weber

Published

June 30, 2015

Journal

Hospital Pharmacy

DOI

Pubmed

Altmetric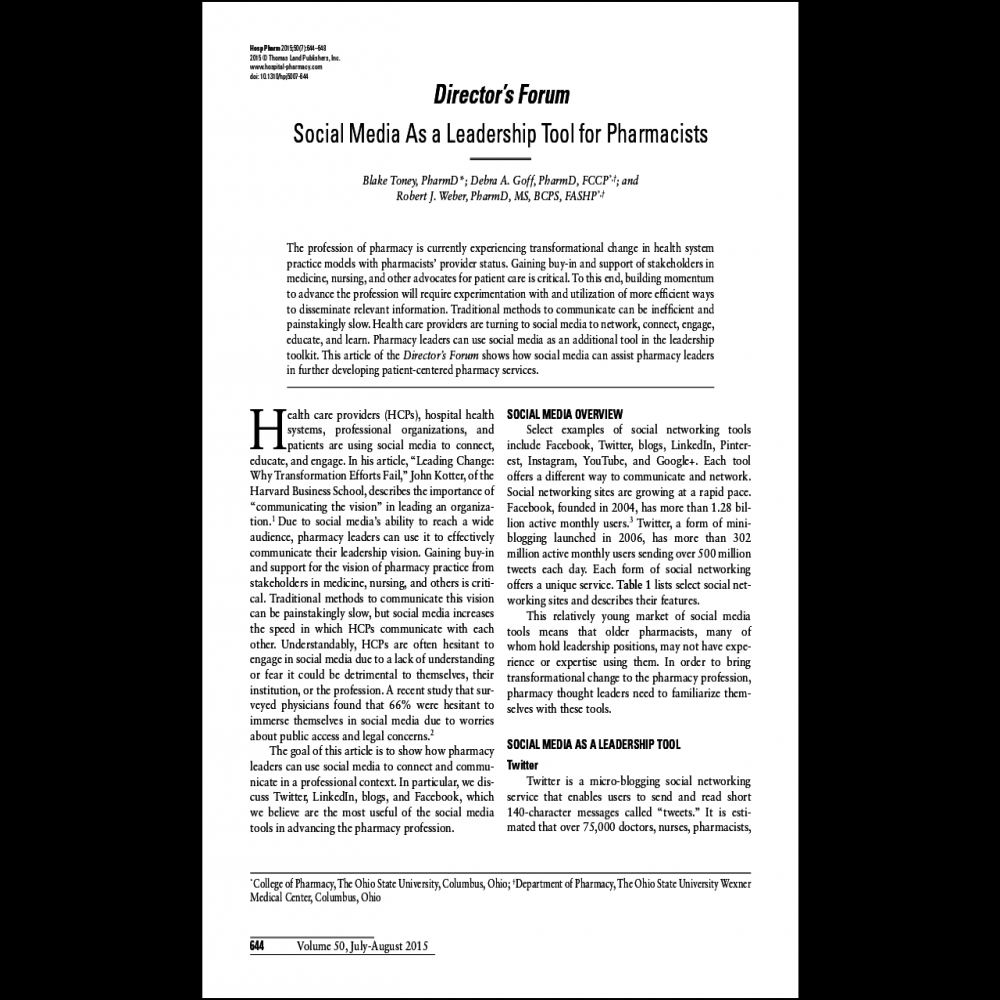 Abstract
The profession of pharmacy is currently experiencing transformational change in health system practice models with pharmacists' provider status. Gaining buy-in and support of stakeholders in medicine, nursing, and other advocates for patient care is critical. To this end, building momentum to advance the profession will require experimentation with and utilization of more efficient ways to disseminate relevant information. Traditional methods to communicate can be inefficient and painstakingly slow. Health care providers are turning to social media to network, connect, engage, educate, and learn. Pharmacy leaders can use social media as an additional tool in the leadership toolkit. This article of the Director's Forum shows how social media can assist pharmacy leaders in further developing patient-centered pharmacy services.
---
Symplur Signals for Academic Research
Symplur Signals provides researchers with a simple research interface, rich datasets, powerful filtering, and algorithms with natural language processing capabilities optimized for our context of healthcare. Get access to up to 7 years of history from this trusted academic research platform.
Subscribe Now
Healthcare Social Media Research
See the full list of healthcare social media research articles with data from or reference to Symplur.
#hcsmR is a collaboration between Stanford Medicine X and Symplur.
---
Altmetric
The Altmetric Attention Score is based on the attention a research article gets on the internet. Each coloured thread in the circle represents a different type of online attention and the number in the centre is the Altmetric Attention Score. The score is calculated based on two main sources of online attention: social media and mainstream news media.