Social media and colorectal cancer: A systematic review of available resources
A healthcare social media research article published in PLoS ONE, August 22, 2017
Title

Social media and colorectal cancer: A systematic review of available resources

Authors (alpha)

Christos Kontovounisios, Constantinos Simillis, Gianluca Pellino, Oliver Warren, Paris P. Tekkis, Sarah Mills, Shahnawaz Rasheed, Shengyang Qiu

Published

August 22, 2017

Journal

PLoS ONE

Impact Factor

3.057

DOI

Pubmed

Altmetric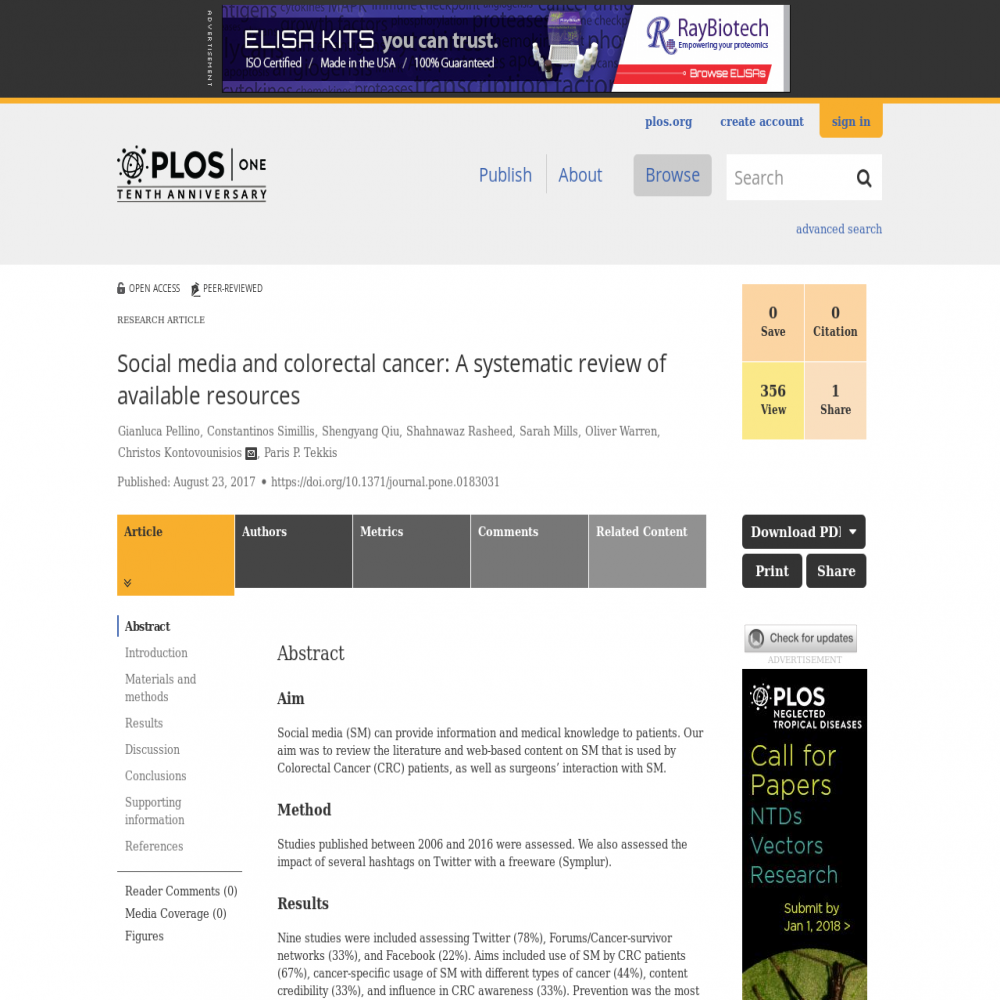 Abstract
Social media (SM) can provide information and medical knowledge to patients. Our aim was to review the literature and web-based content on SM that is used by Colorectal Cancer (CRC) patients, as well as surgeons' interaction with SM. Studies published between 2006 and 2016 were assessed. We also assessed the impact of several hashtags on Twitter with a freeware (Symplur). Nine studies were included assessing Twitter (78%), Forums/Cancer-survivor networks (33%), and Facebook (22%). Aims included use of SM by CRC patients (67%), cancer-specific usage of SM with different types of cancer (44%), content credibility (33%), and influence in CRC awareness (33%). Prevention was the most common information that CRC patients looked for, followed by treatment side-effects. Only 2% of CRC SM users are doctors. SM use by colorectal consultants was suboptimal. Only 38% of surgeons had a LinkedIn account (most with less than 50 connections), and 3% used Twitter. A steep increase of tweets was observed for searched Hashtags over time, which was more marked for #ColonCancer (+67%vs+38%, #Coloncancer vs #RectalCancer). Participants engaged with colon cancer increased by 85%, whereas rectal cancer ones increased by 29%. The hashtag '#RectalCancer' was mostly tweeted by colorectal surgeons. The official twitter account of American Society of Colorectal Surgeons (@fascrs_updates) was the most active account. CRC patients and relatives are increasingly engaging with SM. CRC surgeons' participation is poor, but we confirm a trend toward a greater involvement. Most SM lack of authoritative validation and the quality of shared content still is largely anecdotic and not scientifically evidenced-based. However, SM may offer several advantages over conventional information sharing sources for CRC patients and surgeons, and create connections with mutual enrichment.
---
Symplur Signals for Academic Research
Symplur Signals provides researchers with a simple research interface, rich datasets, powerful filtering, and algorithms with natural language processing capabilities optimized for our context of healthcare. Get access to up to 7 years of history from this trusted academic research platform.
Subscribe Now
Healthcare Social Media Research
See the full list of healthcare social media research articles with data from or reference to Symplur.
#hcsmR is a collaboration between Stanford Medicine X and Symplur.
---
Altmetric
The Altmetric Attention Score is based on the attention a research article gets on the internet. Each coloured thread in the circle represents a different type of online attention and the number in the centre is the Altmetric Attention Score. The score is calculated based on two main sources of online attention: social media and mainstream news media.