Social Media in Hematology in 2017: Dystopia, Utopia, or Somewhere In-between?
A healthcare social media research article published in Current Hematologic Malignancy Reports, October 23, 2017
Title

Social Media in Hematology in 2017: Dystopia, Utopia, or Somewhere In-between?

Authors (alpha)

Aaron T. Gerds, Teresa Chan

Published

October 23, 2017

Journal

Current Hematologic Malignancy Reports

Impact Factor

2.2

DOI

Pubmed

Altmetric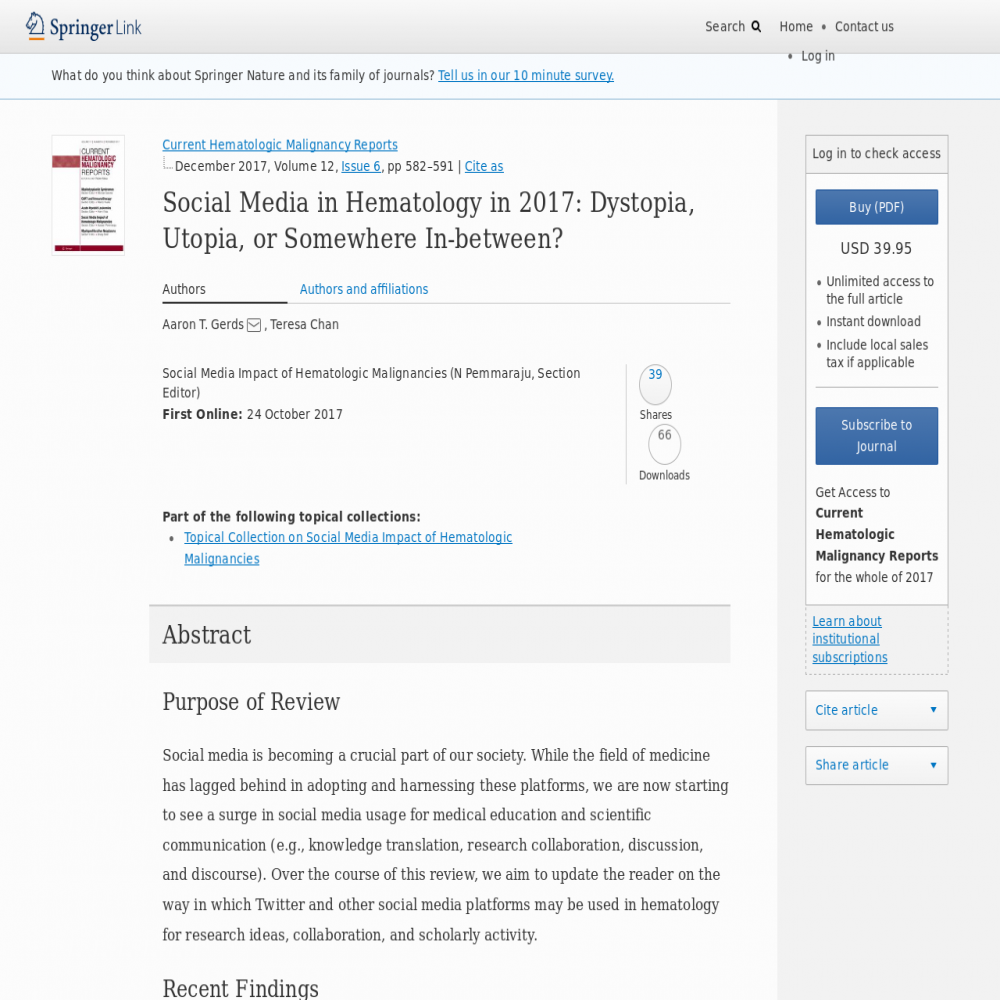 Abstract
Social media is becoming a crucial part of our society. While the field of medicine has lagged behind in adopting and harnessing these platforms, we are now starting to see a surge in social media usage for medical education and scientific communication (e.g., knowledge translation, research collaboration, discussion, and discourse). Over the course of this review, we aim to update the reader on the way in which Twitter and other social media platforms may be used in hematology for research ideas, collaboration, and scholarly activity. Twitter use has grown exponentially over the past decade and is now woven into the fabric of modern communication. It can be a useful tool for those who wish to engage both colleagues and the public. While some issues such as reporting of financial conflict of interest still need to be addressed, Twitter, and social medial in general, can be a powerful instrument for researchers, educators, patients, and advocacy groups.
---
Symplur Signals for Academic Research
Symplur Signals provides researchers with a simple research interface, rich datasets, powerful filtering, and algorithms with natural language processing capabilities optimized for our context of healthcare. Get access to up to 7 years of history from this trusted academic research platform.
Subscribe Now
Healthcare Social Media Research
See the full list of healthcare social media research articles with data from or reference to Symplur.
#hcsmR is a collaboration between Stanford Medicine X and Symplur.
---
Altmetric
The Altmetric Attention Score is based on the attention a research article gets on the internet. Each coloured thread in the circle represents a different type of online attention and the number in the centre is the Altmetric Attention Score. The score is calculated based on two main sources of online attention: social media and mainstream news media.