Social media, medicine and the modern journal club
A healthcare social media research article published in International Review of Psychiatry, April 23, 2015
Title

Social media, medicine and the modern journal club

Authors (alpha)

Joel M. Topf, Swapnil Hiremath

Published

April 23, 2015

Journal

International Review of Psychiatry

Impact Factor

2.275

DOI

Pubmed

Altmetric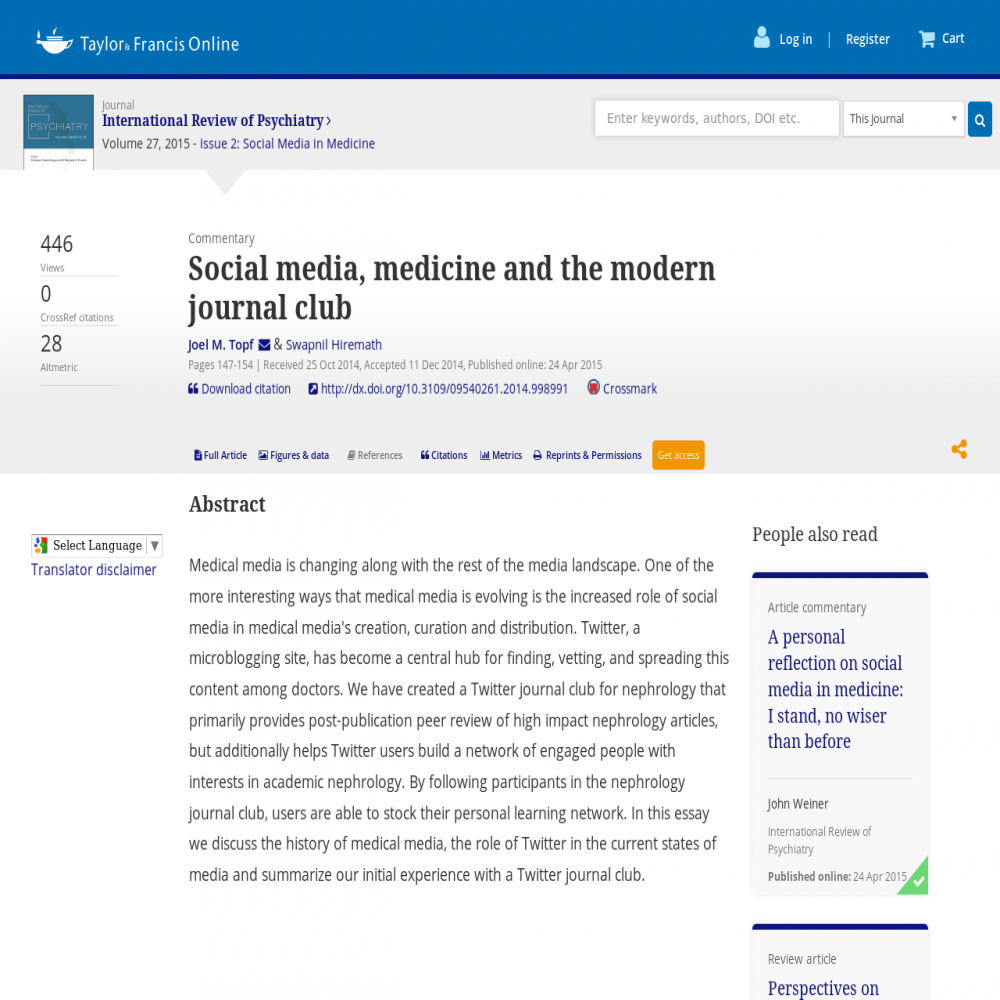 Abstract
Medical media is changing along with the rest of the media landscape. One of the more interesting ways that medical media is evolving is the increased role of social media in medical media's creation, curation and distribution. Twitter, a microblogging site, has become a central hub for finding, vetting, and spreading this content among doctors. We have created a Twitter journal club for nephrology that primarily provides post-publication peer review of high impact nephrology articles, but additionally helps Twitter users build a network of engaged people with interests in academic nephrology. By following participants in the nephrology journal club, users are able to stock their personal learning network. In this essay we discuss the history of medical media, the role of Twitter in the current states of media and summarize our initial experience with a Twitter journal club.
---
Symplur Signals for Academic Research
Symplur Signals provides researchers with a simple research interface, rich datasets, powerful filtering, and algorithms with natural language processing capabilities optimized for our context of healthcare. Get access to up to 7 years of history from this trusted academic research platform.
Subscribe Now
Healthcare Social Media Research
See the full list of healthcare social media research articles with data from or reference to Symplur.
#hcsmR is a collaboration between Stanford Medicine X and Symplur.
---
Altmetric
The Altmetric Attention Score is based on the attention a research article gets on the internet. Each coloured thread in the circle represents a different type of online attention and the number in the centre is the Altmetric Attention Score. The score is calculated based on two main sources of online attention: social media and mainstream news media.