Social media use among young rheumatologists and basic scientists: results of an international survey by the Emerging EULAR Network (EMEUNET)
A healthcare social media research article published in Annals of the Rheumatic Diseases, October 23, 2016
Title

Social media use among young rheumatologists and basic scientists: results of an international survey by the Emerging EULAR Network (EMEUNET)

Authors (alpha)

Caroline Ospelt, Christian Gytz Ammitzbu00f8ll, Elena Nikiphorou, Francis Berenbaum, Mary Canavan, Meghna Jani, Paul Studenic

Published

October 23, 2016

Journal

Annals of the Rheumatic Diseases

Impact Factor

12.384

DOI

Pubmed

Altmetric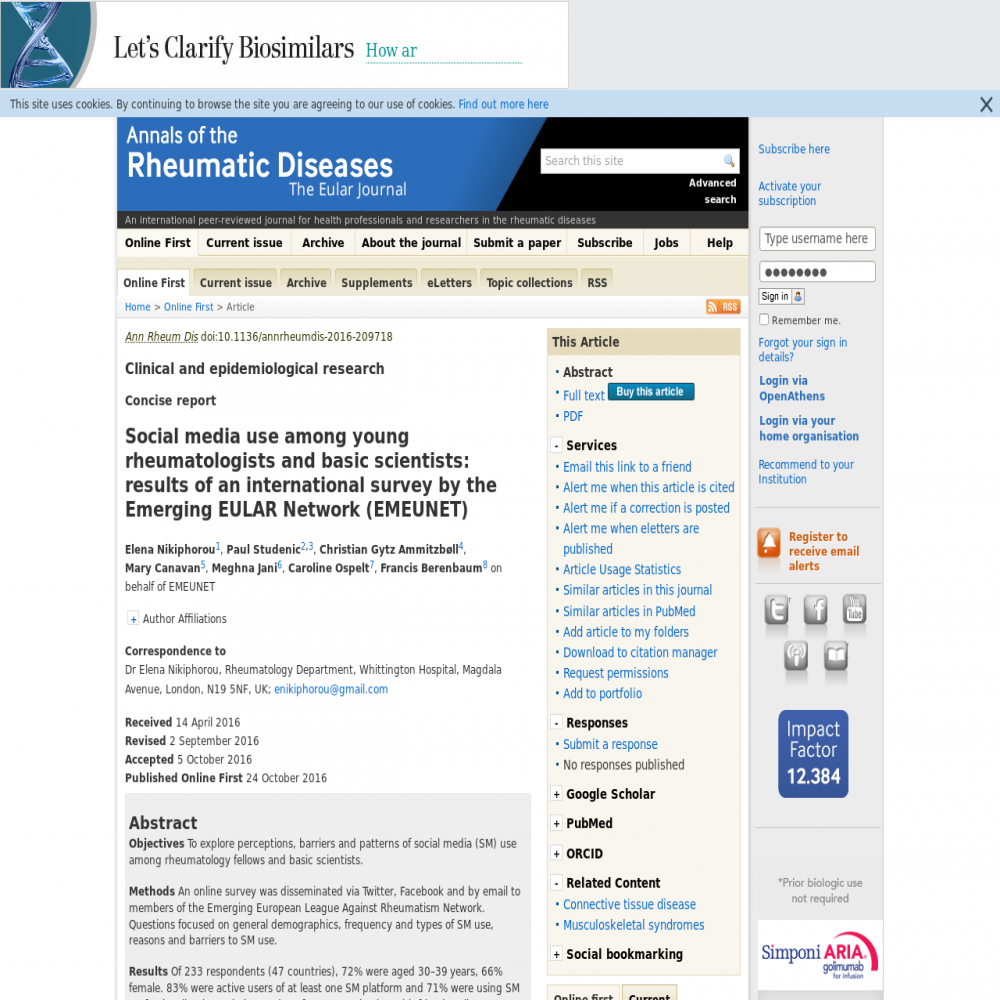 Abstract
To explore perceptions, barriers and patterns of social media (SM) use among rheumatology fellows and basic scientists. An online survey was disseminated via Twitter, Facebook and by email to members of the Emerging European League Against Rheumatism Network. Questions focused on general demographics, frequency and types of SM use, reasons and barriers to SM use. Of 233 respondents (47 countries), 72% were aged 30-39 years, 66% female. 83% were active users of at least one SM platform and 71% were using SM professionally. The majority used SM for communicating with friends/colleagues (79%), news updates (76%), entertainment (69%), clinical (50%) and research (48%) updates. Facebook was the dominant platform used (91%). SM was reported to be used for information (81%); for expanding professional networks (76%); new resources (59%); learning new skills (47%) and establishing a professional online presence (46%). 30% of non-SM users justified not using SM due to lack of knowledge. There was a substantial use of SM by rheumatologists and basic scientists for social and professional reasons. The survey highlights a need for providing learning resources and increasing awareness of the use of SM. This could enhance communication, participation and collaborative work, enabling its more widespread use in a professional manner.
---
Symplur Signals for Academic Research
Symplur Signals provides researchers with a simple research interface, rich datasets, powerful filtering, and algorithms with natural language processing capabilities optimized for our context of healthcare. Get access to up to 7 years of history from this trusted academic research platform.
Subscribe Now
Healthcare Social Media Research
See the full list of healthcare social media research articles with data from or reference to Symplur.
#hcsmR is a collaboration between Stanford Medicine X and Symplur.
---
Altmetric
The Altmetric Attention Score is based on the attention a research article gets on the internet. Each coloured thread in the circle represents a different type of online attention and the number in the centre is the Altmetric Attention Score. The score is calculated based on two main sources of online attention: social media and mainstream news media.