Strategy of robotic surgeons to exert public influence through Twitter
A healthcare social media research article published in International Journal of Medical Robotics and Computer Assisted Surgery, February 22, 2016
Title

Strategy of robotic surgeons to exert public influence through Twitter

Authors (alpha)

Axel Haferkamp, David Schilling, Georg Bartsch, Hendrik Borgmann, Igor Tsaur, Jan Woelm, Karen Nelson, Kilian Gust, Michael Reiter, Rene Mager, Roman Blaheta

Published

February 22, 2016

Journal

International Journal of Medical Robotics and Computer Assisted Surgery

DOI

Pubmed

Altmetric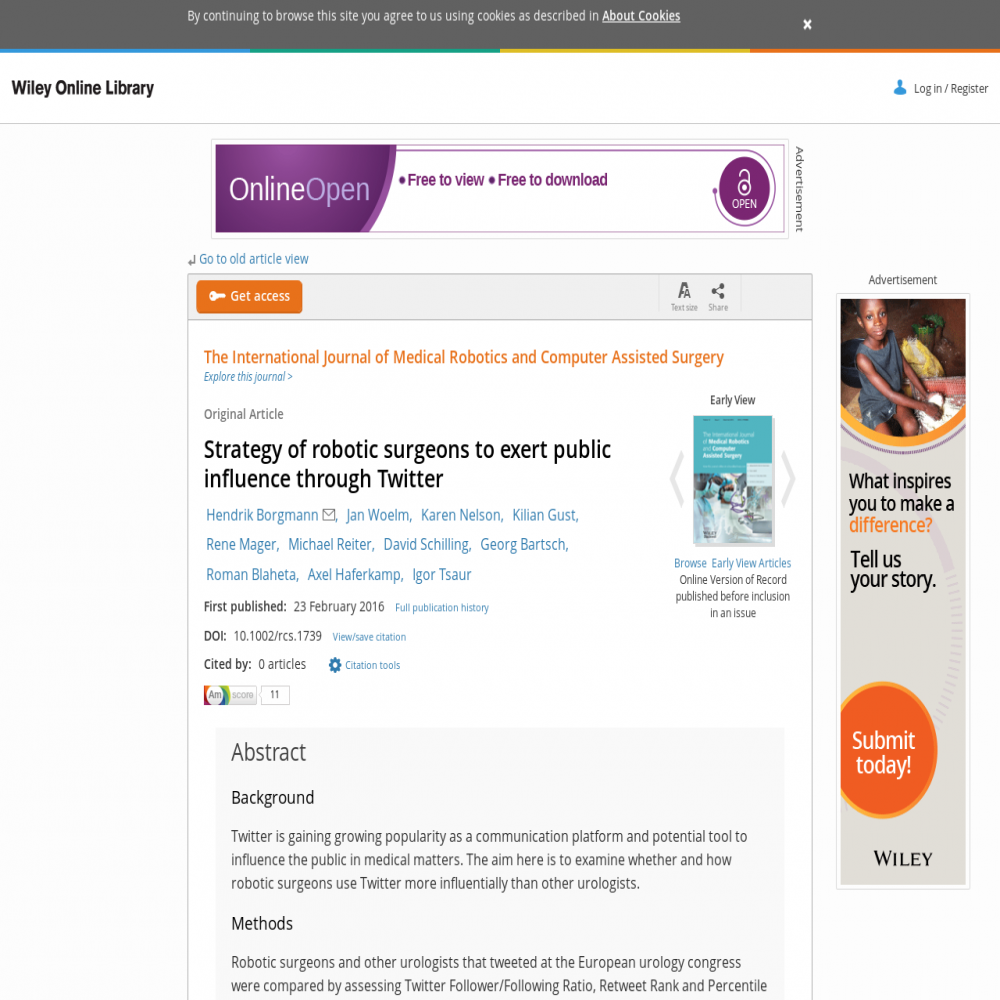 Abstract
Twitter is gaining growing popularity as a communication platform and potential tool to influence the public in medical matters. The aim here is to examine whether and how robotic surgeons use Twitter more influentially than other urologists. Robotic surgeons and other urologists that tweeted at the European urology congress were compared by assessing Twitter Follower/Following Ratio, Retweet Rank and Percentile and their Twitter strategies. Robotic surgeons had a significantly higher Twitter Follower/Following Ratio (2.1, 1.4-2.4) and Retweet Rank percentile (92.1%, 90.5-93%) than other urologists (1.2, 0.8-2.1 and 88.9%, 87.3-91.7%, respectively). Robotic surgeons used original tweet content and links more often than other urologists (69.4% vs 53.8%, and 19.8% vs 12.5%, respectively). Robotic surgeons had a higher public influence on Twitter than other urologists and posted original tweets and links in tweets and profiles more frequently. This strategy might optimize Twitter use by healthcare professionals in the future. Copyright © 2016 John Wiley & Sons, Ltd.
---
Symplur Signals for Academic Research
Symplur Signals provides researchers with a simple research interface, rich datasets, powerful filtering, and algorithms with natural language processing capabilities optimized for our context of healthcare. Get access to up to 7 years of history from this trusted academic research platform.
Subscribe Now
Healthcare Social Media Research
See the full list of healthcare social media research articles with data from or reference to Symplur.
#hcsmR is a collaboration between Stanford Medicine X and Symplur.
---
Altmetric
The Altmetric Attention Score is based on the attention a research article gets on the internet. Each coloured thread in the circle represents a different type of online attention and the number in the centre is the Altmetric Attention Score. The score is calculated based on two main sources of online attention: social media and mainstream news media.