Study protocol: responding to the needs of patients with IgA nephropathy, a social media approach
A healthcare social media research article published in Clinical Kidney Journal, November 22, 2017
Title

Study protocol: responding to the needs of patients with IgA nephropathy, a social media approach

Authors (alpha)

Apostolos Antonacoloulos, Ben Light, Christian Clausner, Cristina Vasilica, Jonathan Barratt, Lydia Y J Chen, Matthew P M Graham-Brown, Paula Ormandy, Tom Oates

Published

November 22, 2017

Journal

Clinical Kidney Journal

DOI

Pubmed

Altmetric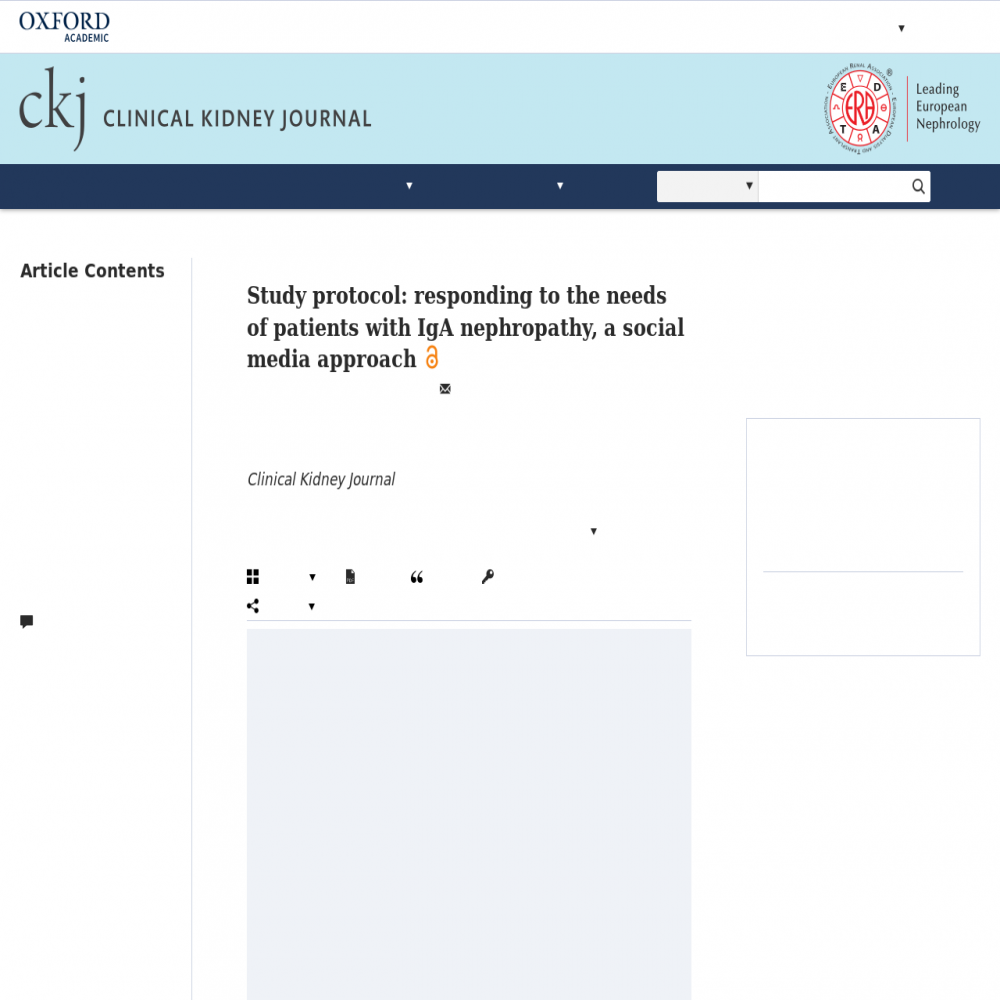 Abstract
IgA nephropathy is the most common cause of glomerulonephritis in the Western world and predominantly affects young adults. Demographically these patients are the biggest users of social media. With increasing numbers of patients turning to social media to seek information and support in dealing with their disease, analysis of social media streams is an attractive modern strategy for understanding and responding to unmet patient need. To identify unmet patient need in this population, a framework analysis will be undertaken of prospectively acquired social media posts from patients with IgA nephropathy, acquired from a range of different social media platforms. In collaboration with patients and members of the clinical multidisciplinary team, resources will be created to bridge gaps in patient knowledge and education identified through social media analysis and returned to patients via social media channels and bespoke websites. Analysis of the impact of these resources will be undertaken with further social media analysis, surveys and focus groups. Patients with chronic diseases are increasingly using social networking channels to connect with others with similar diseases and to search for information to help them understand their condition. This project is a 21st century digital solution to understanding patient need and developing resources in partnership with patients, and has wide applicability as a future model for understanding patient needs in a variety of conditions.
---
Symplur Signals for Academic Research
Symplur Signals provides researchers with a simple research interface, rich datasets, powerful filtering, and algorithms with natural language processing capabilities optimized for our context of healthcare. Get access to up to 7 years of history from this trusted academic research platform.
Subscribe Now
Healthcare Social Media Research
See the full list of healthcare social media research articles with data from or reference to Symplur.
#hcsmR is a collaboration between Stanford Medicine X and Symplur.
---
Altmetric
The Altmetric Attention Score is based on the attention a research article gets on the internet. Each coloured thread in the circle represents a different type of online attention and the number in the centre is the Altmetric Attention Score. The score is calculated based on two main sources of online attention: social media and mainstream news media.