Ten Steps for Setting Up an Online Journal Club
A healthcare social media research article published in The Journal of Continuing Education for Health Professionals, December 31, 2014
Title

Ten Steps for Setting Up an Online Journal Club

Authors (alpha)

Amalia Cochran, Brent Thoma, Henry H. Woo, Joel Topf, Lillian S. Kao, Michelle Lin, Ryan Radecki, Swapnil Hiremath, Teresa M. Chan

Published

December 31, 2014

Journal

The Journal of Continuing Education for Health Professionals

DOI

Pubmed

Altmetric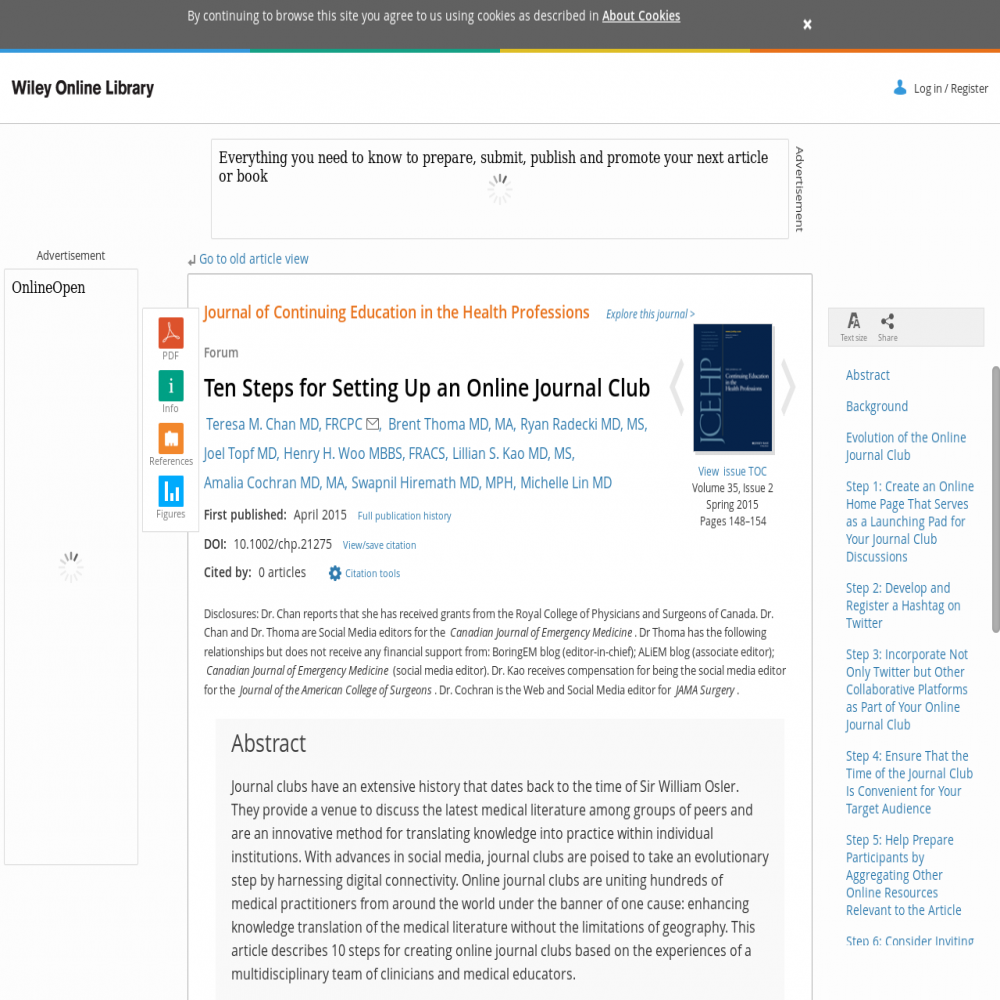 Abstract
Journal clubs have an extensive history that dates back to the time of Sir William Osler. They provide a venue to discuss the latest medical literature among groups of peers and are an innovative method for translating knowledge into practice within individual institutions. With advances in social media, journal clubs are poised to take an evolutionary step by harnessing digital connectivity. Online journal clubs are uniting hundreds of medical practitioners from around the world under the banner of one cause: enhancing knowledge translation of the medical literature without the limitations of geography. This article describes 10 steps for creating online journal clubs based on the experiences of a multidisciplinary team of clinicians and medical educators.
---
Symplur Signals for Academic Research
Symplur Signals provides researchers with a simple research interface, rich datasets, powerful filtering, and algorithms with natural language processing capabilities optimized for our context of healthcare. Get access to up to 7 years of history from this trusted academic research platform.
Subscribe Now
Healthcare Social Media Research
See the full list of healthcare social media research articles with data from or reference to Symplur.
#hcsmR is a collaboration between Stanford Medicine X and Symplur.
---
Altmetric
The Altmetric Attention Score is based on the attention a research article gets on the internet. Each coloured thread in the circle represents a different type of online attention and the number in the centre is the Altmetric Attention Score. The score is calculated based on two main sources of online attention: social media and mainstream news media.