The Glass Houses of Attending Surgeons: An Assessment of Unprofessional Behavior on Facebook Among Practicing Surgeons
A healthcare social media research article published in Journal of Surgical Education, October 31, 2015
Title

The Glass Houses of Attending Surgeons: An Assessment of Unprofessional Behavior on Facebook Among Practicing Surgeons

Authors (alpha)

Craig Sudbeck, Gates Cook, Paul J. Schenarts, Peter Adamson, Sean J. Langenfeld, Thomas Luers

Published

October 31, 2015

Journal

Journal of Surgical Education

Impact Factor

1.95

DOI

Pubmed

Altmetric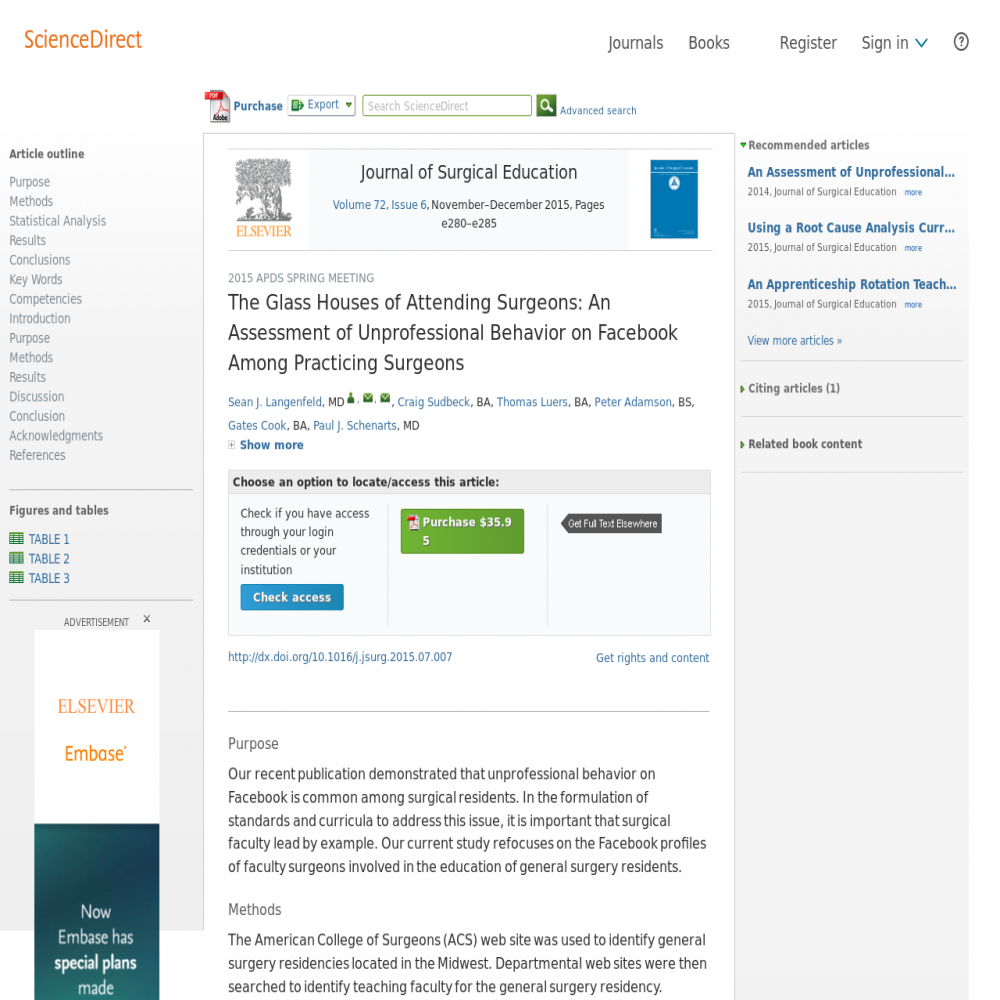 Abstract
Our recent publication demonstrated that unprofessional behavior on Facebook is common among surgical residents. In the formulation of standards and curricula to address this issue, it is important that surgical faculty lead by example. Our current study refocuses on the Facebook profiles of faculty surgeons involved in the education of general surgery residents. The American College of Surgeons (ACS) web site was used to identify general surgery residencies located in the Midwest. Departmental web sites were then searched to identify teaching faculty for the general surgery residency. Facebook was then searched to determine which faculty had profiles available for viewing by the general public. Profiles were then placed in 1 of the 3 following categories: professional, potentially unprofessional, or clearly unprofessional. A chi-square test was used to determine significance. In all, 57 residency programs were identified on the ACS web site, 100% of which provided an institutional web site listing the surgical faculty. A total of 758 general surgery faculty were identified (133 women and 625 men), of which 195 (25.7%) had identifiable Facebook accounts. In all, 165 faculty (84.6%) had no unprofessional content, 20 (10.3%) had potentially unprofessional content, and 10 (5.1%) had clearly unprofessional content. Inter-rater reliability was good (88.9% agreement, κ = 0.784). Clearly unprofessional behavior was found only in male surgeons. For male surgeons, clearly unprofessional behavior was more common among those in practice for less than 5 years (p = 0.031). Alcohol and politics were the most commonly found variables in the potentially unprofessional group. Inappropriate language and sexually suggestive material were the most commonly found variables in the clearly unprofessional group. Unprofessional behavior on Facebook is less common among surgical faculty compared with surgical residents. However, the rates remain unacceptably high, especially among men and those in practice for less than 5 years. Education on the dangers of social media should not be limited to residents but should instead be extended to attending surgeons as well.
---
Symplur Signals for Academic Research
Symplur Signals provides researchers with a simple research interface, rich datasets, powerful filtering, and algorithms with natural language processing capabilities optimized for our context of healthcare. Get access to up to 7 years of history from this trusted academic research platform.
Subscribe Now
Healthcare Social Media Research
See the full list of healthcare social media research articles with data from or reference to Symplur.
#hcsmR is a collaboration between Stanford Medicine X and Symplur.
---
Altmetric
The Altmetric Attention Score is based on the attention a research article gets on the internet. Each coloured thread in the circle represents a different type of online attention and the number in the centre is the Altmetric Attention Score. The score is calculated based on two main sources of online attention: social media and mainstream news media.