The state and potential of social media in bladder cancer
A healthcare social media research article published in World Journal of Urology, November 20, 2015
Title

The state and potential of social media in bladder cancer

Authors (alpha)

Michael J Leveridge

Published

November 20, 2015

Journal

World Journal of Urology

Impact Factor

2.666

DOI

Pubmed

Altmetric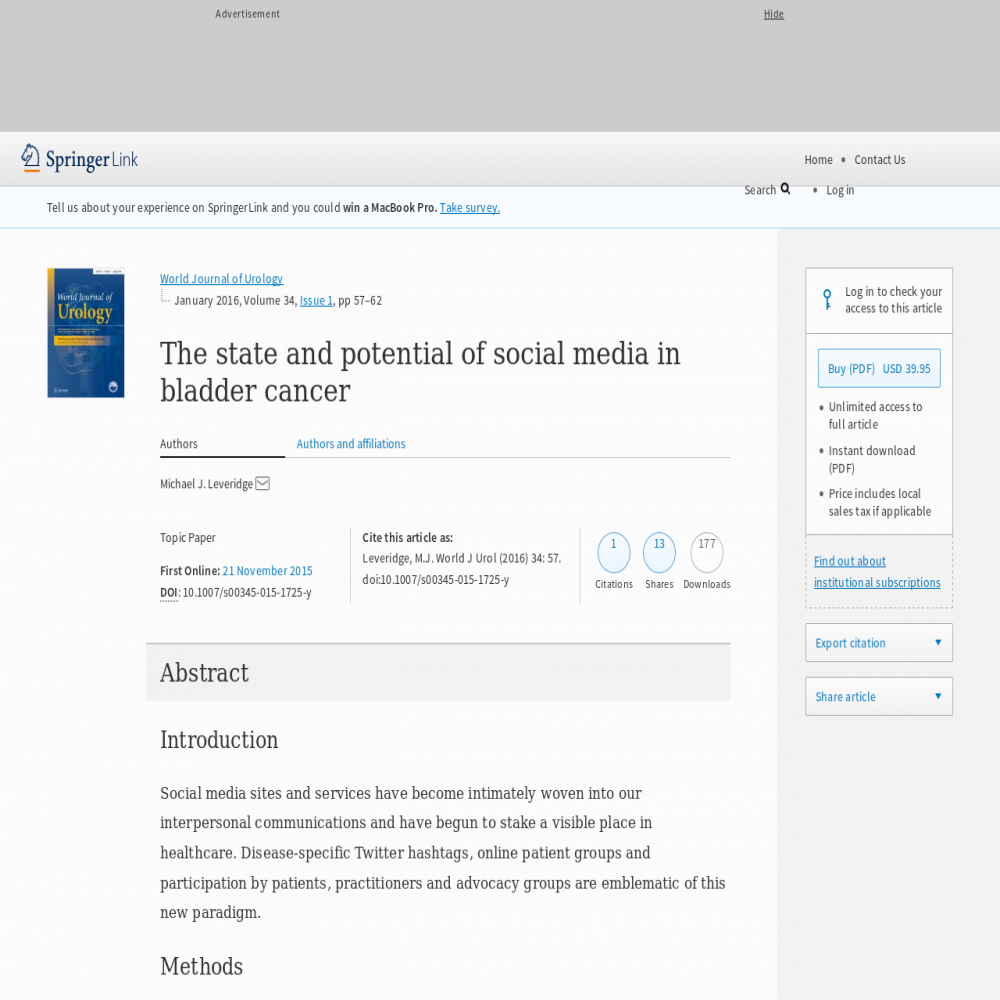 Abstract
Social media sites and services have become intimately woven into our interpersonal communications and have begun to stake a visible place in healthcare. Disease-specific Twitter hashtags, online patient groups and participation by patients, practitioners and advocacy groups are emblematic of this new paradigm. A literature review and summary of resources and publications on bladder cancer and social media. A majority of Western patients have access to and use the Internet for health information. Urologists and oncologists have used bladder-cancer-specific messaging at international meetings infrequently as compared to prostate and other non-urologic cancers. An active community does participate in online discussion, with differences between medical practitioners and patients/advocates. Advice is given with the aim of unifying this discussion.
---
Symplur Signals for Academic Research
Symplur Signals provides researchers with a simple research interface, rich datasets, powerful filtering, and algorithms with natural language processing capabilities optimized for our context of healthcare. Get access to up to 7 years of history from this trusted academic research platform.
Subscribe Now
Healthcare Social Media Research
See the full list of healthcare social media research articles with data from or reference to Symplur.
#hcsmR is a collaboration between Stanford Medicine X and Symplur.
---
Altmetric
The Altmetric Attention Score is based on the attention a research article gets on the internet. Each coloured thread in the circle represents a different type of online attention and the number in the centre is the Altmetric Attention Score. The score is calculated based on two main sources of online attention: social media and mainstream news media.