The Use of Social Media in Endourology: An Analysis of the 2013 World Congress of Endourology Meeting
A healthcare social media research article published in Journal of Endourology, April 30, 2015
Title

The Use of Social Media in Endourology: An Analysis of the 2013 World Congress of Endourology Meeting

Authors (alpha)

BRENT K. HOLLENBECK, Christina Ramo, Kai Zheng, Khurshid R. Ghani, Noah E Canvasser, Todd M. Morgan

Published

April 30, 2015

Journal

Journal of Endourology

Impact Factor

1.708

DOI

Pubmed

Altmetric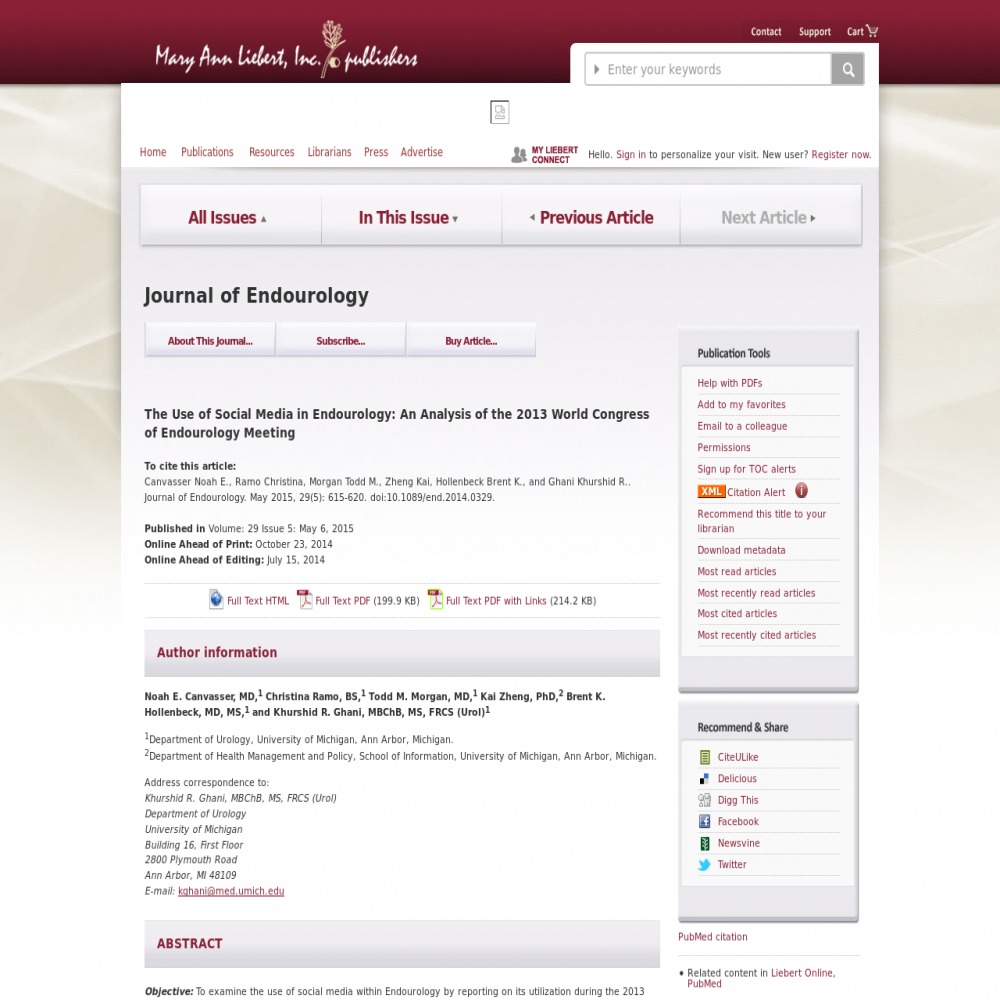 Abstract
Objective: To examine the use of social media within Endourology by reporting on its utilization during the 2013 World Congress of Endourology (WCE) annual meeting. Materials and Methods: Two social media platforms were analyzed for this study: Twitter (San Francisco, CA), and LinkedIn (Mountain View, CA). For Twitter, a third-party analysis service (Tweetreach, San Francisco, CA) was used to quantitatively analyze all tweets with the hashtags #WCE2013 and #WCE13 during a 7-day period surrounding the WCE. Two reviewers independently classified tweet content using a pre-defined Twitter-specific classification system. Tweet sentiment was determined using sentiment analysis software (Semantria Inc, Amherst, MA). Finally, the penetration of Twitter and LinkedIn within the WCE faculty was assessed by means of a manual search. Results: During the study period, 335 tweets had the hashtag #WCE2013 or #WCE13. Content originated from 68 users resulting in a mean of 47 tweets/day and 4.9 tweets/contributor. Conference related tweets had a reach of 38,141 unique Twitter accounts and an online exposure of 188,629 impressions. Physicians generated the majority of the content (63%), of which 55.8% were not attending the meeting. More tweets were informative (56.7%) vs. uninformative (43.3%), and 17.9% had links to an external web citation. The mean sentiment score was 0.13 (range -0.90 to 1.80); 13.1%, 57.0% and 29.9% of tweets were negative, neutral and positive in sentiment, respectively. Of 302 WCE meeting faculty, 150 (49.7%) had registered LinkedIn accounts while only 52 (17.2%) had Twitter accounts, and only 19.2% tweeted during the meeting. Conclusions: Despite a relatively low number of Twitter users, tweeting about the WCE meeting dramatically increased its online exposure with dissemination of content that was mostly informative including engagement with physicians not attending the conference. While half of faculty at WCE 2013 had LinkedIn accounts, their social media footprint in Twitter was limited.
---
Symplur Signals for Academic Research
Symplur Signals provides researchers with a simple research interface, rich datasets, powerful filtering, and algorithms with natural language processing capabilities optimized for our context of healthcare. Get access to up to 7 years of history from this trusted academic research platform.
Subscribe Now
Healthcare Social Media Research
See the full list of healthcare social media research articles with data from or reference to Symplur.
#hcsmR is a collaboration between Stanford Medicine X and Symplur.
---
Altmetric
The Altmetric Attention Score is based on the attention a research article gets on the internet. Each coloured thread in the circle represents a different type of online attention and the number in the centre is the Altmetric Attention Score. The score is calculated based on two main sources of online attention: social media and mainstream news media.